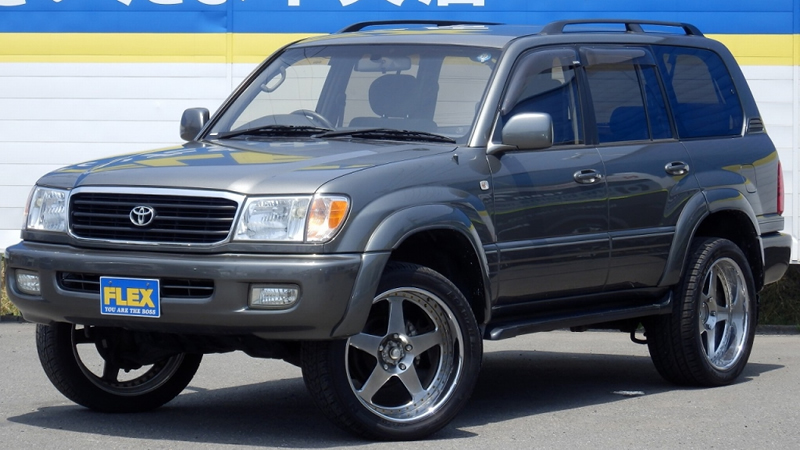 When it comes to buying a used Land Cruiser 100 Series, you will find used LC 100s in a lot of places like online auto auctions, Craigslist, eBay motors, and even Hemmings has a selection of Land Cruiser 100s, as well as other Land Cruiser years and models.
You might have to be patient, as the Land Cruiser 100s are quite popular, so people tend to hang on to them for a long time. If you do find a used one, then you may have to pay a little more for it since it holds its value. Whenever you shop for a new vehicle, pay attention to your budget, research the model, and if possible, inspect the vehicle or the car history report.
If you find an LC 100 that you want to be modified, then contact us and start to build your vision SUV today.
Should I buy a 100 Series Land Cruiser?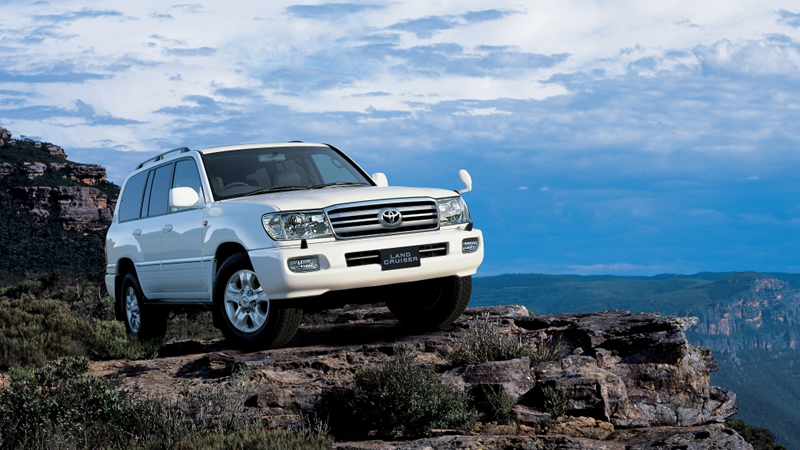 Whether or not you should buy a Toyota Land Cruiser 100 Series vehicle depends upon your specific needs and preferences.
Here is a short Land Cruiser 100 Series Buyers Guide that can help you make the buying decision:
Reliability
The 100 series Land Cruiser is known for its reliability and durability, which means it can tackle the toughest terrain while delivering a smooth driving experience on the highway. Here is more information on the Land Cruiser 100 Series' engine specs.
Cost
The Land Cruiser is an enormously popular vehicle globally, so the new ones may have a hefty price tag. However, a used Land Cruiser may be more budget-friendly while never losing its power and appeal.
Fuel efficiency
Toyota built the Land Cruiser for off-road use, so it is not the most fuel efficient. The fuel efficiency factor may not matter to you if you are only interested in climbing hills and forging streams. Here is more information about the Land Cruiser 100 Series fuel efficiency here.
Off-road capabilities
The Land Cruiser is built to handle tough off-road conditions, thanks in part to the power of its V8. It was built to master the Australian Outback, so it can master a dirt road that leads to your favorite fishing spot.
Size
The Land Cruiser is a large SUV, which means there is plenty of room in it to take all of your gear and your friends to a remote location for outdoor adventure.
Buying a 100 Series Landcruiser can make the difference between sitting at home on the weekends and cresting a ridge on a mountain trail.
What Body Styles, Trim Levels, and Powertrains Were Available on the 100-Series Toyota Land Cruiser?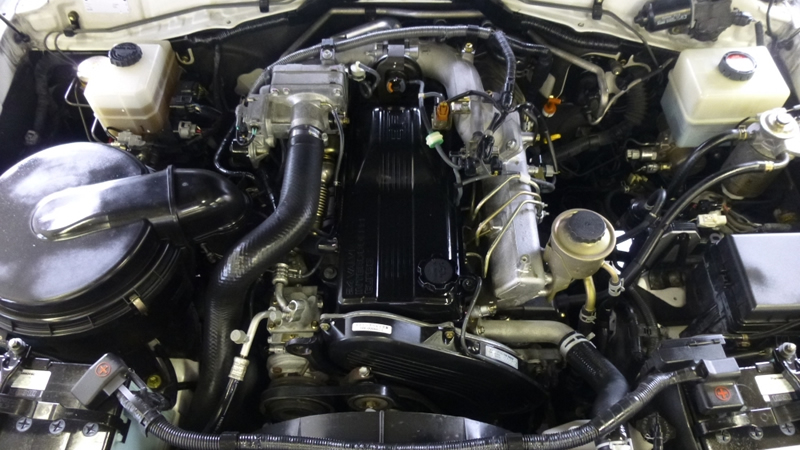 The 100-Series Toyota Land Cruiser was available in a few different trim levels and powertrain configurations based on where the vehicle was marketed.
Body Styles
4-door SUV
Trim Levels
VX Base model – same engine, but the only model available with a manual transmission – trim dropped in 2022
VX Limited – same as the base but with limited slip and cruise control. Also interior and exterior upgrades
VX Limited G Selection – Equipped as the VX Limited, but with LED instruments, AHC, and Skyhooks TEMS. Toyota also added heated seats, a moon roof, and power sears.
Powertrains
4.2-liter inline-6 diesel engine (available in non-U.S. markets)
4.7-liter V8 gasoline engine (available in the U.S. market)
5-speed manual or 4-speed automatic transmission
Features
Full-time 4-wheel drive
Center differential lock depending upon the model year
Leather upholstery
Power-adjustable front seats
Moonroof
Third-row seat
Read this post for more information on the Land Cruiser 100's trim levels.
What Changes Were Made to the Toyota Land Cruiser Over the Years?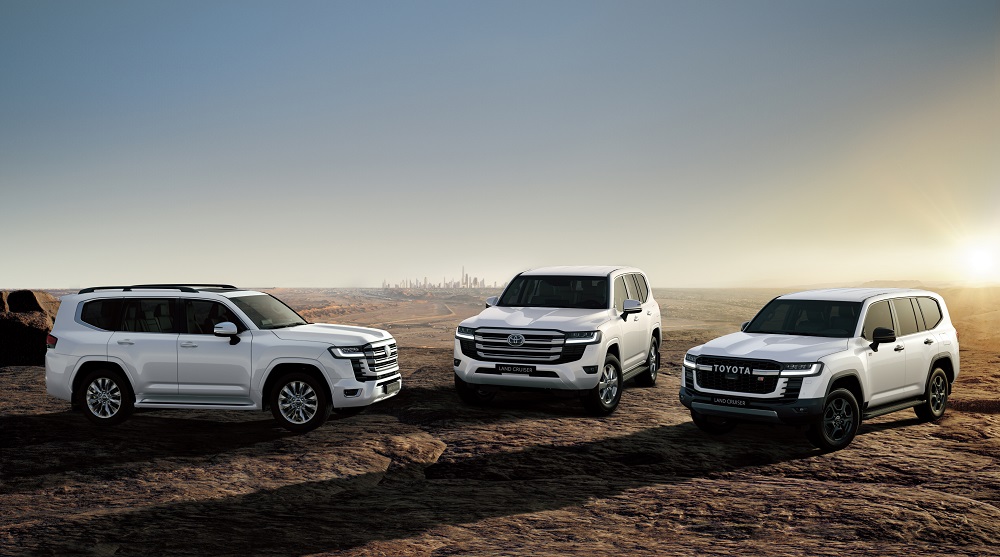 The Toyota Land Cruiser has a long history of being a workhorse for those who work hard. Designed to tackle tough terrain, the Land Cruiser has been a rugged vehicle since the very first model.
Here is a summary of the Land Cruiser models by year:
1951-1955
The first Land Cruiser model, the BJ, was introduced. It was designed as a light military vehicle using the Jeep as its inspiration, but it was much bigger than the Jeep. It was also more powerful since it came stock with a Type B 3.4-liter 6-cylinder OHV 4-stroke. Toyota built it with the Land Rover Series 1 and the military in mind. It was a direct result of the Korean War, and the United States government was the first customer when they placed an order for 100 vehicles using the specs from the Jeep Willys.
There were three series models: BJ-T (touring), BJ-R (radio), and BJ-J (fire engine chassis)
Type B 3.4-liter engine
No low-range transfer case
2-door soft-top
Part-time 4WD
1954
A type F gas-powered engine was added to the fire engine model
1955-1960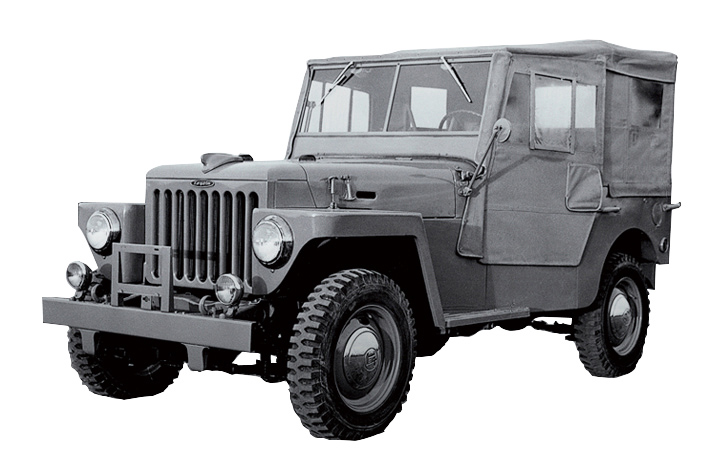 The Land Cruiser BJ was replaced by the Land Cruiser FJ. This was the beginning of the 20 Series, which was designed to appeal to the public and globally exported. It was more stylish than the BJ.
Four-plate leaf springs – derived from the Toyota truck
3.9-liter Type F 6-cylinder engine – gas powered
Three-speed gearbox
More interior room because the engine was moved forward 120 mm/4.7-inches
No low-range transfer case
1957
Toyota added a 4-door station wagon (FJ35V) with a 104.3-inch wheelbase to the lineup.
1958
Toyota began production of the FJ25 in Brazil; it was equipped with a Mercedes –Benz diesel engine.
1960-1980: The FJ40 model was introduced to replace the 20 Series.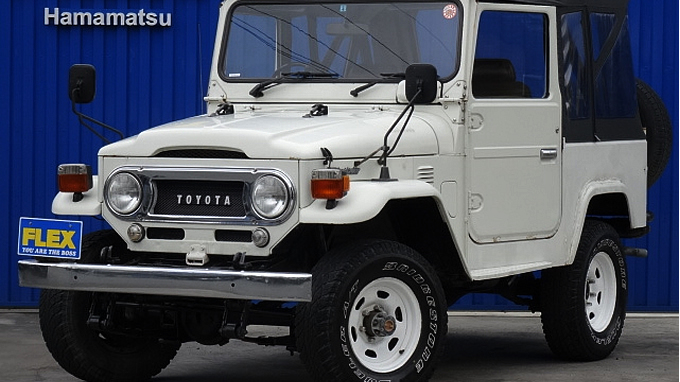 3.9-liter F-type engine (125 HP/126 PS)
Low-range gearing was added
3 –speed gearbox
1973
First long-wheelbase diesel was built for export with a 6-cylinder H engine.
1974
4-cylinder 3.0-liter B diesel was offered – this boosted sales in Japan by lowering the tax classification.
1975
A 4.2-liter 2F engine replaced the 3.9-liter engine and front disc brakes were added to the FJ55.
1976
FJ40 (U.S. version) received front disc brakes.
1979
The U.S. version of the FJ40 received upgraded square bezel headlights, and power steering and AC were options. The Japanese version improved the diesel by adding the 3.2-liter 2B to the model.
1980
The HJ45 diesel engine was out and the 4.0-liter 2H (HJ47) engine was in.
1980-1989: The Toyota Land Cruiser 60 Series was introduced and was created to keep with the off-road tradition of the Land Cruiser's history, but with a foot in the door of the emerging SUV global market.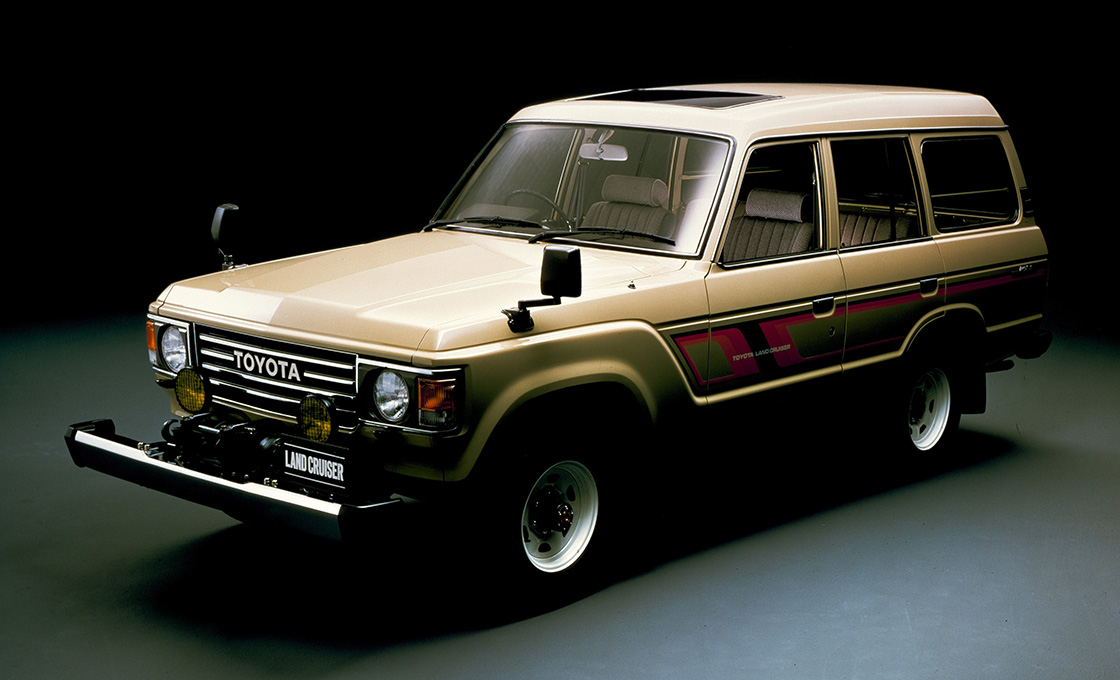 AC
Rear heater
Upgraded interior
Added to the power options: a 4-cylinder 3.4-liter 3B diesel engine and a 6-cylinder 4.0-liter 2H gas powered motor
1981
A high-roof version was introduced.
1984
The 40 Series is phased out and the Toyota Land Cruiser 70 Series is introduced to run alongside the 60 Series. The 70 Light had coil springs.
1985
The direct-injection 12H-Turbodiesel is unveiled.
1988
The gas engine is upgraded in some markets to a 4.0-liter 3F-E EFI engine or a 4.0-liter 3F engine featuring a carb. Toyota began the FJ62G VX-Series in Japan as a passenger vehicle.
1990-1997: The Toyota Land Cruiser 80 Series was introduced with two swing-out back doors and replaced the 60 Series.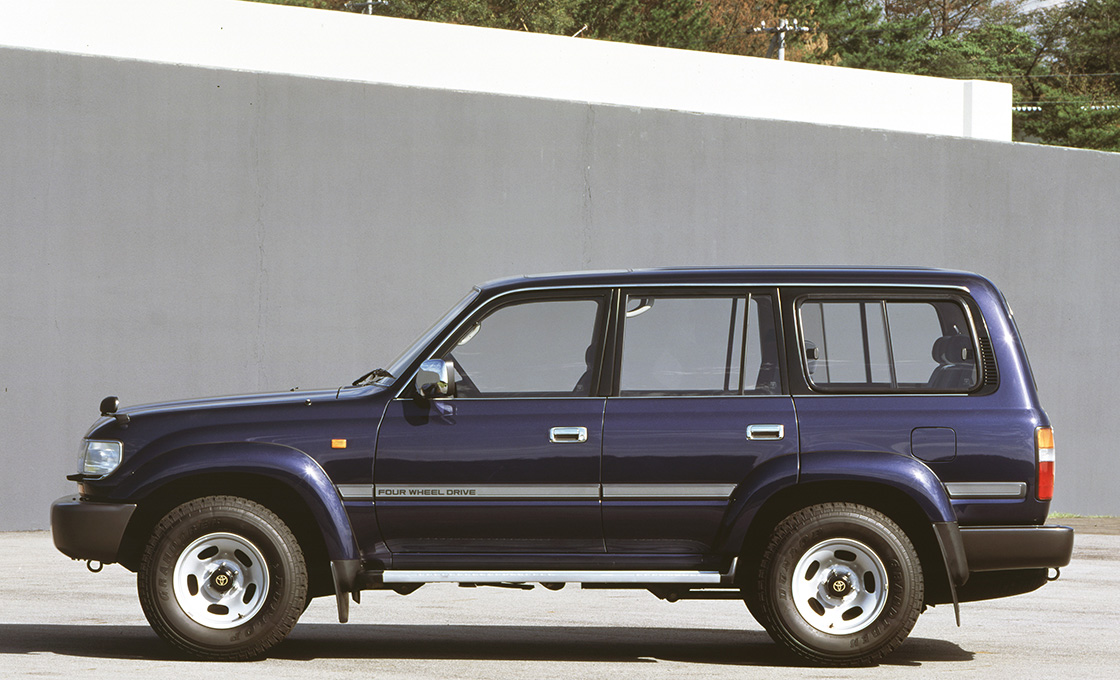 The North American and European versions had full-time 4WD and open center locking differential. They came with ABS brakes.
Two models: Base VX and a fully loaded VX
New-gen diesel engines were added to the 80 Series that included a 1HZ 6-cylinder SOHC or 1HD-T direct injection turbo.
1993
Bigger brakes and a 24-valve 4.5-liter 6-cylinder gas engine (1FZ-FE) were added. The wheelbase was increased and axle lockers were optional.
1994
The swing-out backdoor was replaced by a tailgate and hatch lift.
1998-2007: The 100-Series Land Cruiser was introduced as a replacement for the 80 Series. It was the first Land Cruiser to come equipped with a V8.
There are two versions of the 100 Series: the 100 and the 105 (105 is only available in four countries)
Toyota added AHC and Skyhook TEMS to the 100 Series.
2008-2021: The 200-Series Land Cruiser was introduced and is built on the Lexus LX 570 platform, so this is a much more passenger-friendly SUV. They added bigger brakes and a skid plate to the model and the frame is a Tundra derivative.
The 200 Series features a lot of high-tech features like CRAWL, Downhill Assist, KDSS, and more.
Over its lifetime, the Toyota Land Cruiser models have undergone a lot of changes. Here is an article about the History of the Land Cruiser that will tell you more about the model changes.
What Toyota Land Cruiser Options, Features, or Combinations Should I Get?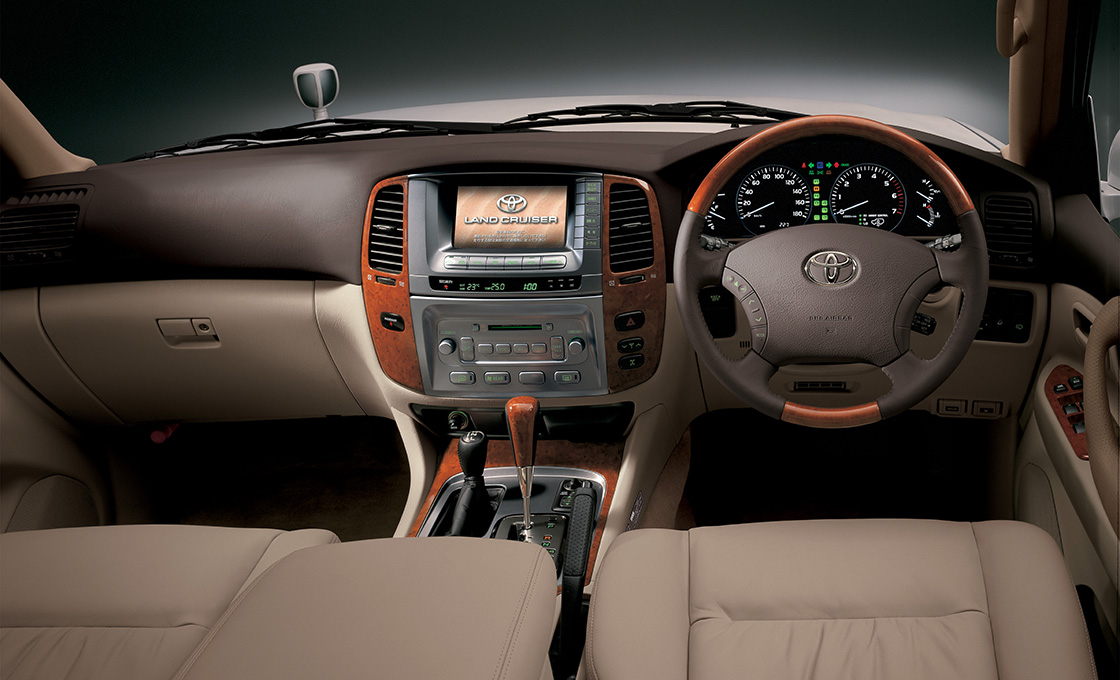 If you ask any Land Cruiser owner the above question, you will get as many different answers as there are LC owners. Options and combinations are subjective and based on what you like. Since the Land Cruiser is available in many years and styles, figure out which one suits your lifestyle.
Consider these Toyota Land Cruiser features as you look for a Toyota Land Cruiser for sale:
4WD
Since every Land Cruiser comes with 4WD, drive wherever you find yourself. If you live in a climate that sees a lot of snow or deep sand, you might want the 4WD option for that type of driving while never needing to crest a ridge. The off-road options could include CRAWL, AHC, and Skyhook TEMS.
Powertrain
The most recent V8 seems to be quite popular with LC owners. The Land Cruiser horsepower of the V8 is not only powerful, but it does lean towards being more fuel-efficient. Diesel engines are still popular in places where they are available.
Towing Capacity
If you are looking for something that will tow your boat and take you to an alpine meadow lake, the Land Cruiser is built for that type of groundwork.
Seating Capacity
The Land Cruiser can seat quite a few passengers. With the third-row seat, eight passengers can fit comfortably.
Interior Features
The Land Cruiser is a luxury vehicle, so you should expect an upscale interior with high-end amenities. Some models feature leather, heated seats, and even a premium sound system.
Safety Features
Safety should always be a priority, so look for something with the most recent safety features like rear cameras, backup assist, or any of the other driver-assist technologies.
Read more about the Toyota Land Cruiser 100 features in this article.
How much is 100 Series Land Cruiser?
The Land Cruiser 100 Series price can range between $7,000 and $66,000 with the average price in the $22,000 to $24,000 range. The price fluctuation depends on the condition of the vehicle, the mileage, the age, and which market you are shopping in.
A well-maintained Land Cruiser Series 100 will cost you a bit more, but you can be sure that the previous owner took great care of it. Regular oil changes go a long way toward keeping a well-running engine.
Are Land Cruisers 100 Series Expensive to Maintain?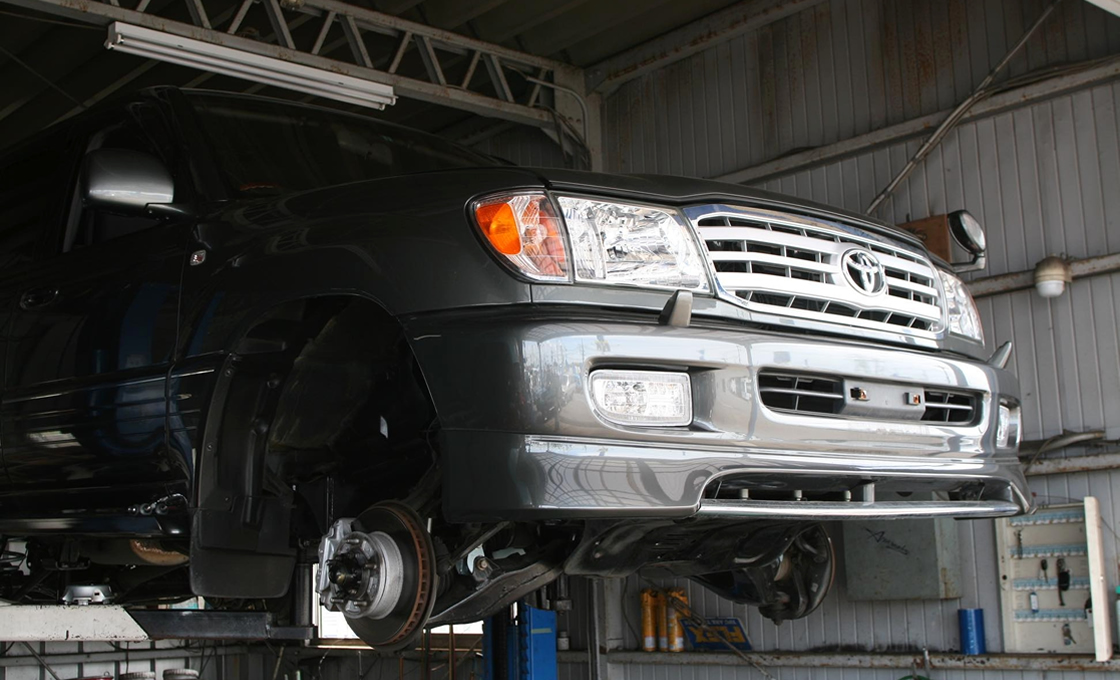 The cost of maintaining your Land Cruiser is no more expensive than maintaining any other vehicle. Regular maintenance consists of filters, fluids, hoses, and other wear-and-tear parts, so those should be normal expenses. You might run into more costly items when you need to repair body parts because of off-roading, or you need to replace other parts like steering, axle, transmissions, and wheels. Modifications and other upgrades will also add to the maintenance costs.
A Land Cruiser is a reliable vehicle that will last for years. Some are on the market with over 300,000 miles on them, so the cost to maintain and repair them is worth the longevity. Besides, the Land Cruiser is built for fun, and you cannot put a price on that.
Read this article for more information about the Land Cruiser 100 and the 200 Series.
Why are Second-hand Land Cruisers 100 Series so Expensive?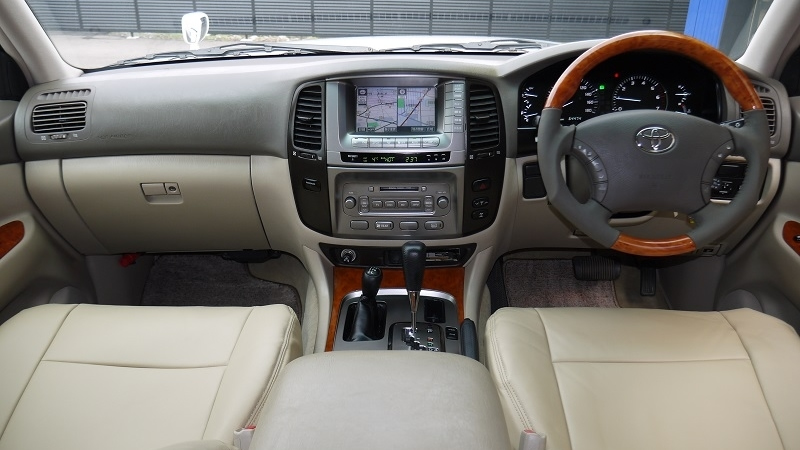 There are several reasons why used Land Cruisers are so expensive:
Reliable
As you probably have figured out, the Land Cruiser has a long history of dependability. The engine system is tough; the body is built like a tank; and Toyota has tried and tested the Land Cruiser in the most extreme conditions to make it strong. They are so dependable that people have been known to keep them with over 300,000 miles on the engine.
4WD
Toyota built the Land Cruiser for the rugged outdoors, and with that comes stream forging, rock crawling, mountain climbing, and any other test of man and machine that you can think up. After all, it was designed as a military vehicle, so it is no stranger to challenges. That could be why Land Cruisers are so popular.
Supply and Demand
Due to its popularity, people are holding onto their LC 100s, which increases the used car prices.
Behind all of this is the reputation of Toyota, and everyone understands that the Toyota name means a great product, so that is also why the old Land Cruisers are so expensive making them worth the price.
What year is the best 100 Series Land Cruiser?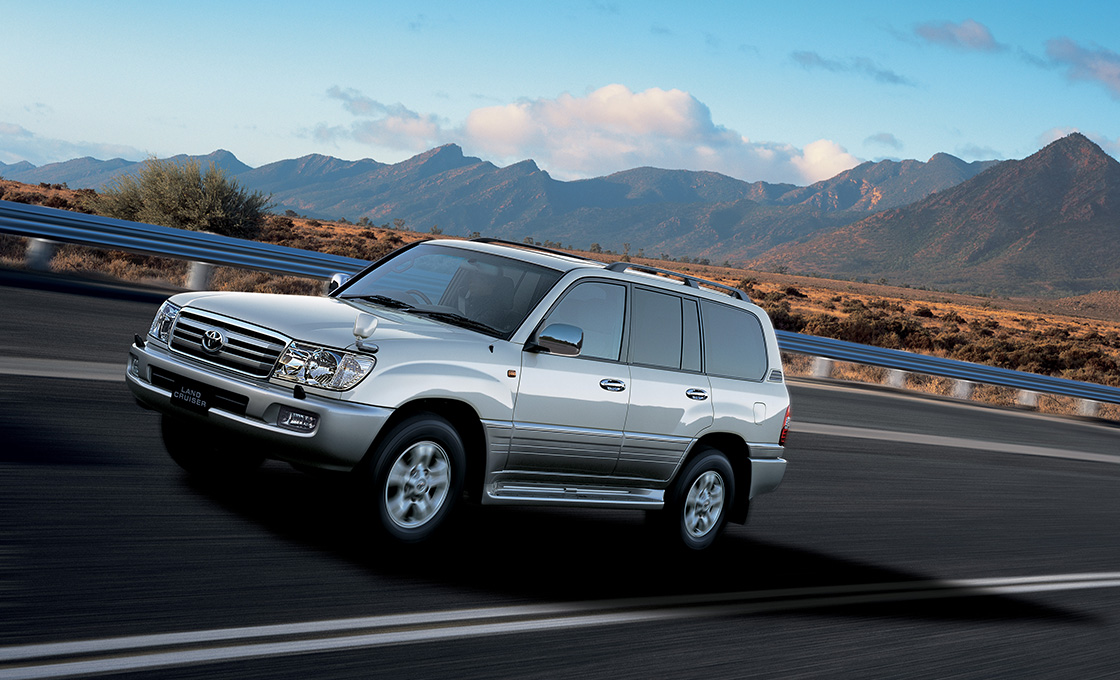 Between 1998 and 2007, the Toyota Land Cruiser 100 Series delivered a durable off-road vehicle with a powerful engine and a comfortable interior. They wanted to create a passenger vehicle to compete in the SUV market, so the LC 100s were a bit different than the previous models.
The U.S. version of the LC 100 has four doors and a V8, and third-row seats were optional. Between the powerful V8 and the roomy interior, you can see why these were more passenger oriented.
If you are interested in tough off-road driving then the early years offered the locking rear differential, while the later years offered the center differential.
If you are looking for luxury with the ability to take on mud, rocks, snow, and sand, then the later years have more interior upgrades.
The last update for the LC 100 was in 2006 when there were modifications made to the exterior lights, and VVT was added to the powertrain.
To better compare the models and the year changes, you will want to read our article to determine what year the best 100 Series Land Cruiser is.