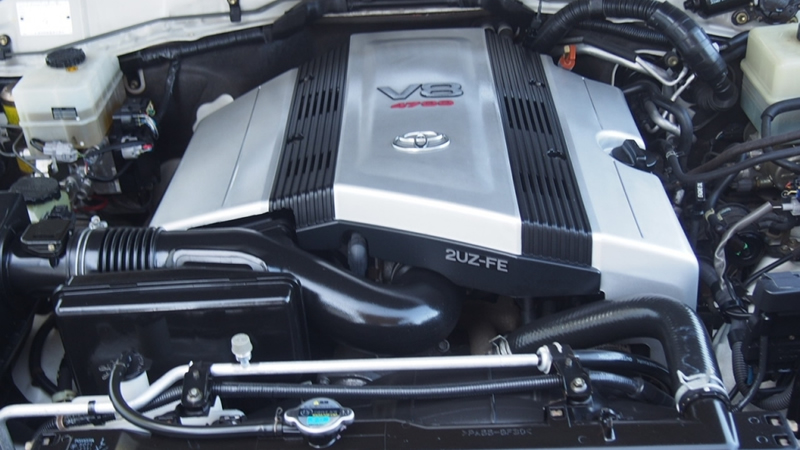 Two Land Cruiser 100 Engines
Throughout the production period, there were no major changes to the engines in the Land Cruiser 100. Like the previous 80 series, the gas engine is available in the three-row station wagon with seating for 8, and the diesel engine is available in the van with seating for 5. This engine lineup stayed the same for the entire generation and no new engines or modifications were added to the 100 series.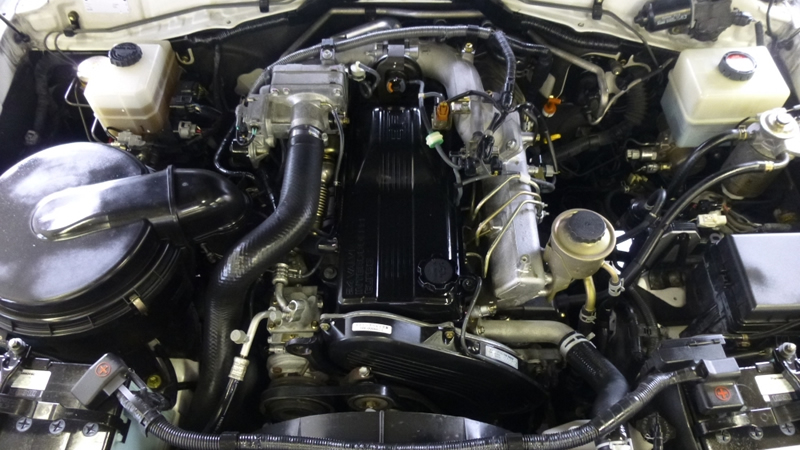 The gas engine is the same as the North American version
Toyota equipped the Crown and the Soarer with the 1UZ-FE type engine that became the foundation for the 2UZ-FE 4.7-liter V8 gasoline-powered engine in the Land Cruiser 100. By expanding the displacement and using a cast iron cylinder block, the new engine was ready for an SUV body. Toyota liked the engine enough to add it to its lineup of full-sized SUVs like the Tundra and the Sequoia for the North American market. Toyota added this quiet V8 engine to the Land Cruiser 100 because of its durability, power and smooth acceleration. It is capable of a maximum output of 235PS.
This engine is capable of 14.35 MPG in the previous model, but after some improvements, Toyota boosted the fuel efficiency to 15.289 MPG for the next model. Both fuel efficiency tests used the Japanese 10/15 mode test cycle. The other engine, a 4.2-liter inline-6 diesel turbo 1HD-FTE type, was refined by adding a swirl control valve and a variable nozzle type turbocharger while maintaining its original basic design. The diesel turbo boasts a maximum torque of 44.0kgm/9.01lb foot and a maximum output of 196PS compared to the previous model's 205PS. Its performance level is nearly that of the gasoline engine. The diesel turbo offers a fuel efficient 41.40 MPG, which is a very attractive number.
The driving performance was refined in 2002
In 2002, Toyota made minor changes to both engines that included a conversion to a 5-speed automatic transmission, which improved the driving performance. As a side note: the diesel engine cars were too thermal efficient, which meant that the heater did not work immediately upon starting the vehicle. Toyota manufactured a viscous coupling type heater specifically for the Land Cruiser 100 diesel to temper this problem.
The Automobile NOx/PM law in 2002 determined that diesel-powered vehicles could no longer be registered within regulated areas, which meant some diesel grades had to be restructured.
Late in the series, the VX wagon model was introduced. Toyota removed the removable third seat from the package, reducing the passenger capacity to five.