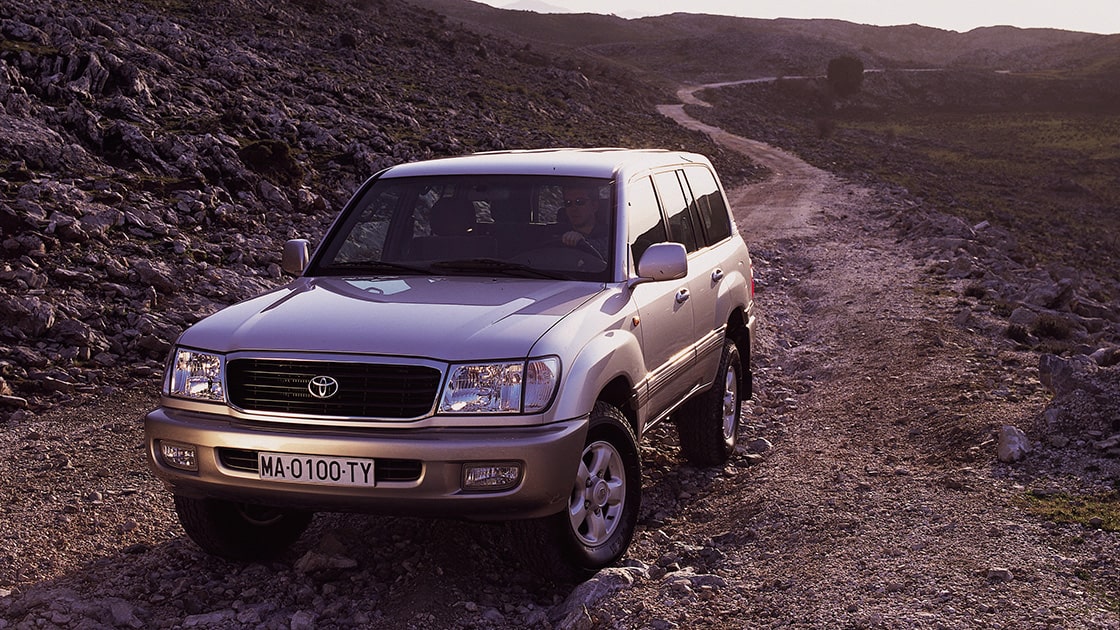 A Toyota Land Cruiser 100 Series delivers driving excitement beyond the thrill of going off-road; it can be customized to meet your lifestyle. For a quick overview of all of the trim levels over the years, click here and this article explains the differences between the years.
Should We Modify our 100 Series Land Cruiser
The good news is that the 100 Series Land Cruiser is ready to drive straight out of the box, but you know you want a little more from your Land Cruiser, so Land Cruiser 100 Series modifications are certainly something to consider. While a modified Land Cruiser 100 Series is more about your driving style and preferences than it is about the factory performance of the LC 100, everyone wants to do a little something to their Land Cruiser to personalize it for themselves.
When asked in an informal online survey, a majority of people said that they wanted to do moderate changes to their 100 Series to enhance the overall performance both on the road and off the road. The next group of people was the die-hard rock crawlers who wanted aggressive modifications, so they could run longer distances and run rougher trails. The more extreme drivers only made up a small portion of the people asked, and they wanted to climb over very extreme terrain like you would find at the tops of mountains. Only a few wanted a modified Land Cruiser 100 Series because they did not like its appearance.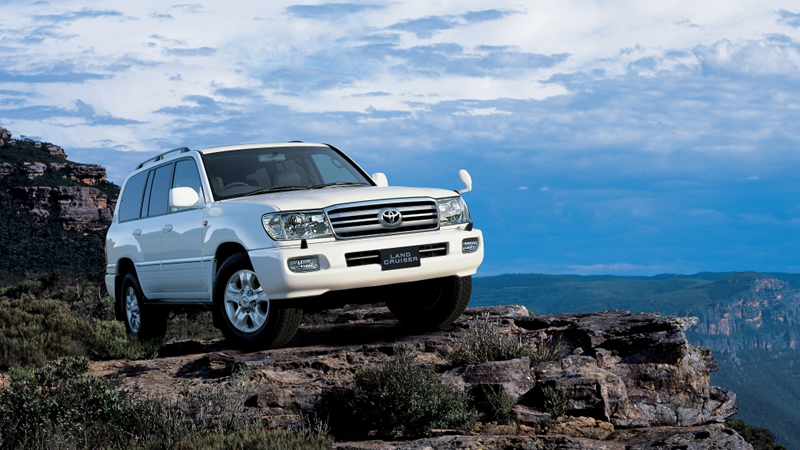 Some of the modifications available for the Land Cruiser 100 Series include:
Tires
Roof rack
Suspension upgrades
Lift kits
Bumpers and winches
Running lights and grilles…and more
If modification is something that you are interested in, there are many modification accessories and kits on the market you can use to customize your 100 Series Land Cruiser to suit your needs.
How to Replace the Front Headlights on a 100 Series Land Cruiser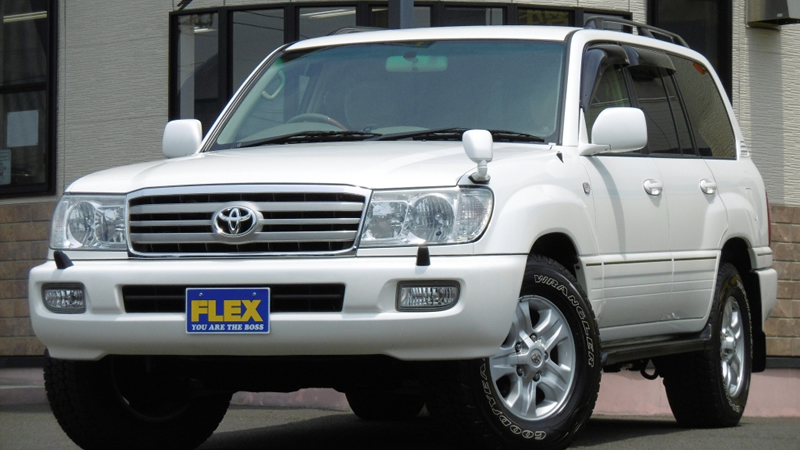 If you notice your Land Cruiser 100 Series headlights starting to dim, then replace them before they burn out. Here are the instructions on how to replace the front headlights on your LC 100:
Find the back of the headlight assembly and disconnect the wiring harness by pushing the two connecting side tabs.
Twist the weather cap counterclockwise and free it from the headlight assembly.
Release the headlight retainer clips by pressing them in toward the light.
Remove the old bulb by turning it counterclockwise.
Put the new bulb into the socket and lock it in place by turning it clockwise.
Place the headlight assembly back in place and snap the clips back in place.
Replace the weather cap by twisting it clockwise.
Connect the harness and wires to the back of the headlight assembly.
Reconnect your battery.
Test your light to ensure it works.
Your manual will give you more information on your particular year and model, so consult it for instructions and safety precautions.
What Wheel Fits the Land Cruiser 100
The Land Cruiser 100 wheel bolt pattern has been 5×150 with OEM 18- and 16-inch wheels for its entire lifecycle; however, you can fit 17-inch aftermarket wheels on the 100 Series. All LC100 wheels are 60 ET and 110 DIA.
Because the Land Cruiser 100 Series has an independent double-wishbone front suspension, it is easier to make wheel improvements on it than previous Land Cruiser models with their rigid axles. The IDW keeps the center of gravity low, and it has smaller and lighter weight suspension parts giving tires better response time. All wheel changes will change its overall appearance.
When looking for replacement wheels for your LC 100, there are a lot of options on the market. Low-profile wheels are some of the most popular choices when it comes to making changes to the wheels on your Land Cruiser. Since wheels affect other factors like traction and performance both on- and off-road, we wrote an article to help you understand the driving changes that happen with a wheel change. Keep in mind that the 100 Series Land Cruiser wheel bolt pattern is 5×150.
Click here to read more about the advantages and disadvantages of making wheel size changes.
What Steering Wheel fits the Land Cruiser 100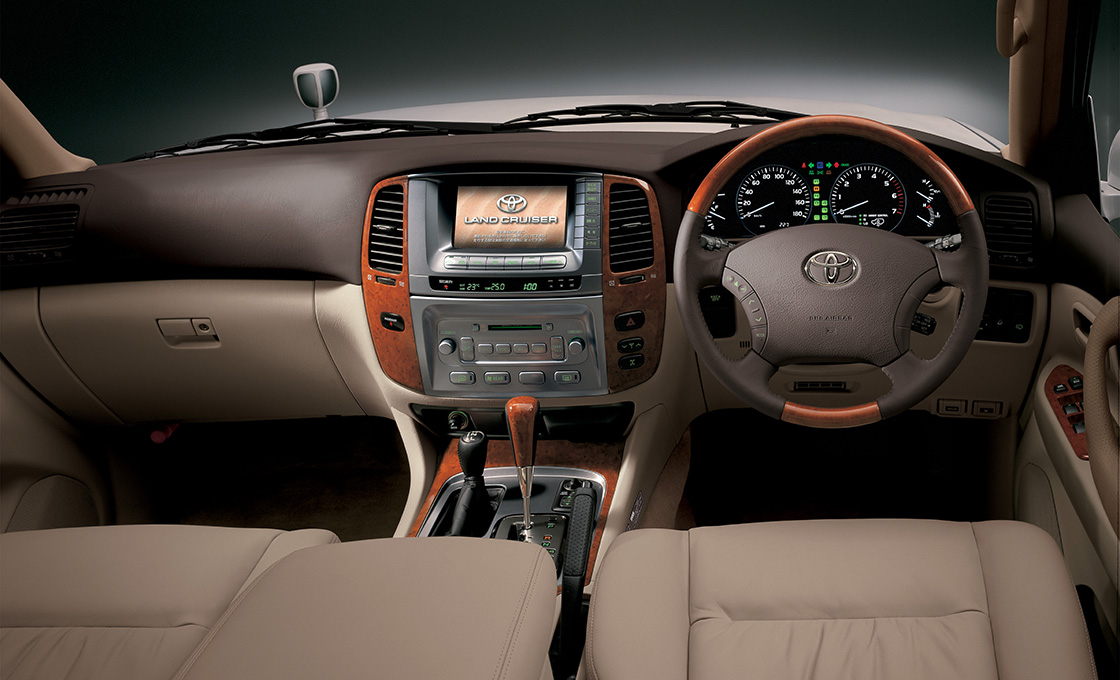 You will find many styles and sizes of Land Cruiser 100 Series steering wheels, and you should choose your new Land Cruiser 100 steering wheel based on your driving preference. A smaller steering wheel is good for racing because you do not need a maximum turn, while a larger wheel requires less steering effort.
The standard-size steering wheel on the LC 100 is between 14 (355 mm) and 15 inches (381 mm). You can interchange the LX470 steering wheel with the LC100 wheel.
Is a Front Locker Necessary on the 100 Series Land Cruiser?
Whether or not you need a 100 Series Land Cruiser front locker depends on where you intend to drive your LC 100. For regular, everyday driving, the Land Cruiser front locker is not necessary. However, if you are planning on crawling over rocks, then you will be glad that you installed one. It will give you the extra traction that you need to scramble over rocks and up steep inclines. It will also be very helpful for powering through mud and other slippery conditions.
If you don't plan on tackling anything more challenging than your driveway in the winter, then you probably don't need to install a front locker. A-TRAC does a good job of getting you to and from places.
Ultimately, the key to the best traction is to have the proper tires and drive at slow speeds when climbing.
How to Lift a Land Cruiser 100
Here are three ways how to lift a 100 Series Landcruiser for better performance:
Suspension Lift
A Land Cruiser 100 lift kit will replace shocks and springs with extended parts for an increase in the overall length of the suspension.
Spacer Lift
You can add spacers between the frame and the body to increase the vehicle's height.
Body Lift
Since the LC 100 has a ladder frame, you can add tires with a larger diameter to lift the body.
For more information on the differences between the lifts, see this article on lift methods. Like all modifications, there will be driving differences that affect handling, safety, and stability, so do your research before adding a Toyota Land Cruiser 100 lift kit.
Best Lift Kit for 100 Series Landcruiser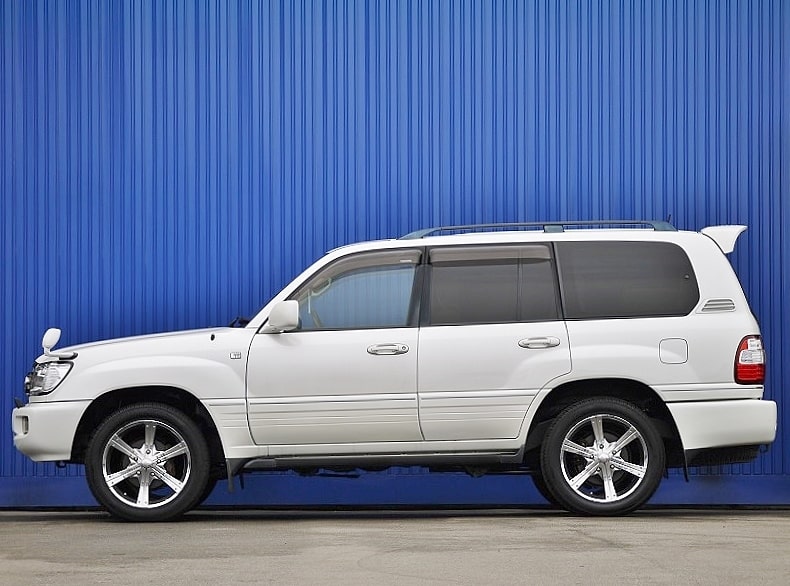 There are three ways to lift your Land Cruiser 100 Series that includes a suspension lift, a spacer lift, and a body lift. All three have advantages and differences. In addition, they all will affect the driving performance, handling, and stability of your vehicle. If you like more information on the differences and how to lift a 100 Series Landcruiser, this lift method article will help answer your questions.
Here are some of the more popular lift kits for your LC 100:
Ole Man Emu
OME began in 1976 in Australia to develop 4WD products for Australia's rough terrain. In 1988, ARB purchased the company, and today, they combined forces to deliver an integrated 4WD suspension kit that includes springs, shocks, sway bars, and all the hardware you need to raise your Land Cruiser.
Ironman 4×4
You will find many lift kit options for the Land Cruiser 100 Series from Ironman 4×4 that include both body and suspension lift kits for numerous driving conditions. Ironman 4×4 was also developed in Australia and has been in business for over 50 years. Their parts are distributed worldwide.
How to Replace a Steering Rack on your 100 land cruiser
If you are ready to do a 100 Series Land Cruiser steering rack replacement, then this article may help you get the job done.
Tools
socket set
universal joints
metric wrenches and extensions
Supplies
replacement Land Cruiser 100 steering rack
coolant
power steering fluid
Technical Tips
To prevent damage to the airbag clock spring, rotate the wheel while working on the steering.
Lift your LC 100
Remove your skid plate
Drain the coolant and power steering fluid.
Remove the power steering lines – you will need to catch any fluids.
Remove the tie left and right tie rods.
Remove the radiator fan, shroud, and radiator lower hose.
Remove the power steering pump and alternator.
Remove the steering shaft.
Remove the old steering rack
Check the 100 Series Land Cruiser steering rack bushings and replace them if needed.
Install the new Land Cruiser steering rack replacement.
Install the rest of the parts in reverse order
Replace the steering fluid and coolant.
Adjust the side slip amount to the specified value
Adjust the center of the steering with the tie rod.
Replace the skid plate
Take it for a test drive and check your signals, your airbag light, your cruise control, and anything else connected to the steering wheel to ensure that all of the electronics work.
How to Build A Toyota Land Cruiser for Overlanding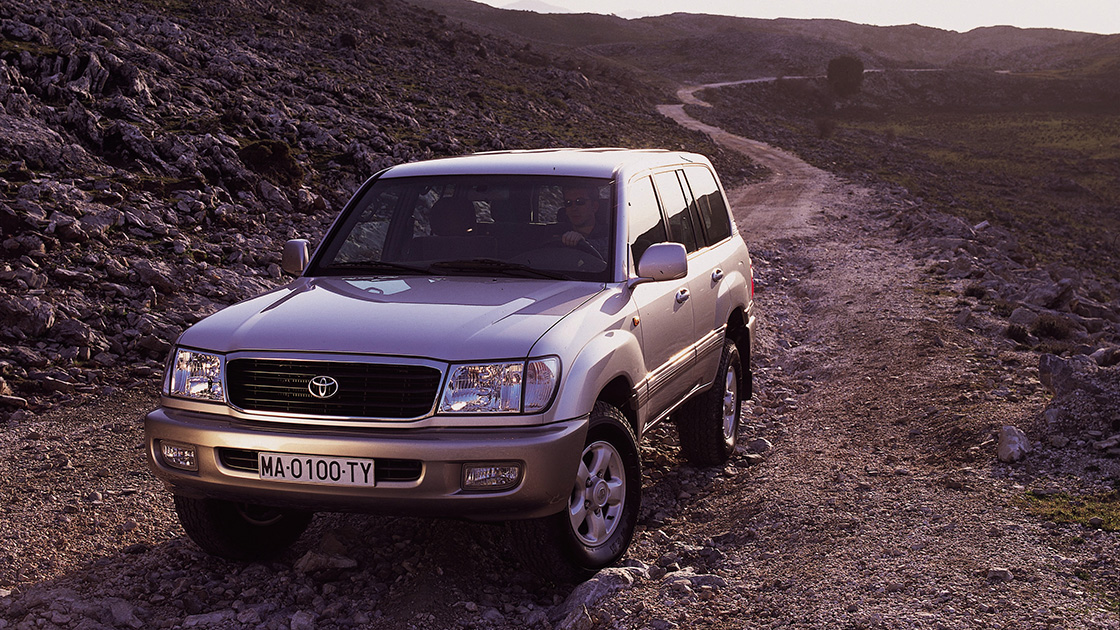 If you are serious about off-roading in your Land Cruiser 100, then here is a list of the upgrades and modifications to consider when planning your overland Land Cruiser build for the ultimate off-road experience:
Suspension
By adding new torsion bars and shocks along with heavy-duty coils, you can improve your off-road performance. This is the first place you should start on your Toyota Land Cruiser overland build. There may be some handling differences, so click here to read up on some of the things you can expect from making changes to your suspension. Old Man Emu by ARB has good kits for improved driving over the toughest terrain.
Tires and Wheels
By making changes to the wheel size, you not only change the looks of your vehicle, but also the way it performs. For more information on making wheel changes click here.
Body Protection
For extreme off-roading, you may want to protect the body with skid plates, rock sliders, and off-road bumpers. You may want to add a winch and hooks to the front and back for emergencies.
Lighting
Roof-mounted lighting, light bars, and auxiliary lighting can all be useful when deep into the woods. A grill bar will help protect those headlights while plowing through the underbrush.
Cargo
For going deep into the woods, you will want a cargo management system that includes a top rail, cargo mats and containers for the back, and a top box for your gear.
Comfort and Safety
Pack a first aid kit, solar shower, solar power, extra USB ports, awning, tent, portable toilet, solar radio, and anything else you may need for an extended stay off-road.
Communication
Stay in contact with a solar-powered cellphone or satellite communication system, as well as have an up-to-date GPS.
Overlanding your Toyota Land Cruiser will open up a whole world of adventure for you. If you're ready to go to extreme places, build your Toyota Land Cruiser to take you there.
Where can I get the accessories for 100 series Land Cruiser?
FLEX Automotive's online store offers you a variety of Land Cruiser parts. If you have trouble attaching some accessories on your own, feel free to contact us!