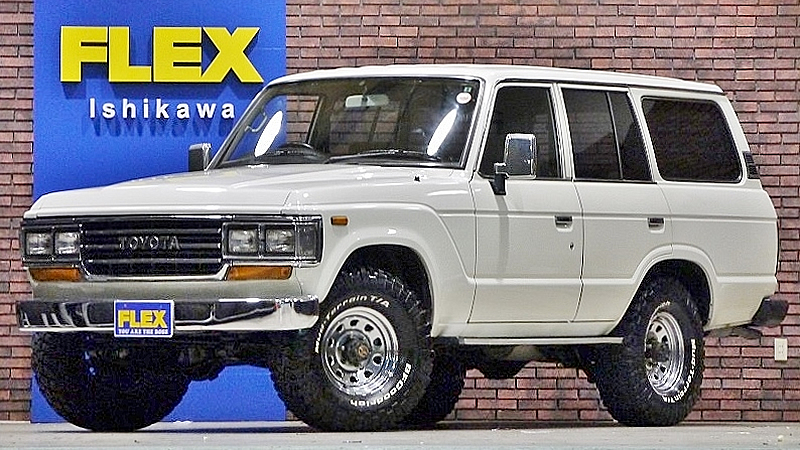 Features of the Land Cruiser 60 model
Top model of Land Cruiser in the 80's
As a successor to the FJ56V, the Land Cruiser 60 series debuted in 1980 as the highest model of a completely new Land Cruiser. The history of the 60 series began with two models: the FJ60V, which inherited the 2F-type 4.2-liter in-line 6 gasoline engine from the FJ56V, and the BJ60V, which was equipped with the same 3B-type 3.4-liter in-line 4 diesel as the BJ46 (V) sold together. After that, the gasoline car evolved from FJ60V → 61V → 62V, and the engine changed from 2F type to 3F type. And at the end of the model lineup, the FJ62G equipped with an electronically controlled 3F-E type was added.
Land Cruiser 60 series with a revolutionary evolution in diesel engine
On the other hand, diesel vehicles have evolved from the BJ60V to the 61V, and the HJ60V equipped with a newly developed 2H type 4-liter straight 6 diesel has been added. Ultimately, the HJ61V equipped with a turbocharged 12H-T type diesel will also be added to the series and the lineup will be expanded.
In addition to the introduction of this turbo model, many ground-breaking reforms were made for the first time in the history of the Land Cruiser, such as the appearance of 3-number (wagon) registered vehicles and automatic transmission vehicles, the setting of a manual differential lock mechanism, and the setting of trim levels based on differences in equipment.
Diesel models may not be registered
In the 1980s, the economy was booming in Japan, and because of this boom, Toyota took this opportunity to expand the Land Cruiser and develop new models. The 60 series and later are often distributed as used cars, and the later models are still popular because they are equipped with modern equipment such as air conditioners and power steering.
All diesel models, which were the mainstream at the time, are subject to NOx regulations, so except for gasoline vehicles (FJ62G) with passenger car registration (3 number), or, although very rare, gasoline vehicles registered as vans, registration in restricted territories is not possible.
Body color of Land Cruiser 60
Two colors, traditional beige and white, are overwhelmingly popular
From the beginning of its debut, the body color of the previous 60 series was offered in four colors: white, red, traditional beige, and blue.
When it comes to the late model with high roof specifications such as HJ60V, wild stage toning (two-tone color of silver and dark blue metallic) and beige metallic (deep brown metallic) are added to the upper levels, and each color can be chosen as an option.
Matching side stripes (decal stickers, not paint) were provided. The best sellers were overwhelmingly traditional beige or white, but in the current used car market, many of the used cars are custom colors.