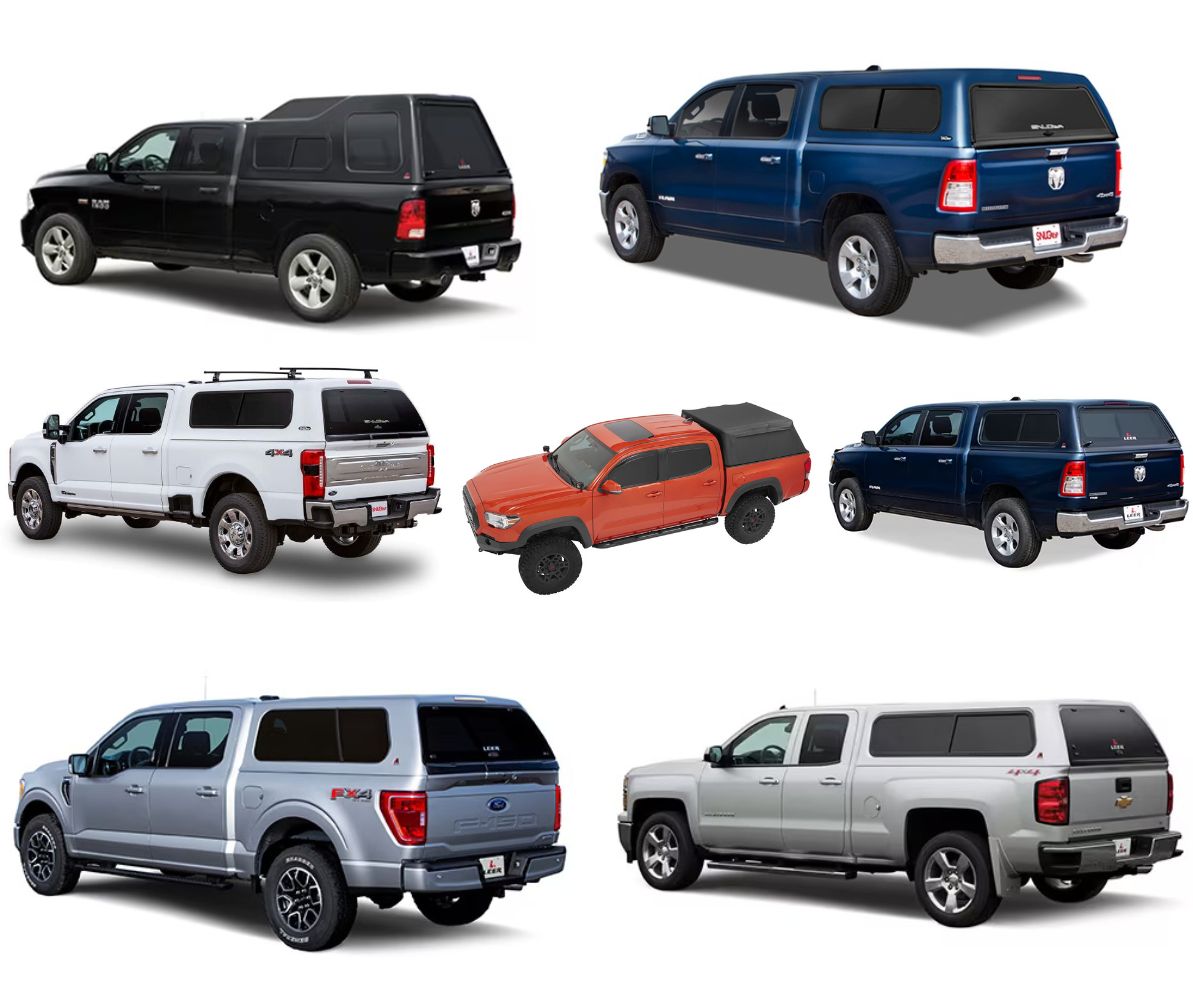 Why buy a camper shell?
A truck bed topper and camper will protect the bed's contents from the elements and theft. The camper shell was initially designed for camping, but many Toyota Tacoma owners use them for utility and cargo purposes. They can still be used for camping since most Tacoma bed toppers and camper shells offer ventilation through sliding windows with screens or a pass-through window into the truck's cab.
While toppers work well to cover the truck bed, they limit the use of the bed for oversized items like your favorite off-road toys like ATVs. Fortunately, toppers are easy to remove, so it only takes a few minutes to turn your truck into an open bed again.
How to Choose the Right Tacoma Camper Shell
There are several types of camper shells designed for the Tacoma, so here are some things to consider when selecting the right camper shell for your Tacoma:
Budget
Like all Toyota Tacoma accessories, the first thing to consider is how much you want to spend.
Interior Height
How much interior room do you want? Do you need a high top, or will a cab-high top be tall enough for the things you want to carry?
Windows
Most side windows come with sliders and screens for proper ventilation, but the front window on the top can come with options. Do you want a front cab window that slides or tilts down?
Options
Do you want a battery-powered dome light or tube lighting? How about a remote keyless entry? Or a walk-in door? Most toppers have additional options available.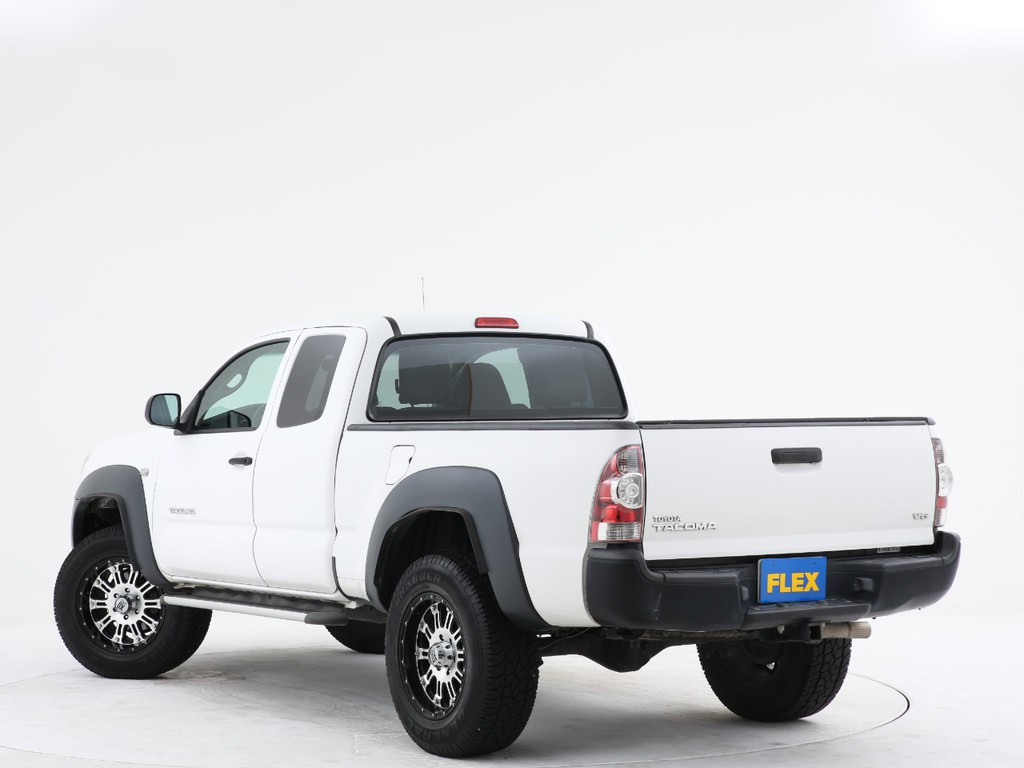 Shell Design
Cab-High – This height is level with your cab, so you have a streamlined look. It is best for carrying cargo and storing things you want to keep out of the elements and safe from theft. These styles usually have windows on the side, and some make and models offer optional side toolboxes.
Mid-Rise – A mid-rise cab sits a few inches above the cab and offers more cargo room than a cab-high topper. For example, the Leer 180XL provides 15% more cargo room and four more inches in height than a cab-high topper.
High-Rise – When you need space, the high-rise topper changes the bed of your Tacoma from a storage area to a living space. The high-rise gives you room to haul tall cargo or do a little camping out on the trail.
No matter what height you look for, ensure that if you have a lift kit or other modifications on your Tacoma, you can clear the door of your garage or parking area.
Construction
Aluminum – The aluminum camper shell is economical and lightweight. It is a good topper for someone who only needs occasional bed protection, and these toppers aren't as well insulated as fiberglass toppers and come in limited colors.
Fiberglass – These are the most common camper shells. They are durable and lightweight, offering security from theft and protection from the weather. These toppers are painted to match your OEM paint and are custom-fitted, so they blend into your Tacoma body. They can be more pricy than an aluminum cap.
Wood – If you're a DIYer, there are camper shell ideas all over the internet for those who want to build their overlanding kit.
Canvas – Soft-shelled canvas campers are versatile and easy to store. They may not offer as much protection as a hard shell top, but they are convenient.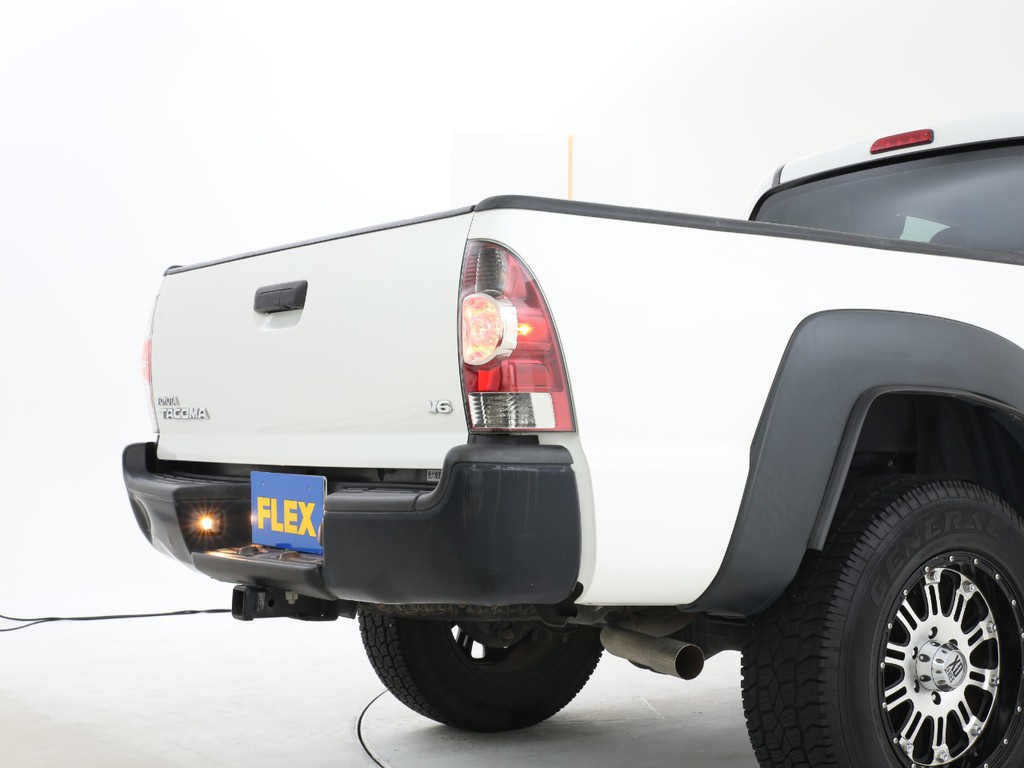 Purpose
The purpose might be the most crucial consideration when choosing a topper.
Home – Everyone with a truck has used it to haul or carry something. A topper will keep your cargo secure as you travel.
Work – Tools are expensive, and you don't want them stolen. A camper top keeps them out of sight and secure.
Play – When heading out to explore the world, a topper ensures you always have a place to stay, even in the most remote areas. Choose a size that will give you room to move and space for your gear.
Compatibility
Since the Toyota Tacoma comes in various body styles and lengths, the topper must fit. When buying used, some of the shells can be mixed and matched, but there may be a gap at the top front where it doesn't fit flush with the cab, like if you put a single cab long box camper on a double cab long box. Mixing toppers and bodies may not be the best choice, but a used topper can be cheaper than new.
If you order a new fiberglass topper, it will be custom fit to your truck's specs and painted with OEM paint.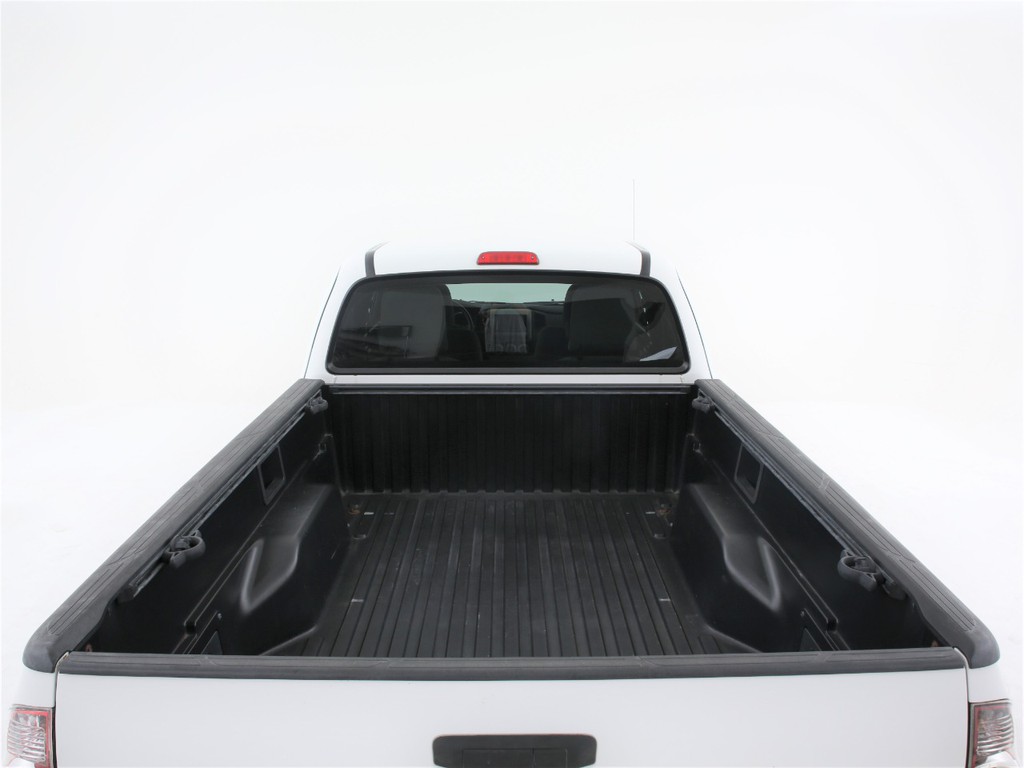 How to Make Sure Of a Correct Fit For A Tacoma Shell
To ensure a correct fit:
Know your year and model
Know your bed size
To measure your truck bed, follow the instructions in the next section.
Measure YOUR Truck Bed
If you want to make sure that you get a correct fit on your Tacoma, follow these steps:
Measure the inside length of your truck bed from the bulkhead to the inside edge of the tailgate when it's closed.
Measure the inside width of your truck bed between the inside edges of the bed rail at the front (cab end) and the rear (tailgate end).
If your chosen camper shell requires a specific height, measure the distance from the top edge of your truck bed's side rails to the highest point of the cab's roof.
Inspect your truck bed for any obstructions, such as wheel wells, tie-down hooks, or bed rail caps, which may affect the fit of the camper shell.
If your truck has a step-side, flare-side, or utility track, ensure the camper shell you choose is compatible.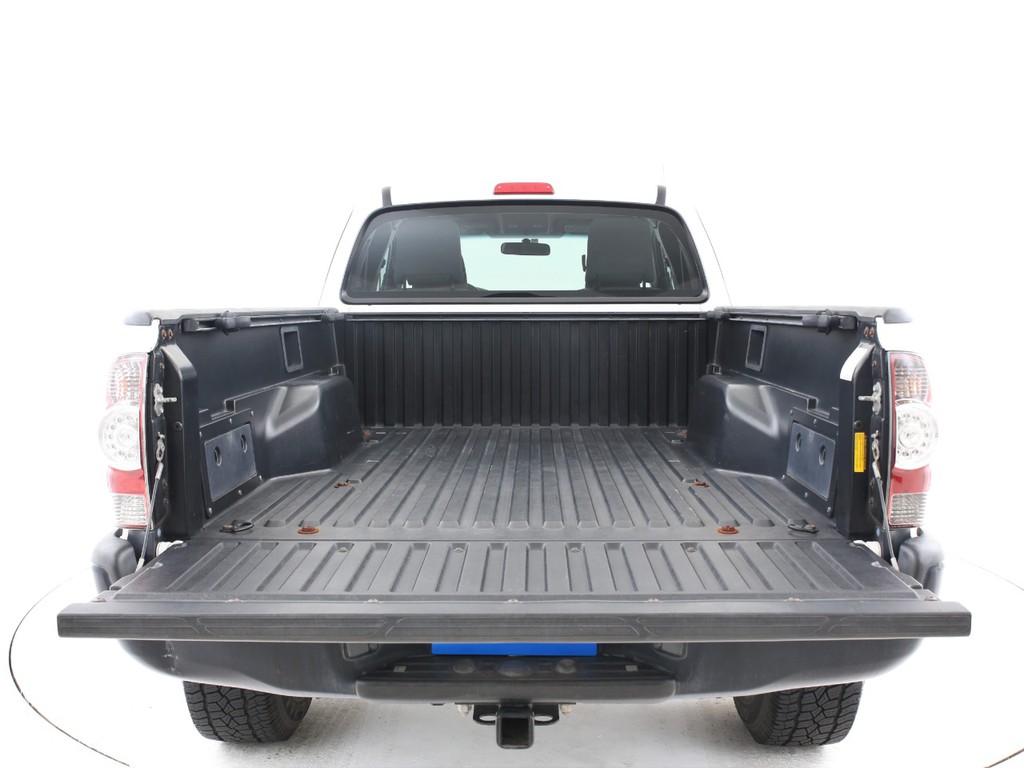 How long is the bed of a Toyota Tacoma
The Toyota Tacoma comes in a short bed and a long bed.
Here are the factory spec measurements:
5-foot bed = 60.5 inches long; 41.5 inches wide; 19.1 inches high
6-foot bed = 73.7 inches long; 41.5 inches wide; 19.1 inches high
To be safe, take the time to measure your own truck to confirm its measurements.
Match Topper Dimensions to Your Tacoma
Once you have the correct sizes, shop from camper shells on the market. Not all topper companies have camper shells for the Tacoma, so take your time and shop around until you're sure you have the right one. We've included a long list of camper tops that fit the Tacoma.
Make Sure It Can Be Securely Installed On Your Toyota Tacoma
No matter which camper shell you choose, ensure you can install it on your Tacoma.
Move the camper shell towards the front of the bed while inside and align the front end with the bed rails.
Align the back end to the bed rails. Make sure your tailgate closes.
Depending upon the design of the camper shell, you may need to attach them with clamps to the bed rail or bolt it in place.
If you have a third brake light, connect it to your wiring harness.
Best Camper Shells for Your Toyota Tacoma
We have compiled a list of the best camper shells for your Toyota Tacoma, so look at the list and decide which one best suits your needs and lifestyle.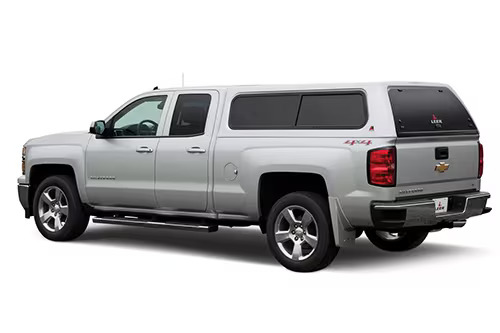 Photo by leer.com
When it comes to good looks and security, the Leer 100XR offers both. It's a one-piece fiberglass topper with a frameless, curved glass rear door and framed 50/50 sliding windows with insect screens. Take it camping or use it to keep your contents safe from rain and snow. Many upgrades are available, like an interior headliner and front sliding window.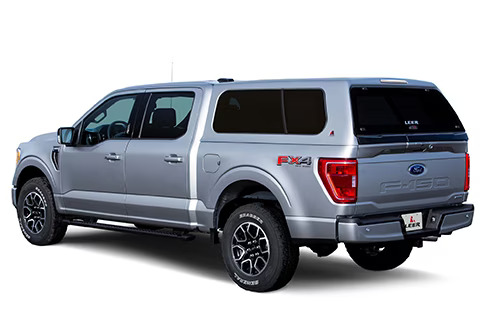 Photo by leer.com
The Leer 100XL is designed to minimize the ability to see your cargo with its dark tint glass. It has the same rear door as the 100XR, but its side windows have twist-out vents. It has more features than the 100XR, like a twist handle with a flip-up weather cover. You can upgrade the lighting to tube lighting and a removable tilt-down front window into the cab.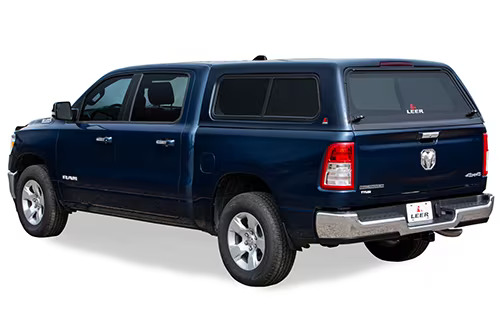 Photo by leer.com
When you want the basic Tacoma topper, the Leer 100R protects your cargo. A recessed framed glass rear door flips up by t-handles, and the framed 50/50 sliding side windows and screens allow air to flow through if you're camping. Upgrade this standard topper with a headliner, tube lights, and a front sliding window. It fits cab-high like the 100XR and the 100XL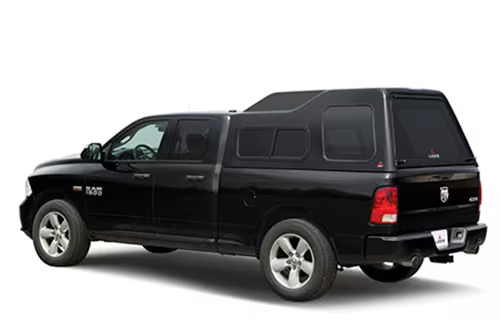 Photo by leer.com
The Leer 122 is a high-rise camper shell that offers 40% more dry storage area. A full-height door enables you to load tall items without problems, and the dark-tinted windows add security to your cargo. It has a recessed third-brake light and can be upgraded to add side-opening windows with sliders and a front tilt-down window.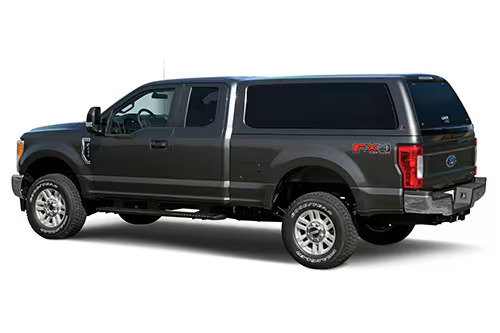 Photo by leer.com
This Leer 100XQ topper is a cab-high top with one-piece tip-out screened side windows that reflect the design of your truck. It has a frameless curved glass rear door with hidden hinges. All of the glass is a dark tint to keep your cargo safe. Upgrade it with remote keyless entry and a front sliding window.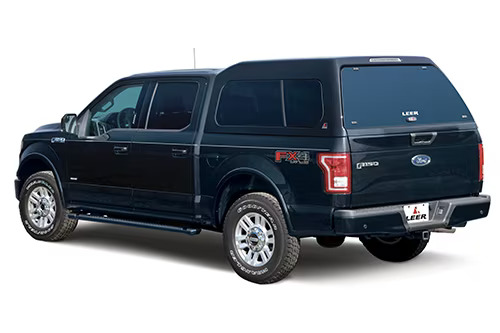 Photo by leer.com
The mid-rise Leer 180XL is a long-standing favorite among truck owners who need room. It is convenient and has a capacity of 15% more than cab-high toppers. It has a frameless rear door and side windows, all with a dark tint. Upgrade the 180XL with a front sliding window and a remote keyless entry.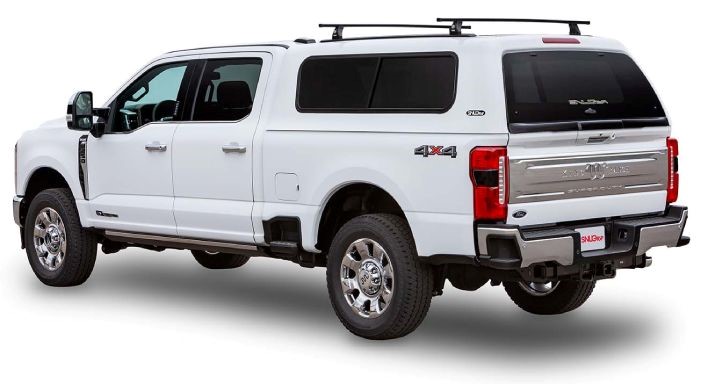 Photo by snugtop.com
Sleek and stylish, the SnugTop Rebel is an economical choice with top-of-the-line features like a large curved glass rear door and 50/50 slider side windows with screens. It uses rotary latches with cables on the tailgate, and the ½-inch honeycomb reinforced roof can be customized with rack options. Match your Tacoma with OEM colors.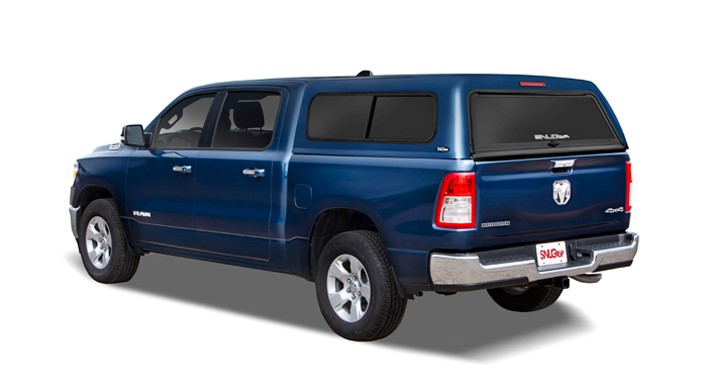 Photo by snugtop.com
SnugTop broke into the topper market with the traditionally styled Cab-Hi design. It has aluminum frame sliding windows with glass inserts and mesh screens, and its framed rear window uses an inside handle with locking rods. Double-bulb rubber seals around the edges protect the bed, and the topper is a one-piece construction.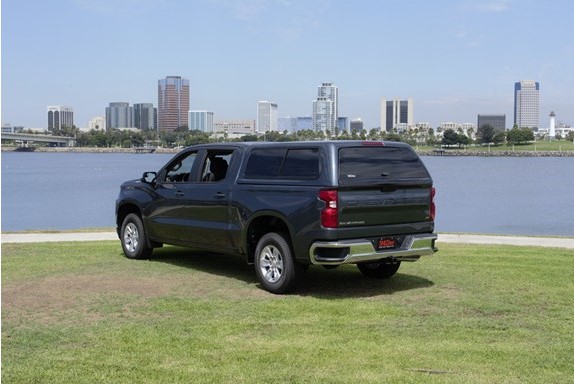 Photo by snugtop.com
SnugTop's Xtra Vision topper has oversized sliders with curved glass and removable screens. An optional pet screen is available, and this topper comes with a channeled rain gutter that keeps rain from puddling. It's aerodynamic and comes in OEM-matched colors.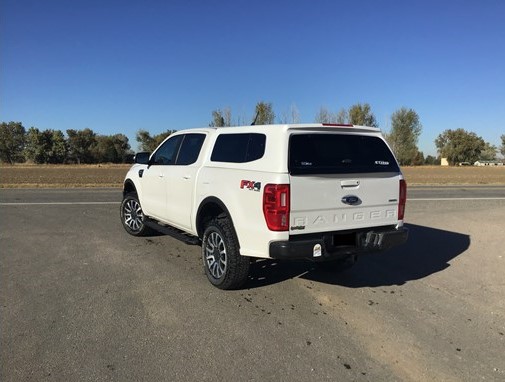 Photo by snugtop.com
The SnugTop GB Sport adapts to the edges and contours of some of today's trucks. It comes with pop-out scallop windows and a third brake light spoiler, giving this topper a sleek appearance. The all-glass tailgate has curved glass and rotary latches with stainless steel rods.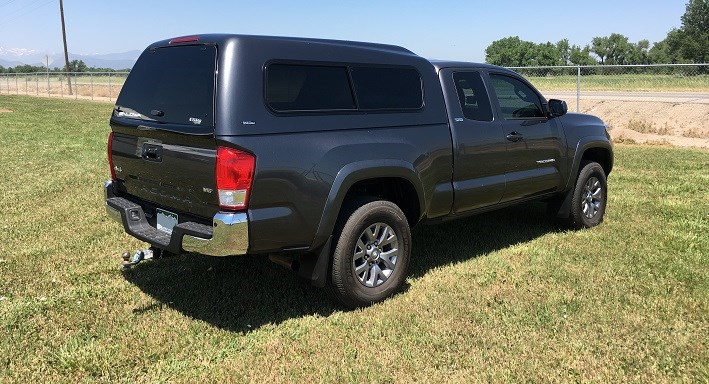 Photo by snugtop.com
If you need extra headroom in your camper top, then the SnugTop Sport Hi-Liner is designed to give you additional cargo space with its sloped roof. The side windows slide and come with mesh screens, and you can choose roof rack options.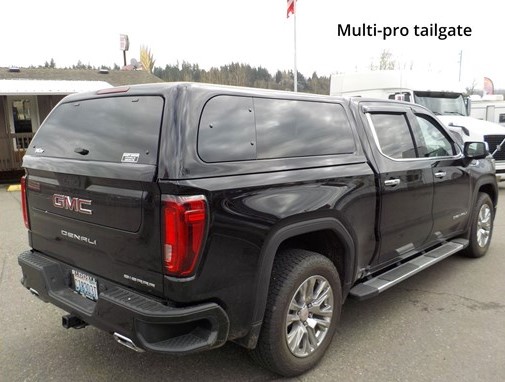 Photo by snugtop.com
The SnugTop Super Sport camper top is a new design that combines contoured side windows with an extra-large rear window. They designed the finished edges and the curved windows to blend into the bed of your Tacoma seamlessly.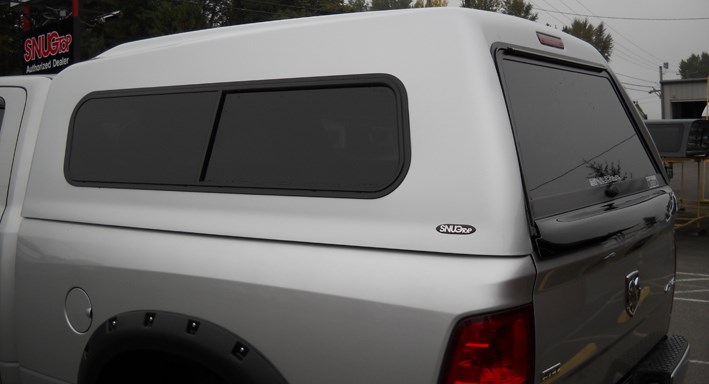 Photo by snugtop.com
If you need a lot of extra room, the SnugTop Hi-Liner delivers extra headroom and a sloped roof that opens up cargo space. The side windows and rear windows have aluminum frames and glass inserts. Match it to your Tacoma with OEM factory matching paint.
SnugTop Outback
The SnugTop Outback is made to withstand the outdoor lifestyle. It has several roof options and can carry up to 500 pounds of gear, so pack up your kayaks, tents, and top box and hit the road.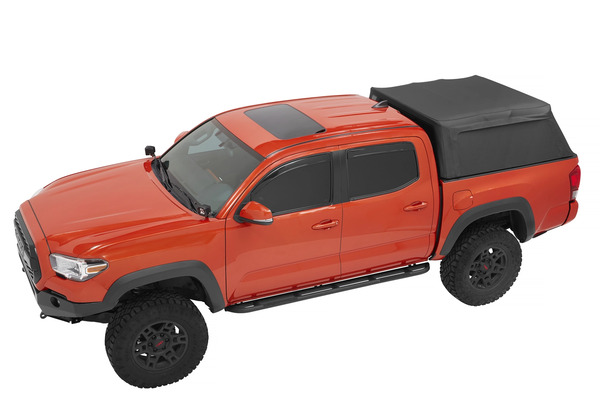 Photo by bestop.com
You get flexible storage and coverage with the BesTop Supertop that one person can mount and remove. It attaches with four clamps and can be stored along the side panels in a built-in storage system. It is made with heavy-duty Black Diamond fabric for durability. A tinted rear window panel is removable, and side window panels roll up for storage.
FourWheel Project M
The FourWheel Project M camper is lightweight and has a rugged canopy-style popup cab-over bed topper. It mounts on the bedrails and uses the factory tailgate. Optional equipment makes this a camper that you design. You can add a refrigerator, passenger-side windows, flood lights, and roof vent fans.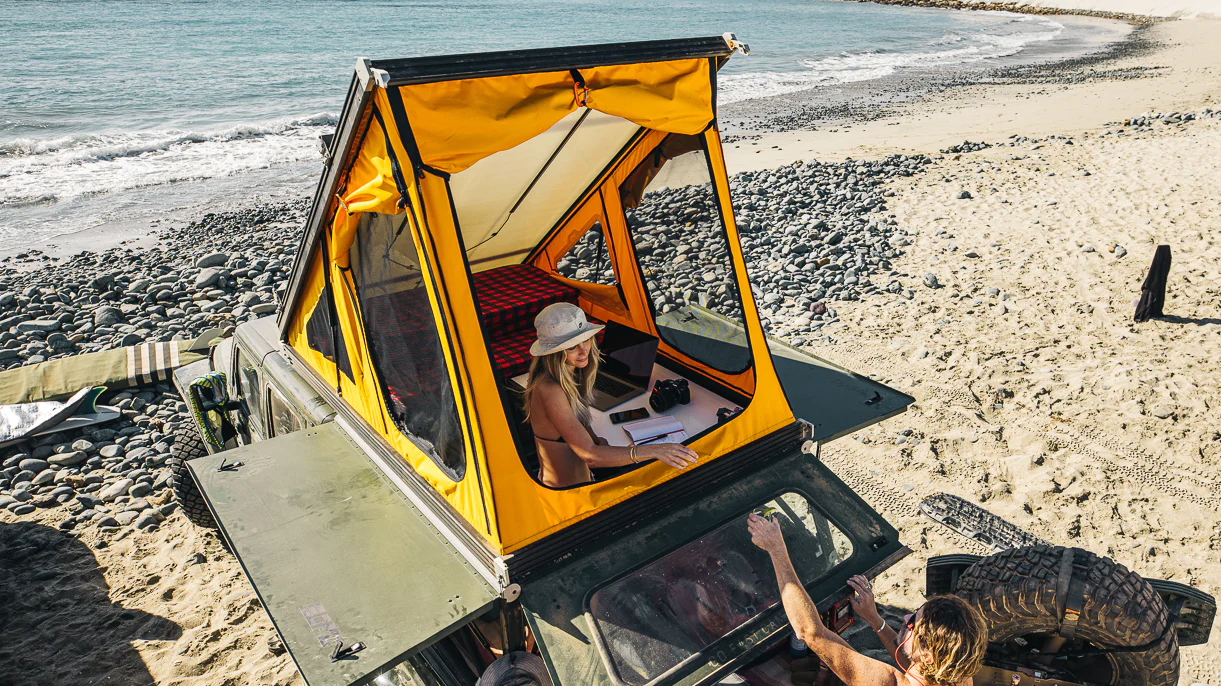 Photo by gofastcampers.com
Go Fast's Campers V2 Platform is a lot different than most toppers. This topper has the sides and windows you expect from a topper, but it also creates a standing-room-sized shelter where you can sleep for the night. It packs up for travel, so you don't lose fuel mileage, and it's the best of security and comfort.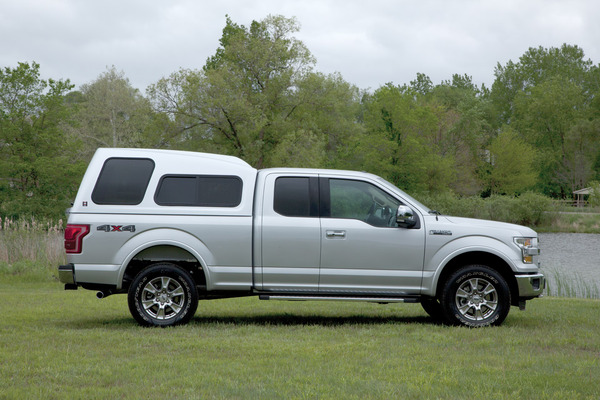 Photo by centurycaps.com
Century truck caps come in three sizes to meet your lifestyle needs. From cab-high to commercial caps, all of Century's products are designed to take on the elements and withstand abuse. Each cap is made to match your truck and offer security and privacy.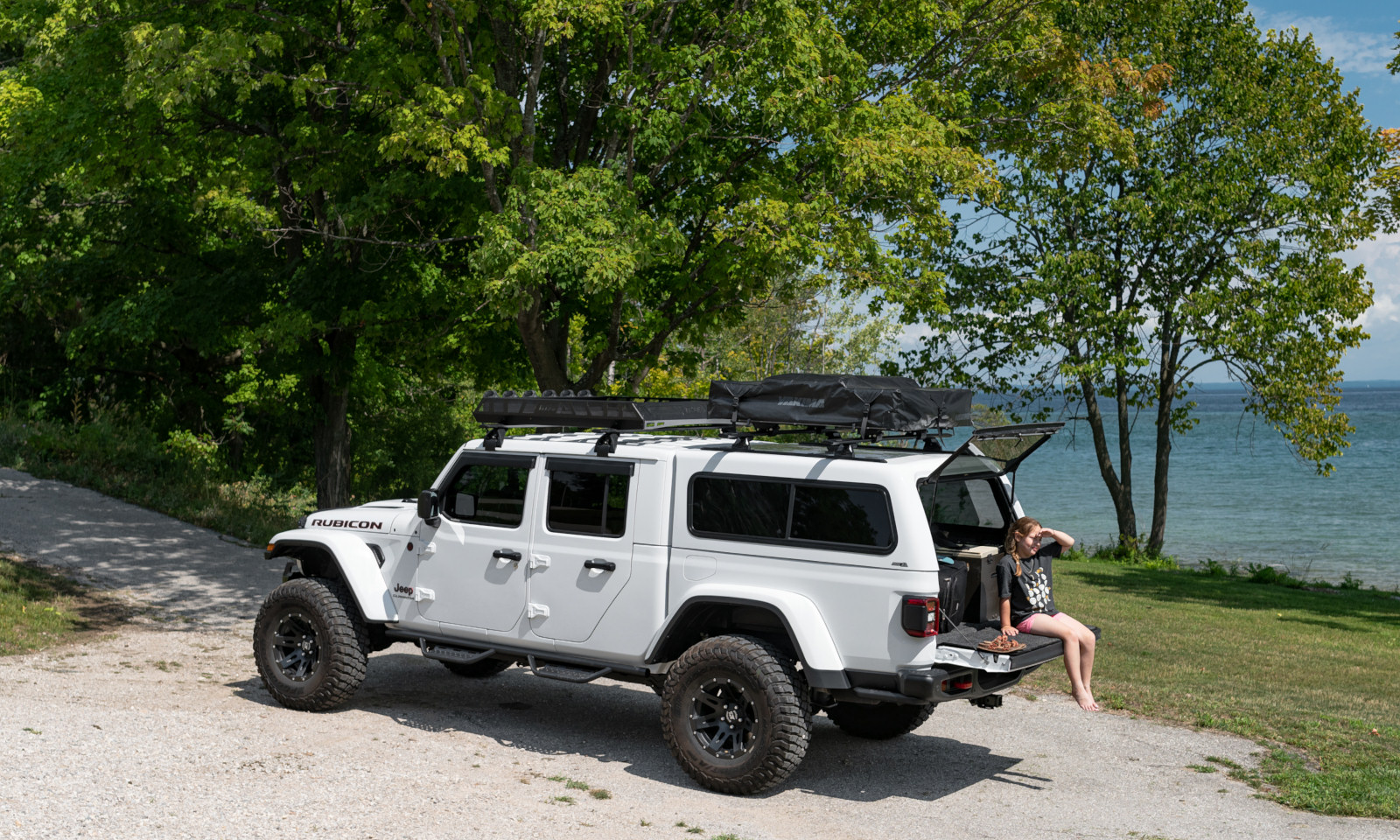 Photo by 4are.com
The ARE CX Classic brings strength and function to your truck. It's stylish and has many options based on your needs for work or play. It has a front picture window, half-slider screened side windows, and a t-lock heavy-duty rear door. It may be simple, but it's tough.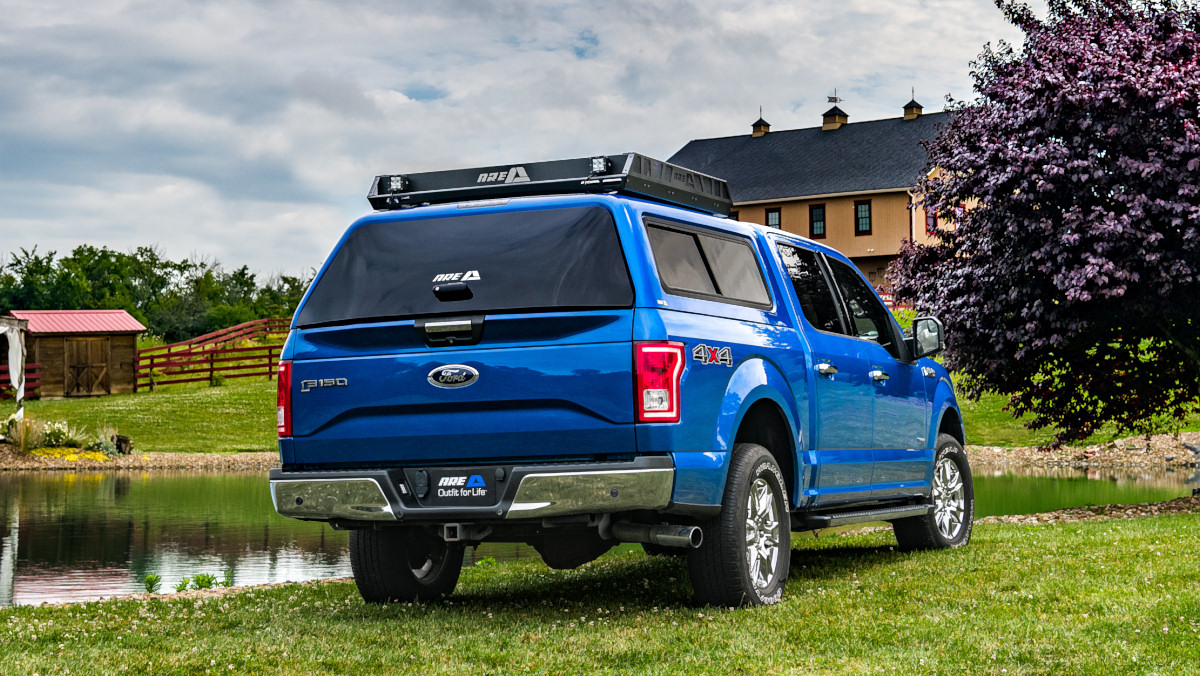 Photo by 4are.com
ARE paired the CX cap with their tailgate-formed rear door to give you the most functional topper on the market: the ARE CX Evolve. The tailgate has a OneMotion™ handle that makes opening the top effortless, and the tailgate complements all the angles of your truck.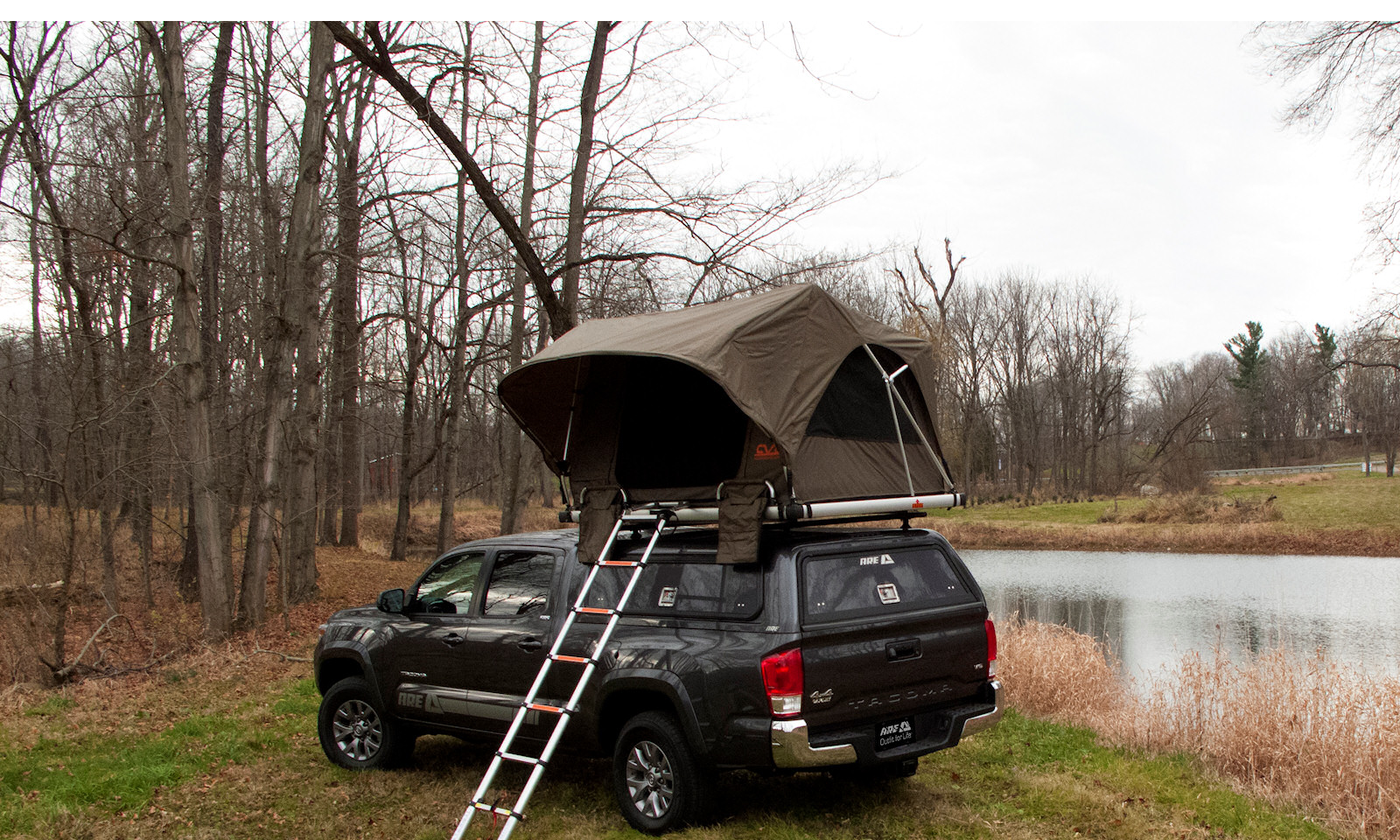 Photo by 4are.com
When it comes to toughness and durability, the fiberglass ARE HD Series topper stands out from the crowd. Its internal skeleton can hold three times the weight capacity of whatever you can load up on the roof racks. You can take everything with you with this topper.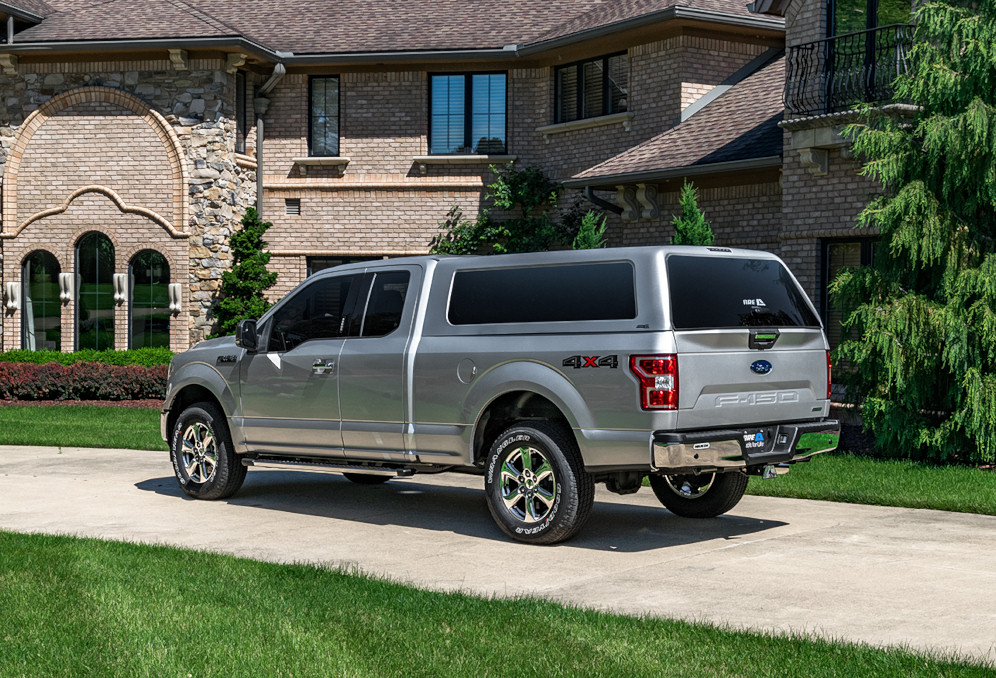 Photo by 4are.com
This tailgate-formed rear door and frameless side windows truck cap is built to blend into your truck for seamless style. The ARE CX Revo comes with a OneMotion™ handle for easy entry, and it uses urethane side window technology that bonds the windows to the cap for a watertight seal without ugly screws and frames.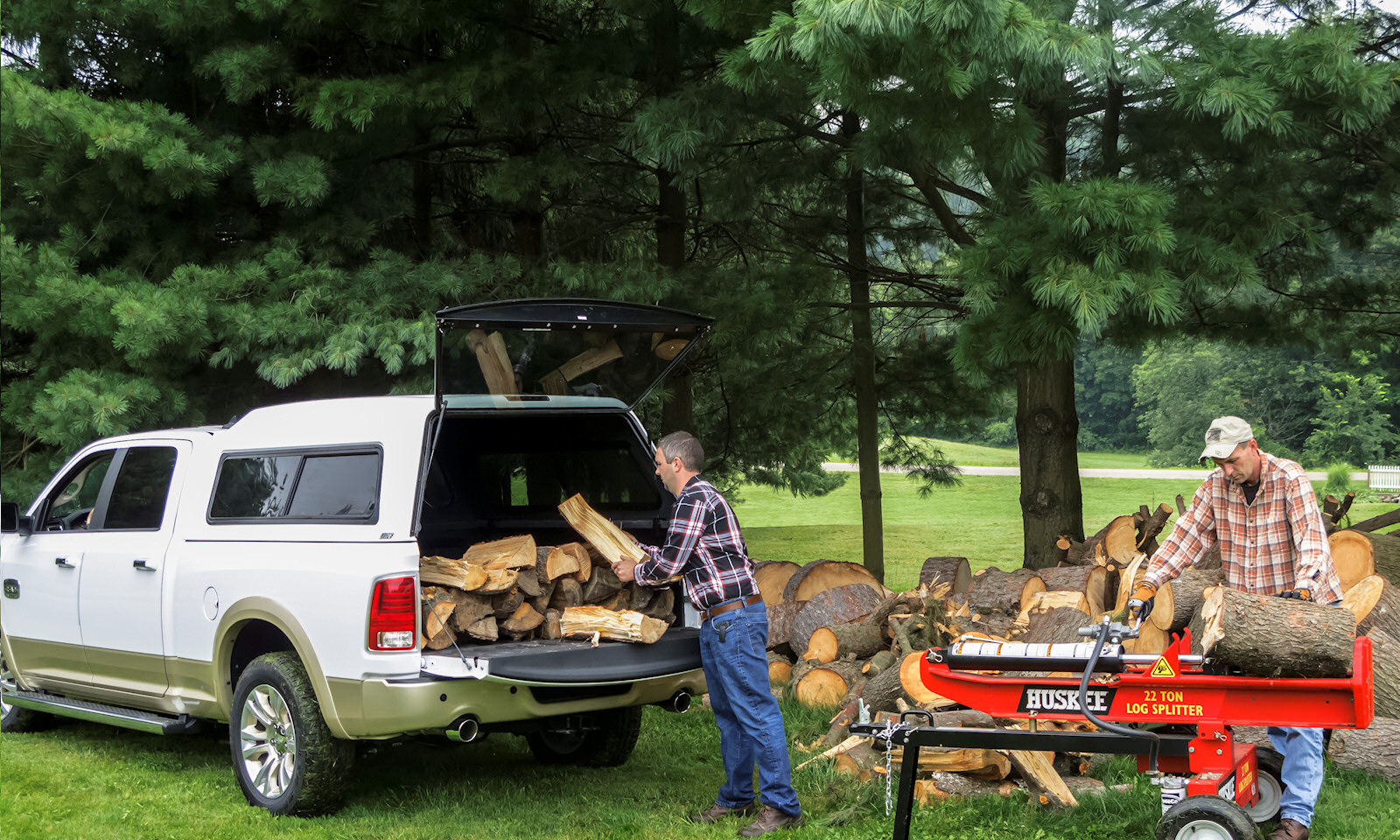 Photo by 4are.com
When you need more headroom, the ARE MX topper delivers. The mid-high roof gives you extra cargo space for your gear and an optional walk-in door makes this a versatile camper. The mid-high roof opens up your line of sight for those people pulling boats or trailers.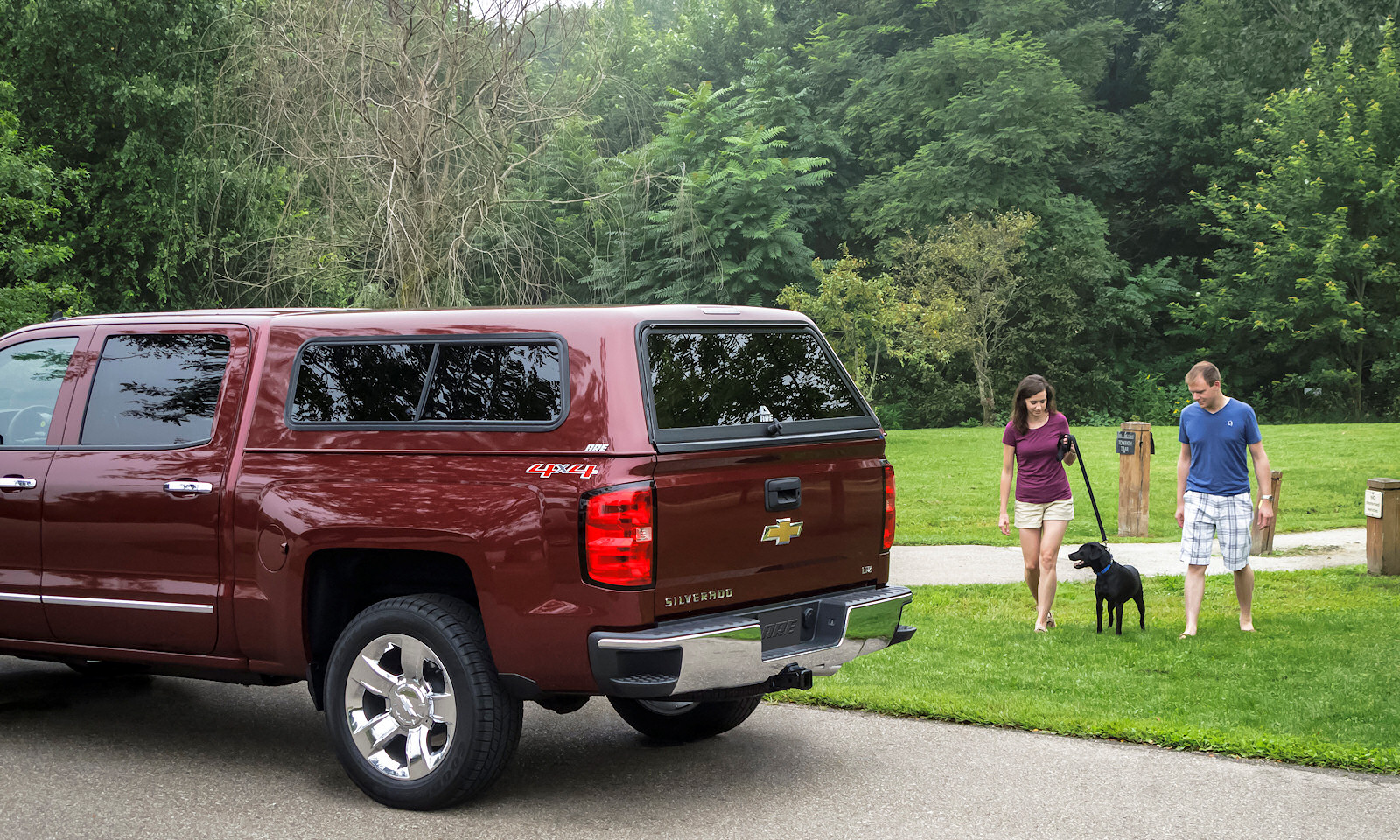 Photo by 4are.com
The ARE V brings traditional clean-line styling to your truck. There is plenty of room for your cargo, and the price is easy on the budget. You can add options like a side toolbox if you need a place to carry your equipment.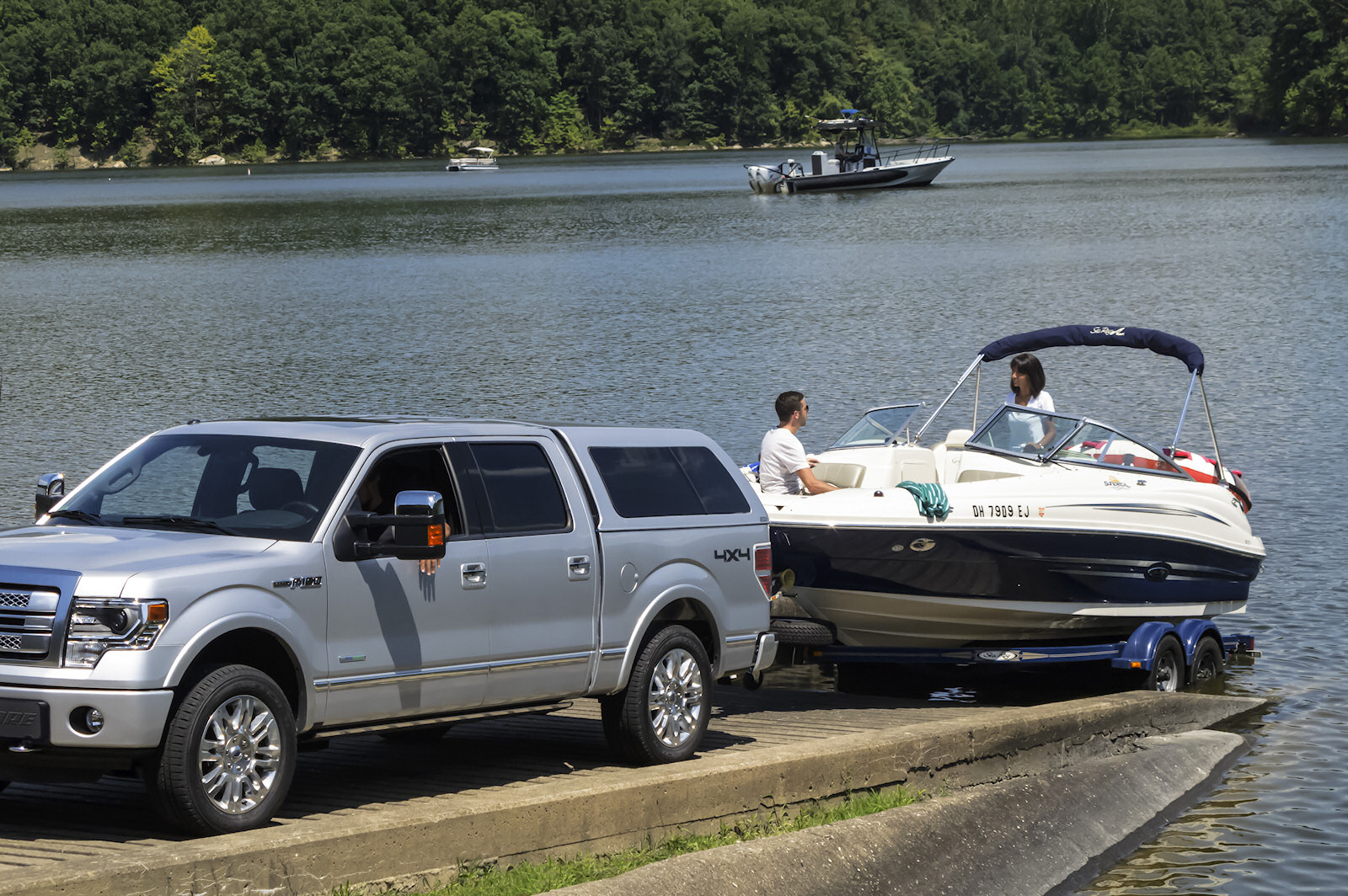 Photo by 4are.com
Regarding style, the ARE Z cap is designed with a frameless door and screen vent side windows for ventilation. An optional keyless entry makes locking and unlocking your cap easy by using your key fob.
Conclusion on the Best Camper Shell for Tacoma Owners
When shopping for the best camper shell for Tacoma owners, you should read reviews, talk to other Tacoma owners and select the best bed topper that fits your needs.