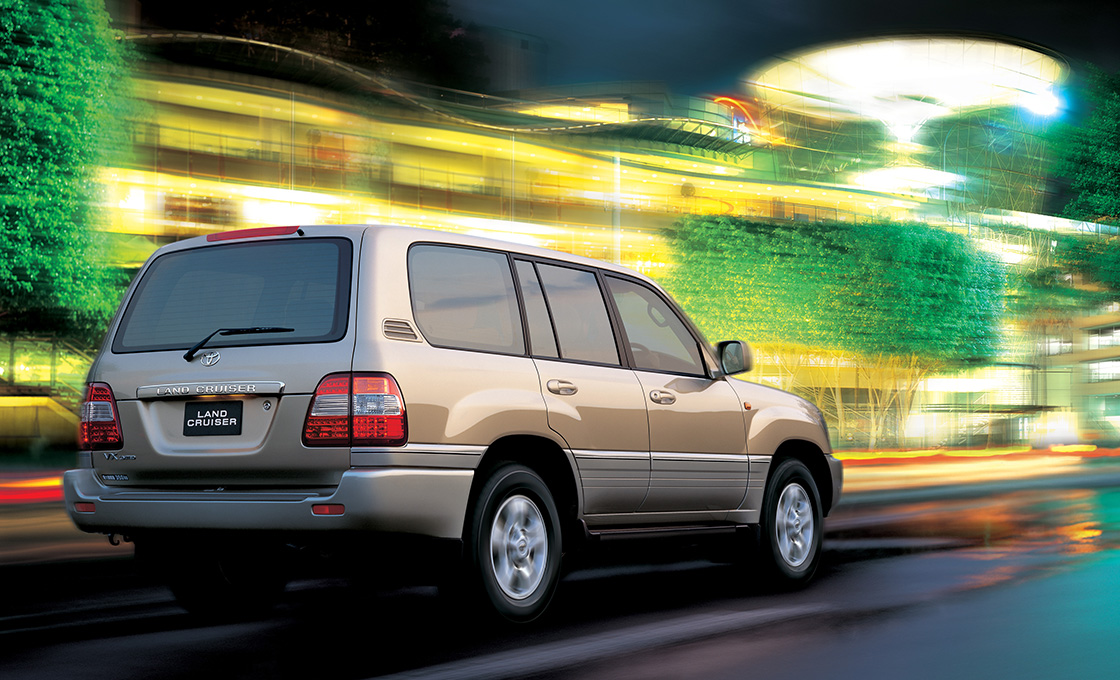 What are the body sizes of the Land Cruisers?
People who are considering purchasing a Toyota Land Cruiser often ask questions about the body size. Everyone knows that the Land Cruiser is a large vehicle, but before you buy it, you may wonder how much parking space you need.
Also, many Land Cruiser owners do not know the body size and vehicle weight of models other than the model they are driving. Therefore, in this article, we will introduce the body size of successive Land Cruisers, the minimum turning radius related to handling, and the vehicle weight.
We have limited this article to the Land Cruiser 60 series and later, as those are the ones most often handled by FLEX Land Cruiser dealers.
Body size of successive Land Cruiser models
The body size of the Land Cruiser introduced below may differ slightly depending on the model year and equipment (with or without roof rails, etc.). Of course, the lifted model will be higher than normal, and if you equip it with overfenders and put on wide tires, the width of the car will be wider. Many of the vehicles sold at FLEX Land Cruiser dealers are customized vehicles, so please inquire with the staff at each store about the body size for individual vehicles.
Land Cruiser 60-200 size comparison
| Model | Landcruiser 60 series | Landcruiser 80 series | LandcruiserCygnus | Landcruiser 100 | Landcruiser 200 | FJ Cruiser |
| --- | --- | --- | --- | --- | --- | --- |
| Sale Period | August 1980 to December 1989 | December 1989-December 1997 | December 1998 to August 2007 | January 1998 to August 2007 | September 2007~ | November 2010~ |
| full length | 187 inches | 196 inches | 193 inches | 193 inches | 195 inches | 182 inches |
| full width | 74 inches | 76 inches | 76 inches | 76 inches | 77 inches | 75 inches |
| full height | 76 inches | 73 inches | 74 inches | 74 inches | 74 inches | 72 inches |
| Minimum turning radius | 20.34 feet | 19.69 feet | 19.35 feet | 19.35 feet | 19.35 feet | 20.34 feet |
| vehicle weight | 4,210 – 4,894 pounds | 4,828 – 5,092 pounds | 5,445 pounds | 5,048 pounds | 5,357 pounds – 5,930 pounds | 4,276 pounds |
| Boarding capacity | 5~8people | 5~8people | 8people | 5~8people | 5~8people | 5people |
Land Cruiser 70 body size with a wide lineup
| Model | Landcruiser 70 short | Landcruiser 70 middle | Landcruiser 70 semi-long | Landcruiser 70 middle (van) | Landcruiser 70 Long (Pickup) |
| --- | --- | --- | --- | --- | --- |
| Sale Period | November 1984 to July 2004 | November 1984 to July 2004 | January 1990 to July 2004 | August 2014 to June 2015 | August 2014 to June 2015 |
| Full Length | 159 inches | 196 inches | 190 inches | 189 inches | 207 inches |
| Full Width | 77 inches | 70 inches | 70 inches | 74 inches | 70 inches |
| Full Height | 75 inches | 77 inches | 76 inches | 76 inches | 77 inches |
| Minimum turning radius | 17.71 feet | 19.36 feet | 20.34 feet | 20.66 feet | 23.62 feet |
| vehicle weight | 4,232 – 4,255 pounds | 4,432 – 4,585 pounds | 4,674 – 4,762 pounds | 4.674 pounds | 4,894 pounds |
| Boarding capacity | 2~5people | 2~5people | 5people | 5people | 5people |
Light Land Cruiser body size of successive Prados (Japan badge)
| Model | Landcruiser 70 wagon | Landcruiser 70 Prado | Landcruiser 90 Prado | Landcruiser 120 Prado | Landcruiser 150 Prado |
| --- | --- | --- | --- | --- | --- |
| Sale Period | November 1984 to March 1990 | April 1990-April 1996 | May 1996 to September 2002 | October 2002 to August 2009 | September 2009~ |
| Full Length | 156.50 inches | 184.64 inches | 192.51 inches | 185.63 inches | 187.40 inches |
| Full Width | 66.53 inches | 74.01 inches | 74.41 inches | 73.82 inches | 74.21 inches |
| Full Height | 73.43 inches | 74.40 inches | 73.62 inches | 73.03 inches | 72.24 inches |
| Minimum turning radius | 17.39 feet | 20.00 feet | 18.70 feet | 18.70 feet | 19.03 feet |
| vehicle weight | 3,703 pounds | 4,188 – 1,820 pounds | 4,012 – 4,277 pounds | 4,145 – 4,451 pounds | 4,497 – 5,070 pounds |
| boarding capacity | 5people | 8people | 8people | 5~8people | 5~7people |