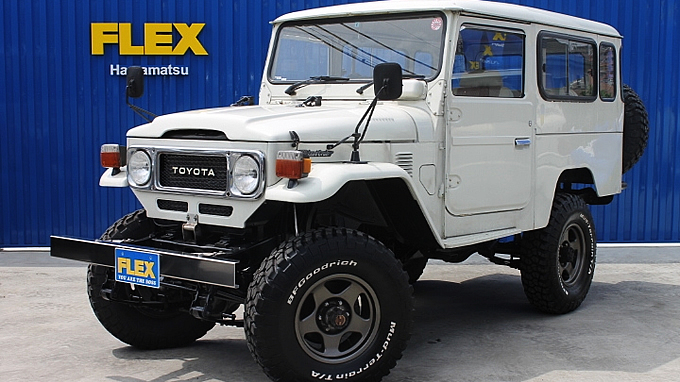 When the specifications of the Land Cruiser 40 series change, the model also changes.
Unlike other series, in the case of the Land Cruiser 40 series, the model is updated at the same time as the specification change. Models by age are as follows:
Changes by the model year of Land Cruiser 40
FJ40/43 (1960-1974)
The first Land Cruiser 40 series only offered gas-powered engines up until the diesel-powered (BJ series) appeared. The FJ43 with the mid-length hood was equipped with an F-type engine that was slightly more powerful than the FJ40 with the short hood. The FJ40 was popular thanks to its handling.
FJ45V (1960-1967)
The 4-door long hardtop FJ45V was a model that was in high demand overseas but not very popular in Japan. In 1967, it was succeeded by the FJ55V model.
FJ40V (1966-1974)
The hardtop version of the FJ40, the 40V, was introduced six years after the debut of the Land Cruiser 40 series. The "V" stands for "van".
BJ40(V)/BJ43 (1974-1979)
The B-typed diesel engine BJ series was introduced. The BJ series will be the first 4 number in the Land Cruiser lineup, which has always been registered as a 1 number. The middle class received a new hood, and the short class received a hard top. Toyota changed the color of the blinker and width light to a two-color white and orange, and the wipers were relocated to the lower side of the windshield in 1975.
BJ41(V)/BJ44(V) (1979-1982)
Toyota changed the engine from the B type to the 2B type and increased the displacement, horsepower, and torque. A hood and hardtop are designed for short hood and middle hood, respectively, and the lineup is enhanced. The bezel around the headlamp has been changed from a round type to a square type, and the side mirror has been moved from the side of the door to the top of the fender.
BJ42(V)/BJ46(V) (1982-1984)
The 42/46, the final model of the 40 series, has a standard equipment tachometer. In addition, equipment such as power steering and a 5-speed transmission add comfort to driving. In 1984, the short hood was handed over to the Land Cruiser 70 series (BJ70(V)/73V), which became the successor to the mid-length hood 1984.