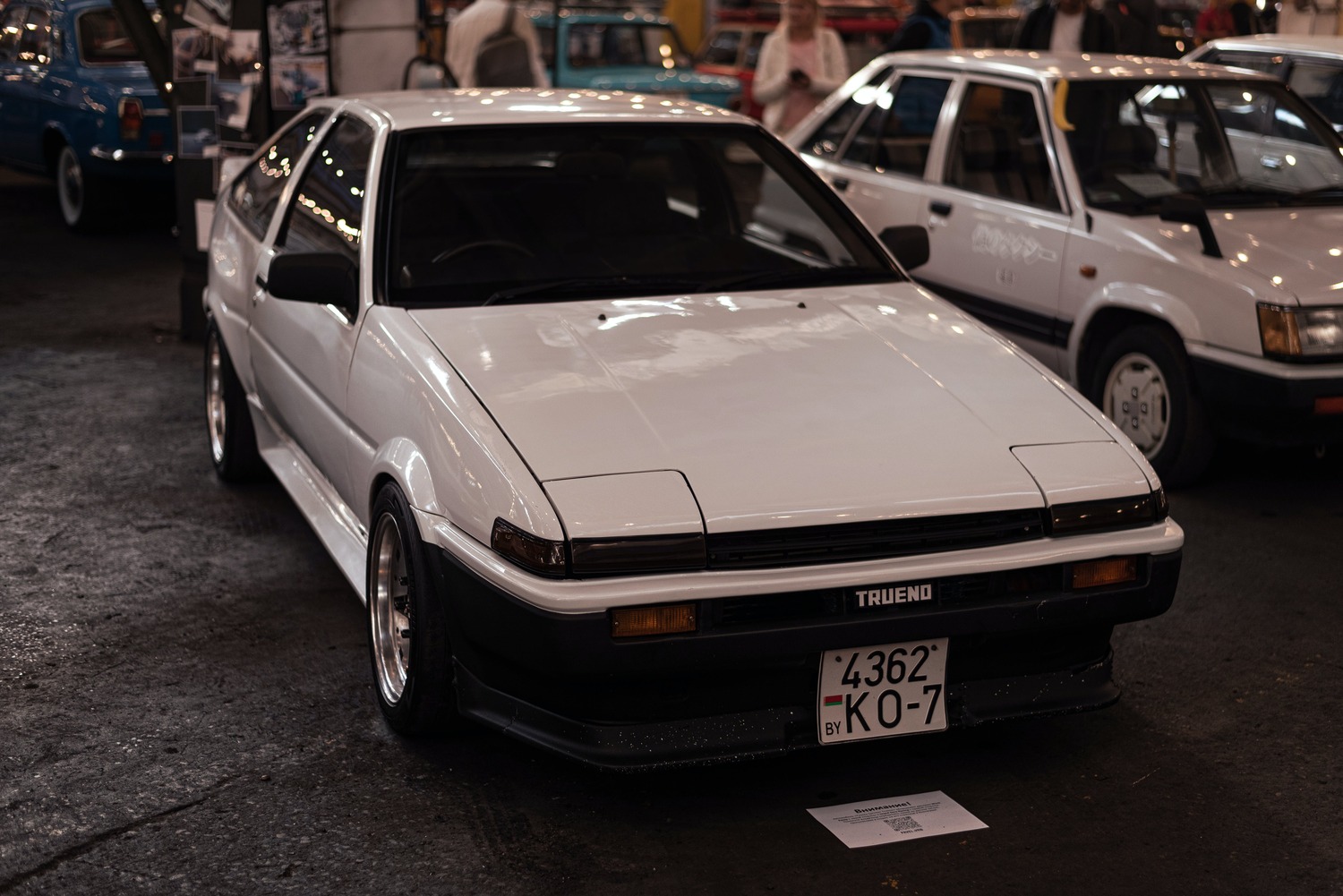 Why are the JDM Cars from the 80s not getting the attention they deserve?
JDM cars are undeniably cool! Their popularity has increased, attracting enthusiasts who appreciate their distinct differences as compared to American cars. However, it's interesting to note that while many discussions revolve around JDM cars from the 1990s, those from the 1980s seem somewhat overshadowed. Indeed, some great JDM cars were built in the 1980s, so why aren't we talking about them?
One of the primary reasons could be that JDM cars from the 1990s were already well-known, and popular with car lovers. In a previous article, we introduced 20 JDM cars from the 1990s, all with unique designs and outstanding performance. These cars were developed during the economic bubble that engulfed Japan in the early 1980s and giving manufacturers the financial support to incorporate innovative features using high-quality materials.
Another factor contributing to the relative obscurity of 1980s JDM cars is that they were primarily sold in Japan due to export restrictions, which limited their exposure to international markets, particularly in the United States. Cars without international recognition often are overlooked, and consumers are unaware of their exceptional capabilities like performance and handling.
Additionally, it's worth considering that JDM cars of the 1980s were designed during a period marked by global oil shortages, starting in 1973. Despite Japan's continued economic growth, the oil shortages necessitated cost-cutting measures that impacted various aspects of car design, including performance, features, and equipment.
Furthermore, since the 1980s predates the widespread use of the internet, very few people were exposed to the Japanese cars of the 1980s, which makes it hard for others to appreciate the appeal of these cars. These cars are 30-40 years old, so finding one in good condition is difficult.
Discovering the cool JDM cars from the 80s
While JDM cars from the 1990s have enjoyed the spotlight, it's crucial to recognize that the 1980s also produced a multitude of cool and distinctive vehicles. Despite design limitations and economic constraints, this era gave us many cars with innovative features and distinct body styles.
One prevailing design trend of the 1980s was the wedge shape, emphasizing aerodynamic performance. Vehicles like the TOYOTA MR2 (AW11), Celica XX (A60), and Mazda RX-7 (FC3S) embodied this trend with their low, sharp front ends and sharply rising rear lines, exuding a sporty and aggressive appearance.
Another distinctive feature of this era was the pop-up or retractable headlight. These headlights, which enhanced the sleek silhouette of the wedge-shaped design, could hide within the body when not in use and dramatically alter the car's appearance when illuminated. Iconic models like the TOYOTA AE86 Sprinter Trueno, Nissan 300ZX (Z31), and Mitsubishi Starion featured these retractable headlights.
The 1980s also witnessed the introduction of various open-top cars, with the Targa Top design being a standout. Unlike traditional convertible hoods, Targa Top cars featured a split hardtop design, allowing drivers to remove only the panel above their heads. This design offered the best of both worlds: open-air driving and the sporty coupe look. Prominent examples of Targa Top cars included the TOYOTA SUPRA (A70) and Honda CR-X, both of which gained substantial popularity. Additionally, some models, like the Nissan 300ZX, featured a T-Bar mechanism, where only the center of the roof could be removed, providing a unique driving experience.
The 1980s JDM cars are equipped with many features that are appealing to drivers today. Here are some of the outstanding 1980s cars:
HONDA CR-X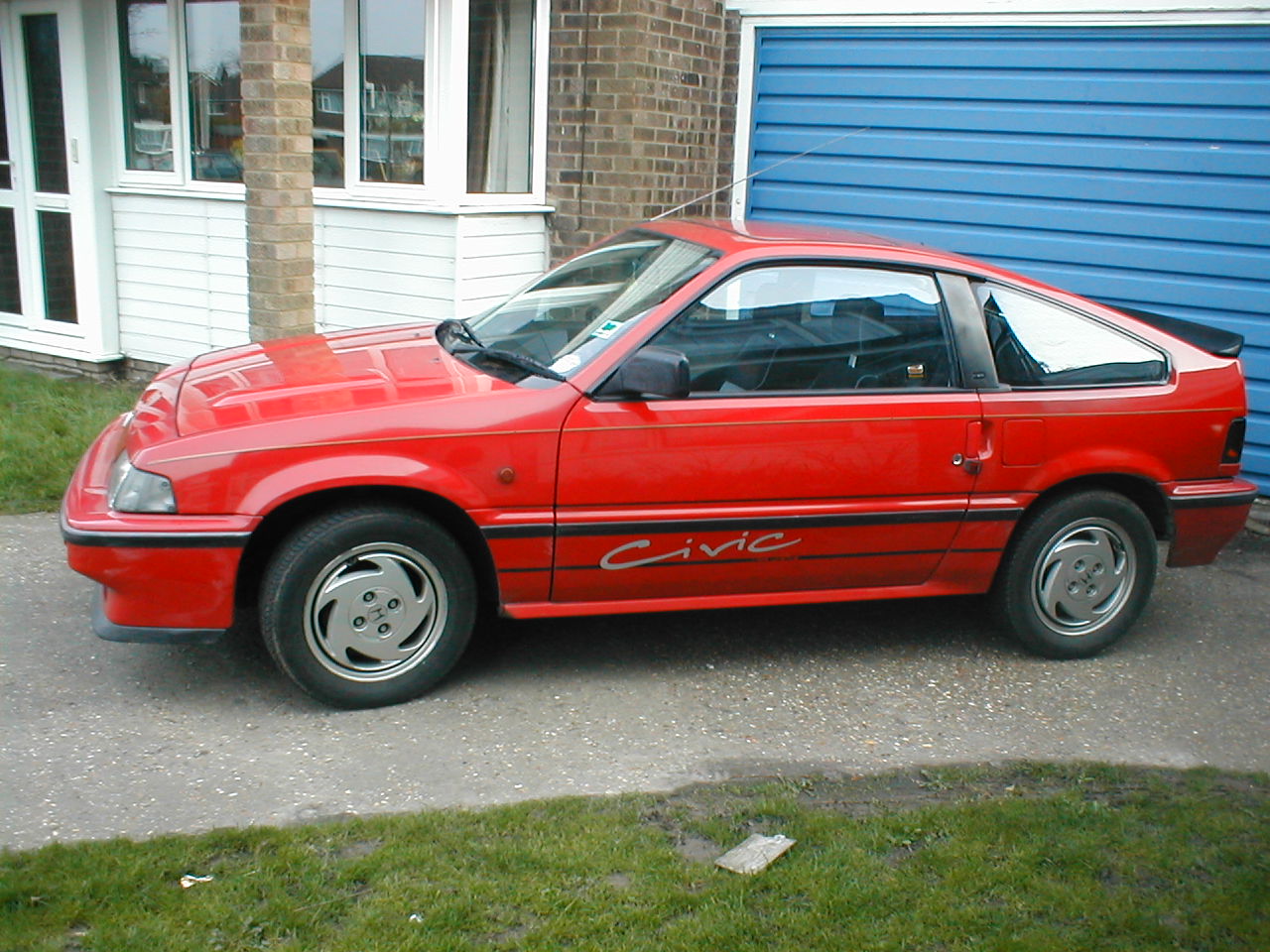 The Honda CR-X is a compact sports coupe derived from the Civic that entered the market in 1983 and was discontinued in 1999. The first-generation CR-X (1983-1987) was originally the Honda Ballade Sports CR-X, and the second-generation was on the market from 1987 to 1999. Outside of Japan, it was known as the Honda Civic CRX, and CRX was rumored to stand for Civic Renasissance eXperimental.
The new CR-X sported a wheelbase 150mm / 5.9 inches shorter than the Civic 3-door and was built to create a new lightweight sport category of cars. Both CR-X generations adopted a 2+2 seating layout, emphasizing the fastback design that appealed to younger drivers, while keeping it affordable.
The first generation CR-X featured a coda tronco (Italian for cut-tail) body style with semi-retractable headlights and a short deck lid. It was available with two engine options: a 1.3-liter inline 4-cylinder SOHC producing 80ps / 78hp and 11.3kgf/m / 81 lb-ft and a 1.5-liter inline 4-cylinder SOHC generating 110ps / 108hp and 13.8kgf/m / 99.8 lb-ft. The North American CRX was equipped with the 1.3-liter HF motor with outstanding fuel efficiency.
The SI trim level was introduced in 1984 and equipped with a 1.6-liter inline-4 DOHC (ZC type) engine that inspired Honda's iconic VTEC high-performance motor. The SI engine produced 130ps / 128hp and 15.5kgf/m / 112 lb-ft of torque.
1985 saw a minor change that included fixed headlights and the release of the MUGEN CR-X PRO, equipped with sport parts from Honda's aftermarket company, MUGEN.
With the 1987 second-generation, Honda dropped the Ballade name and redesigned the CR-X with a wider, lower center of gravity body. The quarter windows were increased for better rear visibility.
Two engine options were available: a 1.5-liter inline 4-cylinder SOHC (D15B type) and a 1.6-liter inline 4-cylinder DOHC (ZC type). The former was marketed as the Hyper 16 Valve, despite being SOHC. Starting with this generation, all trim levels featured a double-wishbone suspension.
In 1989, the sportier SiR model was introduced, featuring the B16A engine (160ps / 157hp and 15.5kgm/F / 112 lb-ft) equipped with the variable valve timing and lift mechanism VTEC. This was Honda's performance engine producing 110ps / 108hp.
In 1992, the second-generation CR-X was succeeded by the third-generation CR-X Del Sol, featuring an electric Targa top.
CR-X (AE/AF/AS)
Sales period: July 1983 – August 1987
Original price: ¥993,000 / $6,629
CR-X (EF6/EF7/EF8)
Sales period: September 1987 – February 1992
Original price: ¥1228,000 / $8,197
TOYOTA SUPRA A70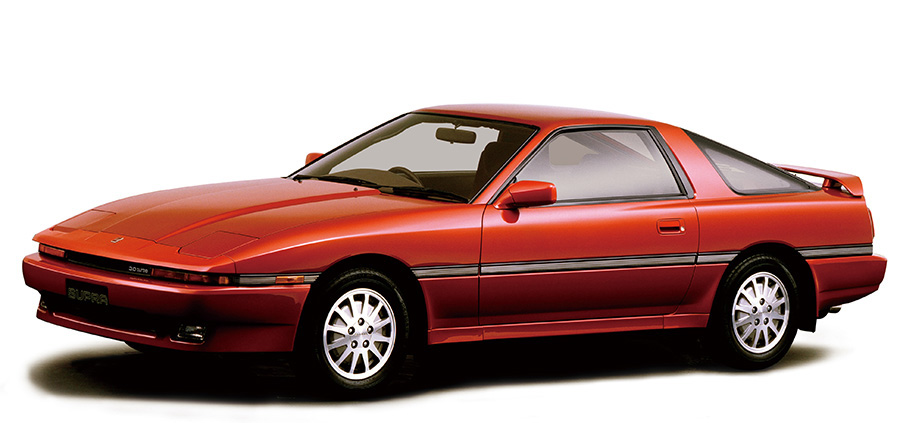 Photo by global.toyota
Anytime the topic of conversation turns to the Toyota Supra, people tend to talk about the fourth-generation 1993 A80 because it's better known, but the A70 is a noteworthy 1980s model. Also, prior to the A70, the Celica XX A60 was produced from 1982-1986 (slightly overlapping the A70) and wore the Celica Supra name outside of Japan's markets.
The A70 Supra dropped the XX from its name and introduced an aerodynamic wedge body style with retractable headlights. This redesign moved it from the sports car realm into a more comfortable passenger car.
The initial model boasted a diverse engine lineup, including two 2-liter inline 6-cylinders, a twin-turbo variant, and a 3-liter turbo engine. Export versions featured blistered fenders, emphasizing a wider stance, which later became standard in Japanese models.
The A70 3.0 GT Turbo A was Toyota's 500 unit limited edition homologation model for participation in the All Japan Touring Car Championship. It sported exclusive front bumpers and turbochargers capable of 270ps / 266hp. You're lucky should you find one of these GT Turbo As.
In 1990, the 3.0-liter engine was phased out in favor of a 2.5-liter inline 6-cylinder DOHC twin-turbo (1JZ-GTE). This change coincided with the adoption of specialized dampers by Bilstein to enhance its performance as a sports car. This particular model was exclusive to Japan, making it a sought-after JDM CAR.
In 1993, with the introduction of the new A80 Supra, the A70 Supra concluded its production run. While subsequent Supra models may be more familiar, especially in the United States, it's worth exploring the unique specifications that were exclusive to Japan.
TOYOTA SUPRA A70
Sales period: February 1986 – April 1993
Original price: ¥1,979,000 / $13,210
TOYOTA AE86 Sprinter Trueno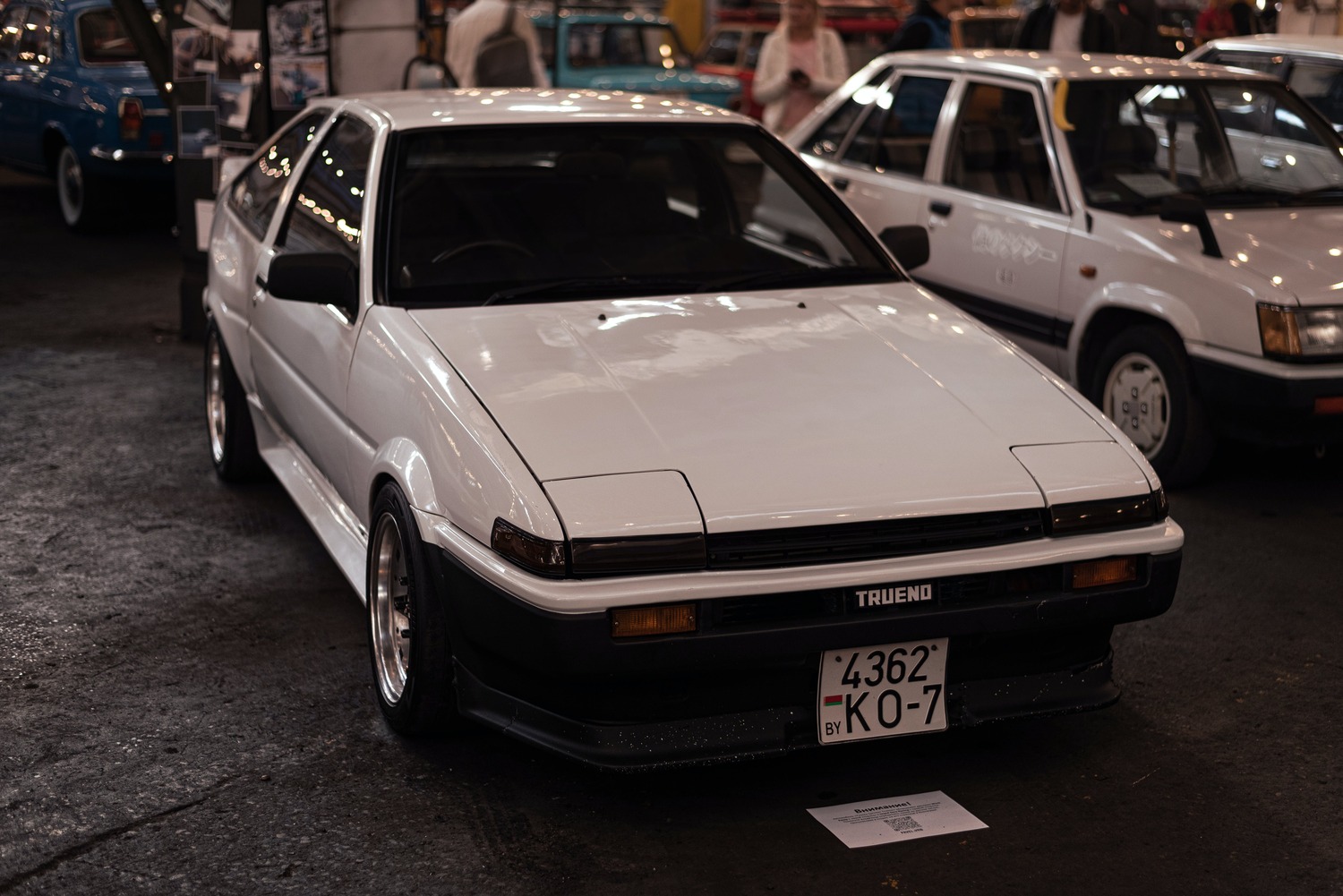 Fans know the AE86 as Hachi-Roku, which means 8 (hachi) and 6 (roku) in Japanese. This beloved sports car is the fourth-generation Sprinter Trueno and Corolla Levin, which were both released in 1983. The Trueno was a 3-door hatchback, and the Levin was a two-door notchback. For now, our attention is on the Trueno.
The AE86 Trueno/Levin adhered to a FR (front-engine, rear-drive) layout as many Japanese cars transitioned to FF (front-engine, front-drive) or high-powered superchargers. While it may not have won a lot of races, it did have a dedicated base of fans who enjoyed its drivability.
Powering the AE86 was the 4A-Gu, an inline 4-cylinder DOHC engine that produced 130ps / 128hp and 15.2kgf/m / 109 lb-ft of torque. This engine was utilized across all trims from the top-tier APEX to the GT-V and GT. Transmission options included a 5-speed manual and, in the case of the late model GT, a 4-speed automatic.
In the United States, the AE86 was marketed under the name Corolla Sports within the Corolla lineup, and it featured retractable headlights to comply with regulations. Some models even sported a SOHC engine alongside the DOHC version.
There was also an AE85 model equipped with a 1.5-liter inline 4-cylinder SOHC engine in a similar body. Given the close resemblance, it's advisable to cross-check your vehicle's serial number and documentation.
The AE86 was featured in the manga Initial D series between 1995 and 2013, where it was the main character's ride. This may have helped the drifters get their start, and even though the car has been out of production since 1987, its popularity has soared thanks this serial. The Levin was already popular, but the Trueno's popularity rose once it went from tofu delivery to rocking through hairpin curves.
Even after more than 35 years since production ceased, the AE86's popularity endures, and its used car prices remain notably high. Specialized shops offer expertise in restoration, tuning, and maintenance, ensuring that enthusiasts can enjoy these vehicles for many years to come.
TOYOTA AE86 Sprinter Trueno
Sales period: February 1986 – April 1993
Original price: ¥1,979,000 / $13,213
Nissan Skyline R30 2000 RS TURBO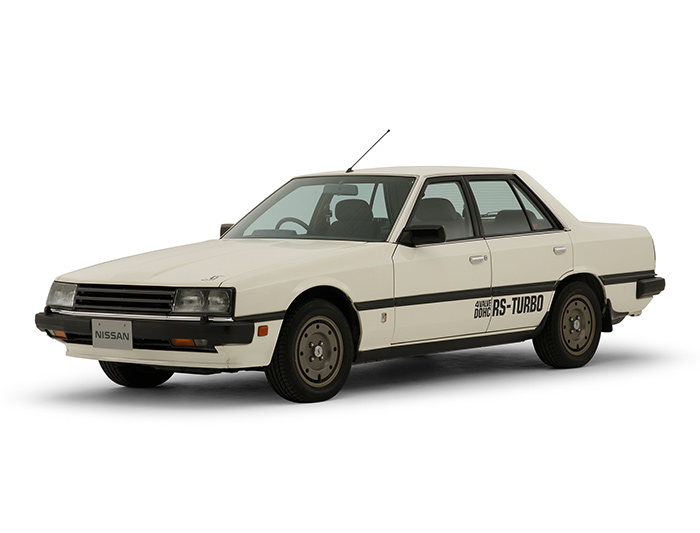 Photo by nissan-global.com
Anytime you talk about the Nissan Skyline, the GT-R seems to take the spotlight. However, the 1973 hardtop 2000 GT-R was the last of the Kenmeri GT-R (KPGC110) lineage and succeeded by the R32 type in 1989. Between those dates, there were no GT-R models in the Skyline lineup.
The sixth-generation R30 Skyline featured a sporty 2000RS for those who love to drive. It was equipped with a 2-liter inline 4-cylinder DOHC turbo engine (EJ20ET type) that delivered an impressive 190ps / 187hp and 23.0kgf/m / 166 lb-ft even without a GT-R badge and the most performance oriented Skyline model at the time. Enthusiasts swear the engine was a close rival to the GT-R's 6-cylinder powerhouse.
Nissan, in 1983, took away the grill on the nose, which earned the car the nickname 'iron mask'. In 1984, they placed an intercooler into the EJ20ET engine, which provided the 2000 Turbo RS-X with 205ps / 202hp and 25.0kgf/m / 180 lb-ft of torque.
The distinct Nissan Skyline 2000 RS turbo's red and black two-toned body paint and smooth front end with round headlights grabs attention.
A Japanese television drama, Western Police, featured this model, giving its popularity a boost. Dealers offered aerodynamic features as optional accessories on the showroom models, which made it even more popular.
Nissan Skyline R30 2000 RS Turbo
Sales period: February 1983 – August 1985
Original price: – Unknown
Mazda RX-7 FC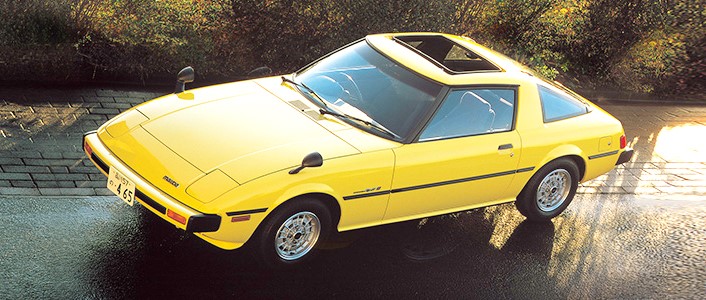 Photo by mazda.com
The Mazda RX-7 replaced the Savanna RX-7 in 1978 and continued in production until 2003. This two-door sport coupe was equipped with a rotary engine.
Mazda made a bold decision when they decided to use the rotary engine patent they bought from NSU in their commercial vehicles, making them a pioneer in rotary engine technology. However, these engines bring their share of challenges with them that include high output with small displacement and the ability to balance a smooth rotational resistance with low resistance. Also, they were hard on seals and had poor fuel efficiency. While the RX-7's rotary engine was extended into the FD3S model, we're focused on the second generation FC3S.
In 1985, Nissan transformed the RX-7 with the introduction of the FC3S model. It was developed on the new FC platform with an intercooled rotary turbo engine (13B) installed. Additionally, it was equipped with opposed 4-piston aluminum caliper brakes; the first on any domestic market vehicle. The rear suspension featured a semi-trailing arm multi-link system that enhanced the sport performance driving over the first RX-7.
The 13B engine initially delivered 185ps/182hp and 25.0kgf/180 lb-ft of torque, but Nissan made improvements to the turbocharger and exhaust to boost the output to 205ps / 202hp with 27.5kgf/m / 195 lb-ft, and even more tweaks, reached 215ps / 212hp and 28.0kgf/m / 202 lb-ft of torque in the final production model.
In 1987, Mazda celebrated the 20th anniversary of the rotary engine with the introduction of the RX-7 Cabriolet (FC3C). This model featured a blend of a wedge-shaped body and an electric soft-top, earning it considerable popularity. The Cabriolet technology later found its way into the Eunos Roadster (MX-5 Miata).
A minor facelift occurred in 1989, enhancing the engine's output to 205ps / 202hp and 27.5kgf/m / 198 lb-ft. Concurrently, the design of the front and rear bumpers, interior, and suspension received improvements.
In 1991, the second generation gave way to the third and final generation FD-type RX-7.
RX-7 (FC3S)
Sales period: October 1985 – December 1991
Original price: ¥2,380,000 / $15,900
Subaru Alcyone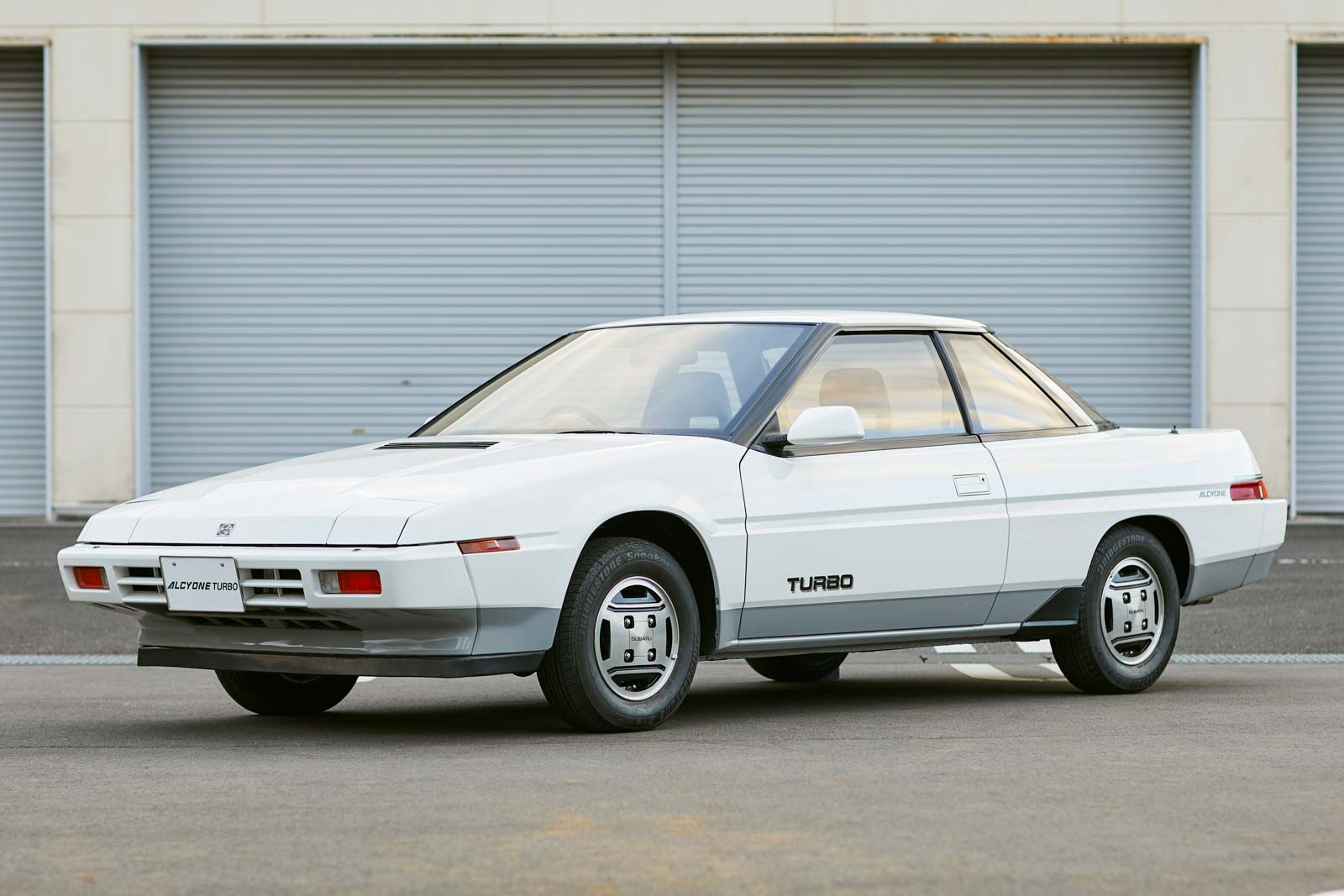 Photo by subaru.jp
https://www.subaru.jp/onlinemuseum/img/collection/alcyone/alcyone-01.jpg?date=20201012
Between 1985 and 1991, Fuji Heavy Industries partnered with Subaru to produce the Subaru Alcyone. This two-door coupe paired the horizontally opposed engine with either FWD or 4WD and was available in numerous markets that included Japan and the United States.
One of Alcyone's standout features was its edgy, wedge-like body design, achieving an impressive Cd value of 0.29.
Its linear lines and retractable headlights gave it a sporty look, and the interior was equipped with a spoke steering wheel and aircraft cockpit inspired elements.
Upon its initial release, it boasted a 1.8-liter horizontally opposed 4-cylinder SOHC turbo engine (EA82), generating 120ps / 118hp and 18.2kgf/m / 131 lb-ft. However, in 1988, it underwent an upgrade, switching to a 2.7-liter horizontally opposed 6-cylinder SOHC turbo engine (ER27 type) that delivered a more impressive 150ps / 147hp and 21.5kgf/m / 155 lb-ft.
In terms of technology, it introduced systems that would later be incorporated into the Legacy series, such as ACT-4, an automatic torque distribution control system for front and rear wheels, and Cybrid, a vehicle speed-sensitive power steering system with electric assist.
In 1991, the Alcyone gave way to the Alcyone SVX, marking the end of its production. Although it may not have achieved remarkable sales, its unique interior and exterior design continue to be. admired.
Subaru Alcyone
Sales period: June 1985 – September 1991
Original price: ¥1,680,000 / $11,221
TOYOTA MR2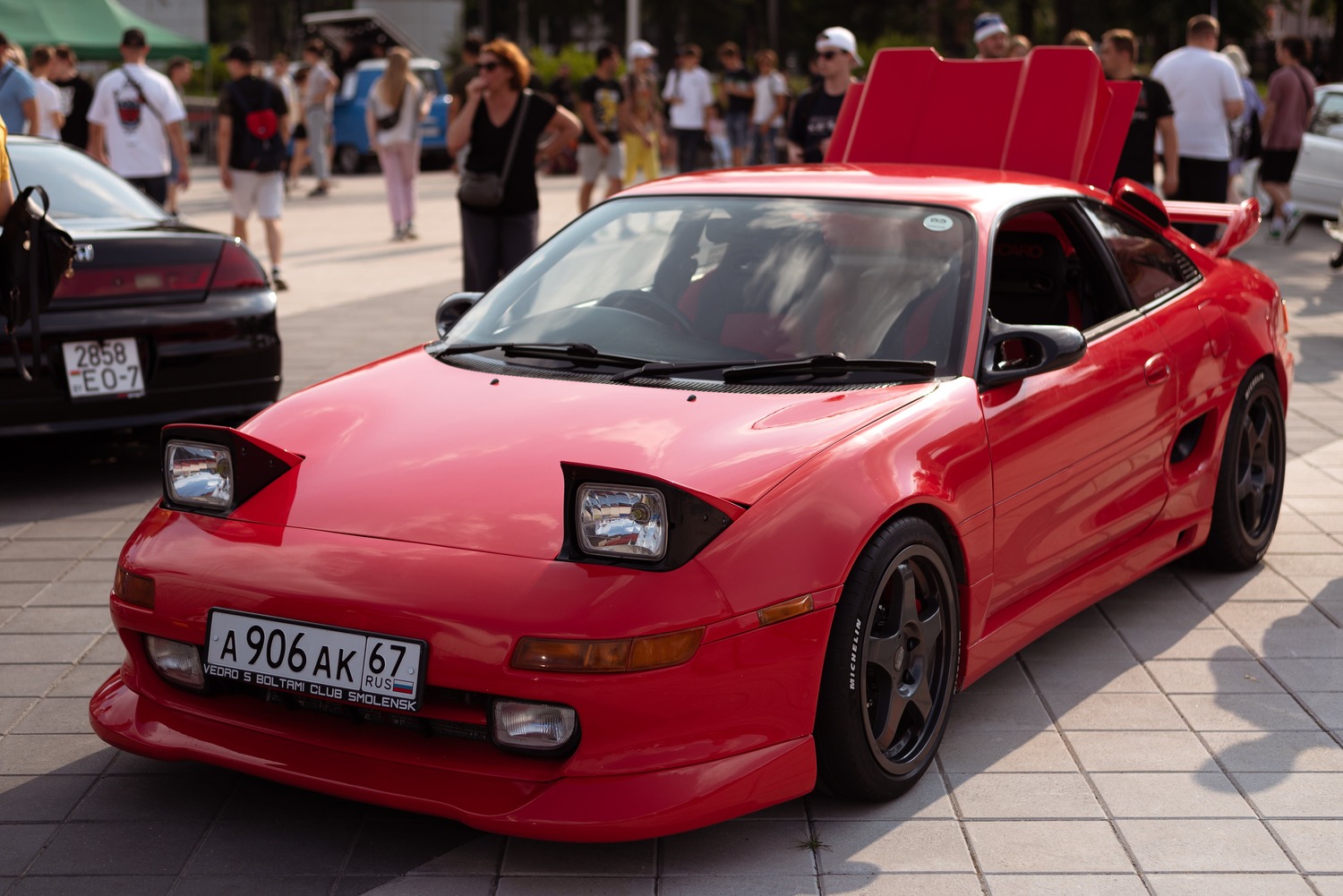 The Toyota MR2 was produced between 1984 and 1999, making a name for itself as the first mid-engine Japanese commercial vehicle.
Toyota borrowed components from their Corolla (E80) to offset costs for the MR2's production. Other manufacturers lowering costs using borrowed components include Fiat and Pontiac.
The wedge, compact body style of the MR2 measured less than 4 meters / 157 inches long and weighed close to 2,000 pounds. Initially, the engine lineup included two models: a 1.6-liter inline 4-cylinder DOHC and a 1.5-liter inline 4-cylinder SOHC. Subsequently, the 1.6-liter was given a supercharger, and later, the MR2 was equipped with a T-top.
The redesigned body of the SW20 replaced the MR2 in 1989, which put an end to the wedge shape. The original body style is still a great favorite among car lovers.
TOYOTA MR2 (SW10/11)
Sales period: June 1984 – October 1989
Original price: ¥ 2,395,016 / $16,000 approximate
Nissan Fairlady 280ZX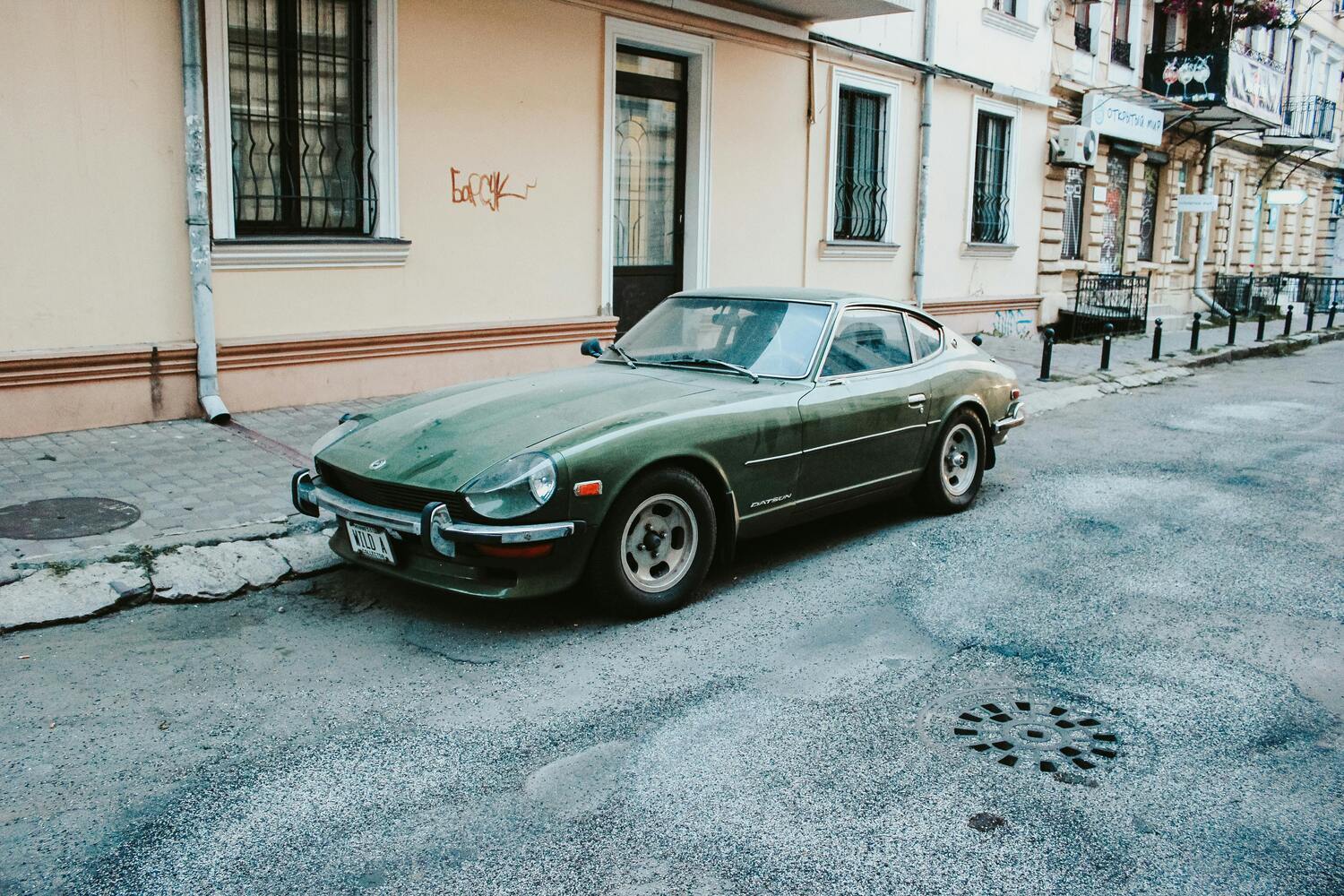 Nissan's Fairlady Z series began in 1969 and again in 1978 in Japan, they released the Fairlady 280ZX as part of the second generation. It was known worldwide as the Nissan 280Z and the Datsun 280Z. U.S. Car enthusiasts called it the Z Car.
This second-generation Fairlady Z (S130) featured a larger body compared to the previous S30 model. This allowed for a more spacious upgraded interior. The engine lineup included a 2-liter inline 6-cylinder SOHC, a 2-liter inline 6-cylinder SOHC turbo, and a 2.8-liter inline 6-cylinder SOHC (L28E type).
The 280ZX began export in 1979 where it became quite popular in the United States, thanks in part to its comfort. The 1980 model adopted an electronically controlled ignition system, and Nissan added a T-top to the model.
1981 saw the introduction of the turbo, which worked well with its added weight, as the turbo was a hindrance on its lighter weight predecessor. This model was only available in the United States.
At the same time, Japan gave their version a minor update with an improved 2.8-liter engine. In 1982, a turbocharged 2-liter engine (L20ET) was introduced, giving rise to the Fairlady Z Turbo. This model was notable for being equipped with 215/60R15 low profile tires, which was a first for a Japanese car.
The second-generation Z-Car sold over 330,000 units in the United States, and the third generation began in 1983.
Nissan 280ZX
Sales period: August 1978 – August 1983 (Japan)
Original price: ¥997,535 / $6,669
Nissan Silvia S13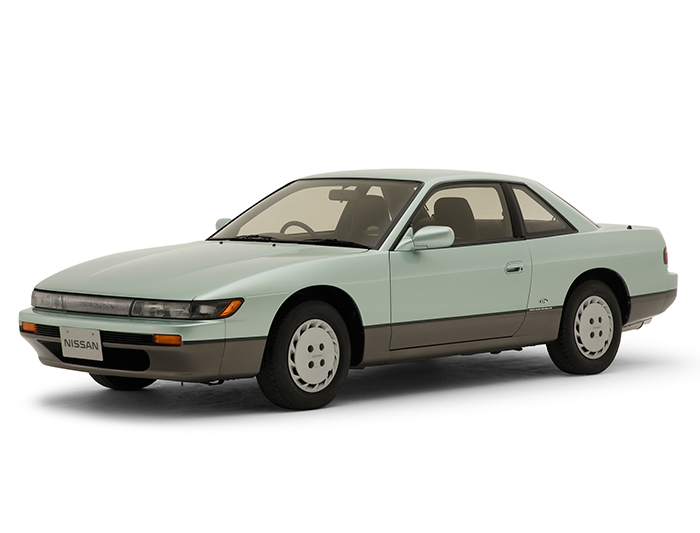 Photo by nissan-global.com
Between 1988 and 1993, the Nissan Silvia S13 was a popular two-door coupe and Silvia's fifth generation. The three-door hatchback version was sold under the 180SX name and offered independently in Japan in 1989. It was known as the 200SX in Europe and the 240SX in the United States.
The S13 Silvia made its debut in May 1988, equipped with a 1.8-liter inline 4-cylinder DOHC (CA18DE) engine and a turbocharged variant (CA18DET) inherited from its predecessor. The lineup featured the naturally aspirated J's / Q's models and the turbocharged K's variant.
The body underwent a transformation, featuring smoother lines compared to its predecessor, adopting stylish projector headlamps and no grill. Significant mechanical updates were made, such as the introduction of the first multi-link rear suspension for the undercarriage.
In the 1991 minor update (KS13), the engine was upgraded to a 2-liter inline 4-cylinder DOHC (SR20DE) and turbocharged (SR20DET) powerhouses, significantly enhancing its sports car performance. Simultaneously, changes were made to the area around the headlights and the design of the rear spoiler, with larger tire sizes added.
Following this, a few special edition models were introduced, and in October 1993, the sixth-generation S14 Silvia was released, solidifying its status as a bestseller in Japan. The 240SX, equipped with a 2.4-liter inline 4-cylinder DOHC (KA24DE), continued on the U.S. market until 1996.
Nissan Silvia (S13)
Sales period: May 1988 – October 1993
Original price: ¥1,467,000/$9,807
Nissan PAO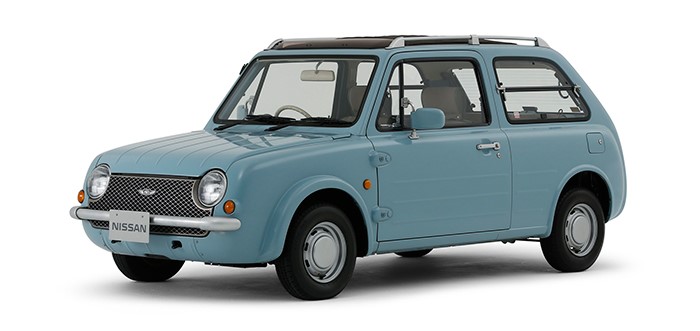 Photo by nissan-global.com
The Nissan Pao was part of the Pike factory car series, which were designed to be both retro and futuristic in appearance. In 1987, Nissan introduced the Be-1, which the public quickly dubbed 'cute'.
Following the Be-1, the second vehicle in this series was the Nissan Pao. It made its debut at the Tokyo Motor Show in 1987 and gathered over 50,000 pre-orders during its short three month ordering window.
What sets the Nissan Pao apart is its design, which doesn't resemble its base, the March (K10), at all. Nissan's in-house design team incorporated retro details such as pipe-shaped bumpers, round headlights, triangular windows, outer hinges, upper and lower split-type rear gates, two-spoke steering wheels, and round analog meters. Despite these vintage-inspired features, the PAO used new materials and construction methods for its body panels.
Nissan's Pike car series also included the Escargot (G20), released in 1989, and the Figaro (FK10), introduced in 1991. These cars, especially the Pao, have seen a resurgence in popularity, and well-maintained examples command high prices. While there are many surviving Paos, some in excellent condition can fetch prices 1.5 times higher than their original cost, even if their mileage exceeds 100,000 km / 62,137 miles.
Nissan PAO (PK10)
Sales period: January 1989 – February 1991
Original price: ¥1,221,000 / $8,162
Mitsubishi Starion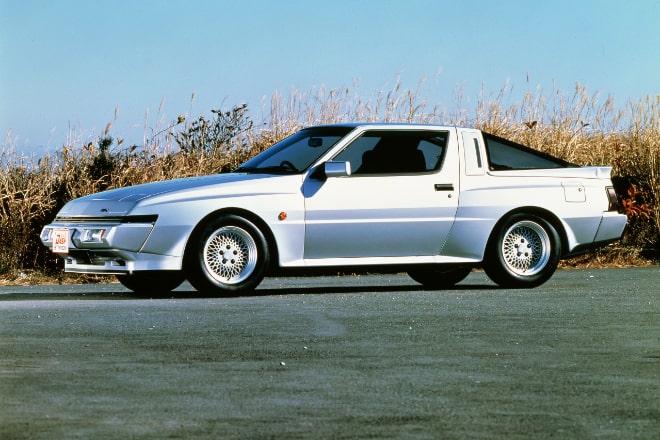 Photo by mitsubishi-motors.com
Mitsubishi produced the 3-door hatchback coupe, Starion, from 1982 to 1990. Chrysler sold these cars under the Dodge Conquest and Plymouth Conquest badges from 1984 to 1986, dropping the Plymouth version in 1986 while continuing to offer the Dodge version until 1987.
The Starion was known for its sporty styling, retractable headlights, and sharp lines. When it initially debuted in 1982, it featured both naturally aspirated and turbocharged 2-liter inline 4-cylinder SOHC engine options. Over time, the lineup expanded to include a GSR-II variant, which utilized an air-cooled intercooler, a groundbreaking feature in Japanese cars at the time, which produced 175ps / 172hp.
The Starion gained significant recognition thanks to its appearances in various movies and TV dramas, such as Cannon Ball 2 starring Jackie Chan. In Japan, a limited production run of five units with the same specifications as the movie car was even offered.
In 1987, a significant update brought the GSR-VR, equipped with a 200ps / 197hp specification engine and a wide-body design with blister fenders. Later models like the Eclipse in 1989 and the GTO in 1990 marked the end of the Starion's presence in Mitsubishi's lineup, concluding its legacy in one generation.
Mitsubishi Starion
Sales period: May 1982 – February 1990
Original price: ¥2,527,000 / $16,891
Nissan 300ZX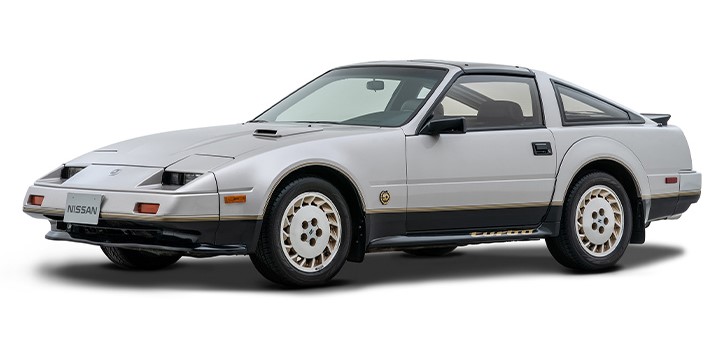 Photo by nissan.co.jp
We previously discussed the second-generation Z30 model, but this is about the 300ZX, the U.S. version of the third-generation Z31 Fairlady Z. The fourth-generation Z-Car (Z32) is a different car.
The Z31, which inherited the traditional long-nose and short-deck Z-Car styling, debuted in September 1983. However, it lost some of the comfort features and transitioned into more of a sport car with this change. It featured a unique parallel-rising headlamp mechanism instead of retractable headlights, resulting in a lower and sharper front-end design.
Significant changes were not limited to styling; the engine configuration also underwent a substantial transformation. The previous inline 6-cylinder engine was replaced by a V-type 6-cylinder engine. In Japan, the engine lineup included 2-liter and 3-liter variants, each producing 170ps / 167hp (VG20ET) and 230ps / 226hp (VG30ET), respectively. In export specifications, a 3-liter V6 naturally aspirated model was also available.
In 1985, a 200ZR joined the lineup, featuring an inline 6-cylinder turbo engine (RB20DET) producing 180ps / 170hp. This engine, based on the R31 Skyline's powerhouse, featured a ceramic turbine and added an intercooler. Notably, this model came with a large air scoop on the engine hood.
In 1986, a significant facelift occurred, widening the entire range of vehicles. The 300ZX featured the 300ZR as the top level model exclusively available with an automatic transmission. Several specifications were adjusted before sales concluded in July 1989.
Nissan 300ZX
Sales period: September 1983 – July 1989
Original price: ¥1,950,000 / $13,034
ISUZU JR120/130 PIAZZA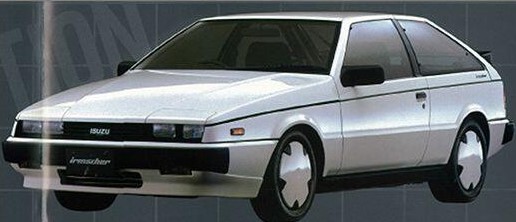 Photo by isuzu.co.jp
The Isuzu Piazza is a two-door coupe produced by Isuzu from 1981 to 1995. It succeeded the Isuzu 117 Coupe and shared the Giugiaro's design, created by a famous Italian car designer, resulting in a striking wedge-shaped body.
One of the standout design features of the Piazza is its semi-retractable headlights, which remain visible even when the lights are turned off, giving it a unique and distinctive appearance. The commercial model closely resembled the prototype's interior and exterior showcased at the Geneva Motor Show, highlighting Isuzu's innovative technological advances.
Underneath the sleek exterior, the Piazza was based on the Gemini platform and featured a range of 2-liter inline 4-cylinder SOHC and DOHC engines that powered the rear wheels. In 1984, a turbocharged engine with an intercooler was introduced, offering enhanced performance.
The Isuzu Piazza was available in several models, including the Piazza Nero, an top trim level car sold exclusively through Yanase. The differences between the Piazza and the Piazza Nero primarily revolved around dedicated interior and exterior color options and emblems, with little variance in terms of the mechanical components.
Isuzu also offered performance-oriented models with enhancements such as tuning by German tuner Ilumshire and handling by Lotus, which involved tuning by Lotus in the U.K.
After a long 10-year production run, during which there were some specification changes, sales of the Piazza concluded in September 1991. The platform shifted, and the second-generation Piazza became a front-wheel-drive (FF) model.
Isuzu Piazza
Sales period: June 1981 – September 1991
Original price: ¥1,219,000 / $8,148
Should You Buy A JDM Car of the 80s?
The JDM (Japanese Domestic Market) cars of the 1980s hold a special place in automotive history. They represent a time when Japanese automakers aimed to challenge and compete with the world's best cars. Many of these cars introduced new technologies, innovative materials, high build quality, and striking designs.
However, before purchasing a JDM car from this era, there are several important considerations to keep in mind:
Availability of Parts
Finding replacement parts for 1980s JDM cars can be challenging. Unlike more recent models, these cars are no longer in production, and some parts may be scarce or even obsolete.
Age and Condition
These cars are old, and their condition can vary significantly. Rust, mechanical issues, and wear and tear may be present, and restoring them to their original glory can be a costly and time-consuming endeavor.
Safety and Environmental Performance
Safety standards and environmental regulations have evolved significantly since the 1980s. Older cars may lack modern safety features and may not meet current emissions standards.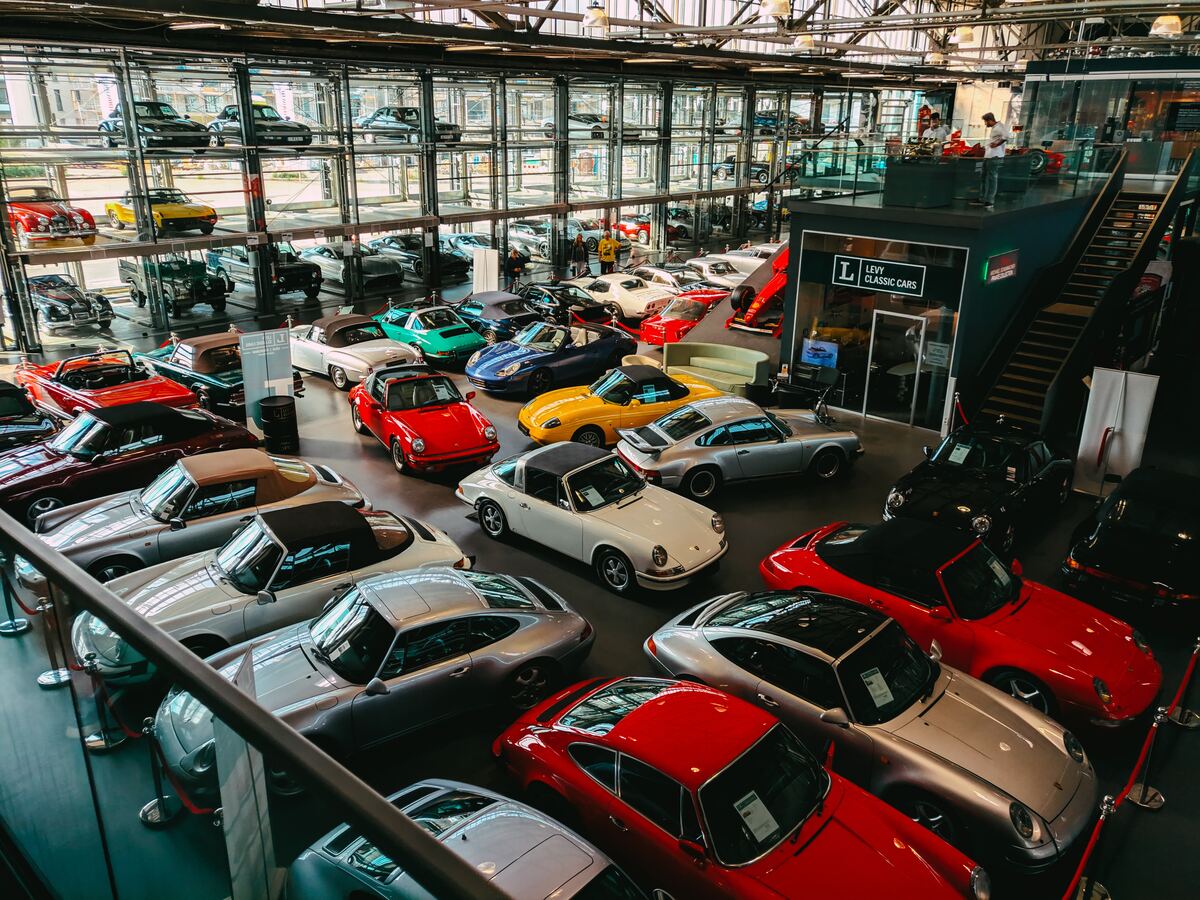 Maintenance and Upkeep
Owning a vintage car often requires dedicated maintenance and upkeep. Finding a reliable mechanic with expertise in these older models can be crucial.
Driving Experience
While 1980s JDM cars offer unique driving experiences, they may not match the performance and comfort of modern vehicles. It's essential to be prepared for the characteristics of older cars.
Collectability
Some 1980s JDM cars have become collector's items and can command high prices, especially if they are in exceptional condition or have unique features.
For the right person, a 1980s JDM car offers a touch of nostalgia and driving pleasures. Consider all of the downsides to buying a JDM before you spend a lot of money, and always keep in mind that you may have to hunt for a long time before you find one that has a decent body with acceptable engine components. If you do find one, you'll see why we think you should consider the 1980s JDM.
What can FLEX do for you?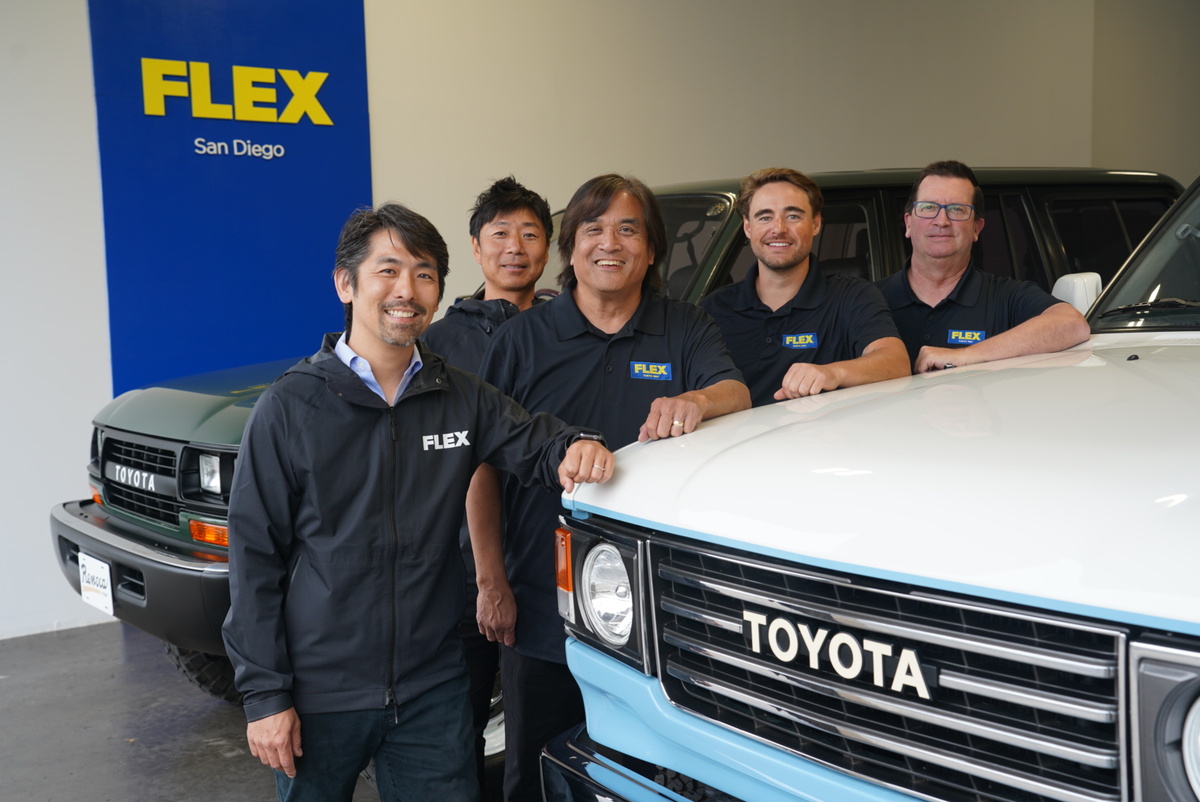 With 17 locations in Japan, FLEX dominates the pre-owned Land Cruiser market. We're more than happy to help you with importing a JDM from Japan to meet your request for a customized Land Cruiser.
If you have any questions, please feel free to contact us!
×
Looking for a JDM of your dream?
Specialists at FLEX will assist you to acquire your dream vehicles!