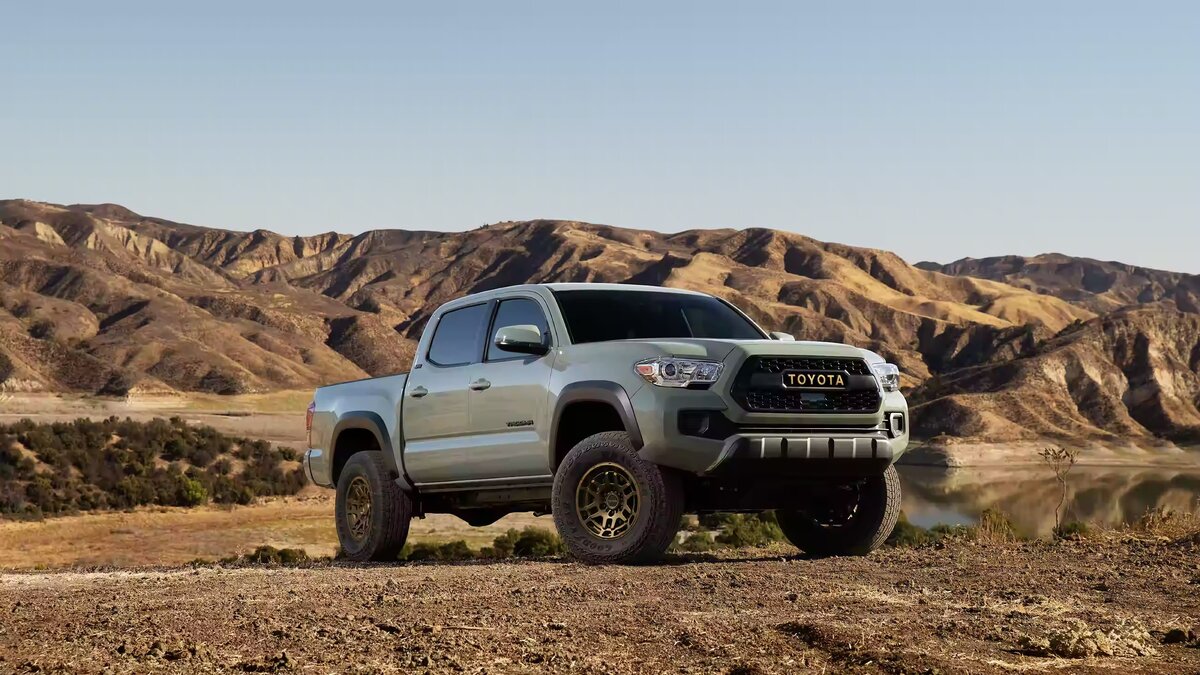 The 2023 Toyota Tacoma is towards the tail-end of the third-generation that began in 2016. It is powered by two engine choices, has two bed lengths, three transmissions, and two cab sizes. It sports the 2020 facelift and upgraded tech options that include connection to your favorite devices like Android Auto™ and Apple CarPlay®, as well as an added 360-degree panoramic view monitor.
Overview
From its humble beginnings in 1995, the Toyota Tacoma has redefined what a 4WD truck is in North America. It brought its roots as a workhorse to the streets of the suburbs of Chicago and Miami, where more people wanted luxury features over the ability to off-road. 2023 continues that tradition with excellent towing and hauling capacity combined with the latest high-tech offerings and luxurious interior amenities.
7 trims
The 2023 Tacoma is available in seven trim levels, so there is a truck for everyone who needs a dependable and durable vehicle.
SR
The SR model is considered the "barebones" or base model in the lineup. Even as the least expensive truck on today's truck market in the United States, the SR model has impressive features like your choice between the 2.7 L 2TR-FE I4 and the 3.5 L 2GR-FKS V6. The 2TR-FE inline-4's 159HP might not seem like much, but you can upgrade to a 2GR-FKS V6 and increase your horsepower to 278.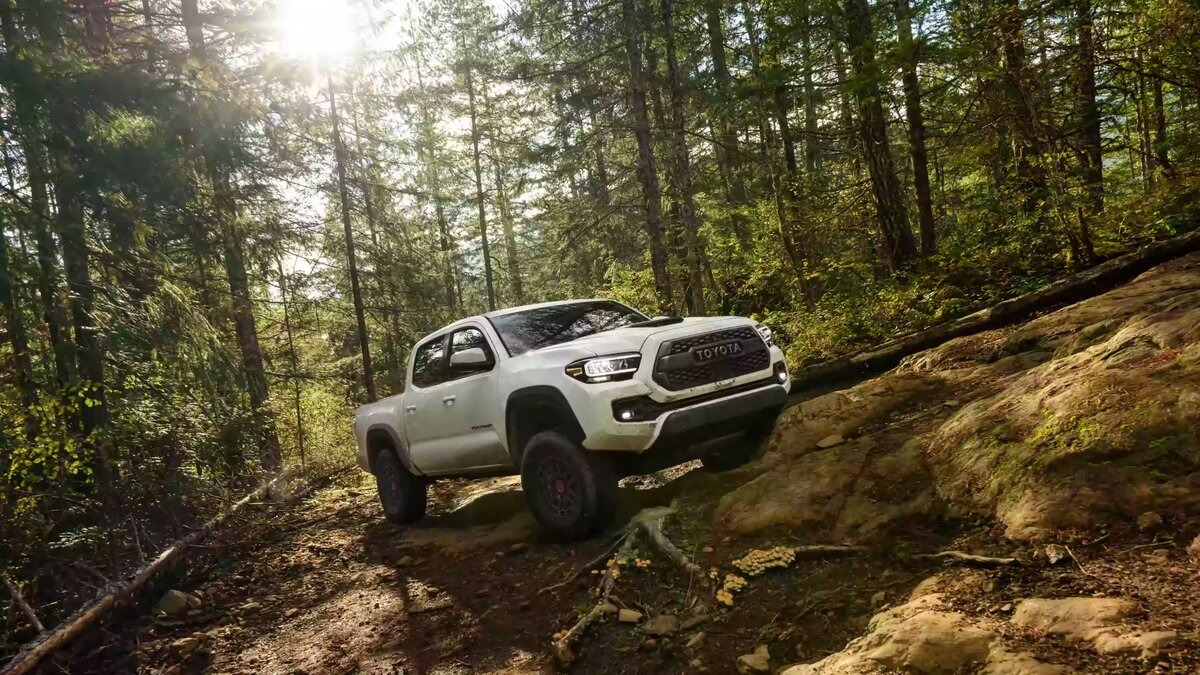 Photo by toyota.com
SR5
The SR5 is a trim-level upgrade from the SR that offers more high-tech packages and options like upgraded alloy wheels, navigation packages, a chrome package, and many other appearance and safety features. Most of the more advanced upgrades are only available on the 2GR-FKS V6 option.
TRD Sport
The 2GR-FKS V6 powers the TRD Sport and offers your choice of a 6-speed automatic or manual transmission and RWD or 4WDemand. The TRD Sport is available with an Access Cab 6-foot bed or a Double Cab in either a 5-foot or 6-foot bed.
Toyota offers numerous packages and options for the TRD Sport, including heated seats, premium audio, navigation, and auto headlights. An advanced technology package for the double cab includes safety features like Blind Spot Monitor and Rear Cross Traffic Alerts. Most packages are contingent upon the cab and bed length of your Tacoma.
TRD Off-Road
For the off-road enthusiast, it doesn't get any more off-road than the TRD Off-Road model. It is equipped the same as the TRD Sport regarding engine, transmission, and drivetrain, but the similarities end there. Toyota added an off-road suspension with Bilstein shocks and an electronically controlled locking rear differential. Multi-terrain Select and Crawl Control are stock in the 4×4 automatic transmission models.
Limited
The Limited model houses the same engine as the TRD models paired with a 6-speed automatic transmission and RWD or 4WDemand. The Limited is more about creature comforts than crawling over rocks, so you'll find an upgraded JBL audio system and leather-trimmed heated seats in the comfortable interior while riding on 18-inch alloy wheels.
Trail Edition
The Trail Special Edition Tacoma sits apart from the rest by sporting heritage-inspired parts like the older TOYOTA front grill design and bronze-finished wheels with TOYOTA center caps. It's still powered the same as the TRD, but it has a retro look and feel, from the paint scheme to the badging.
TRD Pro
If you like power, you'll love that you can grab a gear with the optional 6-speed manual transmission matched with 4WDemand and the 3.5 L 2GR-FKS V6. This edition is designed for people who must climb every rock or hill and drive along ridgelines to see the view. It has a V6 tow package, Hill Start Assist Control (AT only), and the TRD Pro cat-back exhaust. TRD-tuned springs and off-road suspension make the TRD Pro your ticket to adventure.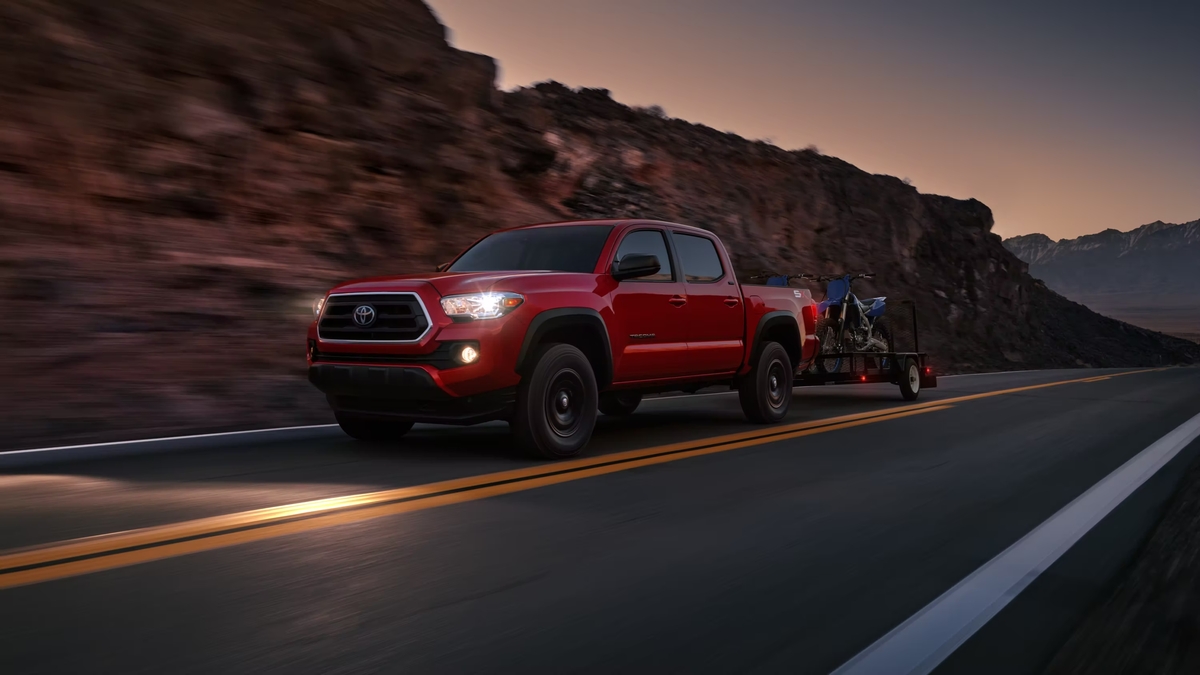 Photo by toyota.com
What's New for 2023?
While most of the Tacoma stays the same for 2023, some changes to the interior will make people happy. The Limited now has a power-adjustable driver's seat, and the Limited Double Cab has an 8-inch infotainment screen, a Smart Key, and a camera with a 360-degree view.
Toyota added a new color for the TRD Pro: Solar Octane and the TRD Sport is offered in Electric Lime.
Pricing and Which One to Buy
The lowest price Tacoma is the SR model, and those start at $27,750 MSRP, according to www.Toyota.com. As for the other trim levels, here is the breakdown of starting prices:
SR5 – $29,540
Trail Special Edition – $40,970
TRD Sport – $34,660
TRD Off-Road – $35,940
Limited – $40,505
TRD Pro – $47,185
When deciding which Tacoma to buy, consider your needs, budget, and lifestyle. Again, the SR is the lowest price midsized truck on the market today.
Engine, Transmission, and Performance
Most models are equipped with the V6, but the inline-4 is under the hood of the basic Tacoma. Here is the breakdown of these engines:
2.7 L 2TR-FE I4
16 Valve DOHC with VVT-i
Horsepower: 158 @ 5,200 RPM
Torque: 182 lb-ft @ 3,800 RPM
Towing capacity: 3,500 pounds
3.5 L 2GR-FKS V6
24 Valve DOHC with VVT-iW and VVT-i
Horsepower: 278 @6,000 RPM
Torque: 265 lb-ft @4,600 RPM
Towing Capacity: 3,500 up to 6,800 with the V6 tow package in the TRD Pro model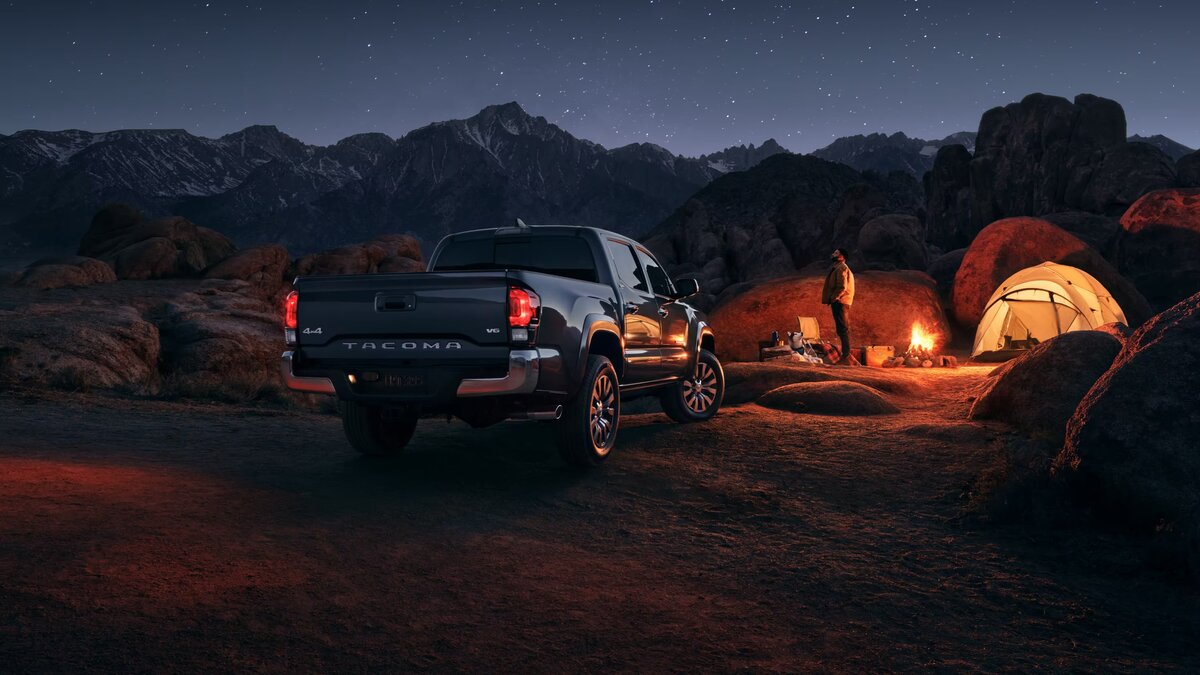 Photo by toyota.com
Interior, Comfort, and Cargo
Toyota claims there is room for five passengers, but the rear seat is a bit cramped, with less than 3 feet of legroom in the Double Cab and only 24 inches in the Access Cab. Headroom is 39.7 inches, and the hip room is 57.2 inches in the front seat of all models.
The seating options range from fabric-trimmed seats to leather-trimmed seats, and lumbar support is offered on the upper-level trim lines. The dual-zone automatic climate control lets the driver and the passenger decide their preferred temperature.
There are some storage places within the interior where you can tuck things away, but the Tacoma doesn't come with many nooks and crannies where you can place items while you travel other than on the seat and floor in the front and back. Side door pockets and center console are standard. Learn more about Pros and Cons of Toyota Tacoma.
Infotainment and Connectivity
As of 2023, the infotainment system in the Tacoma connects you to the world. They offer a suite of connected services that include the following:
Safety Connect – 24/7 roadside assistance from Toyota
Service Connect – personalized maintenance updates
Remote Connect – start your car with your smart device
Wi-Fi Connect – 4G connections are possible with this mobile hotspot
Destination Assist – 24/7 live assistance getting to your next destination
Like all newer cars, Toyota supports Android Auto™, Apple CarPlay®, and more.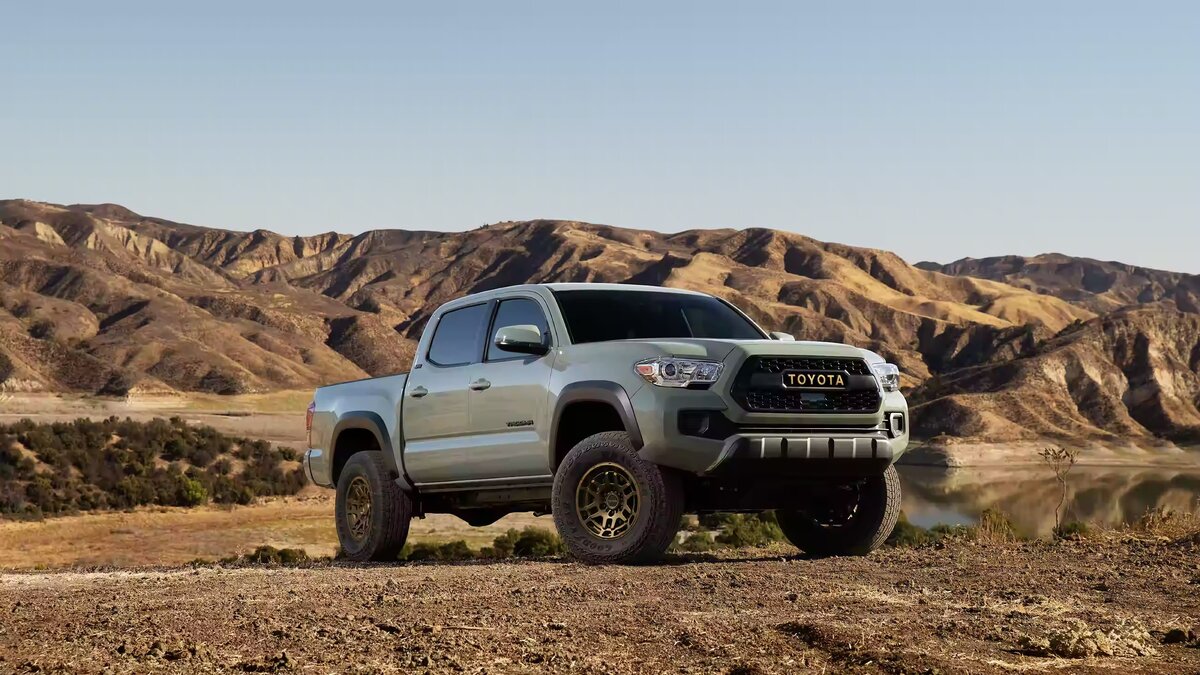 Photo by toyota.com
Towing and Payload Capacity
Depending upon which model and bed size you have, the Tacoma can tow between 3,500 and 6,800 pounds. Read this Toyota Tacoma towing capability article for the breakdown for each model configuration.
Also, depending on your model and bed size, the payload capacity ranges from 1,050 to 1,685 pounds.
Fuel Economy
The Tacoma gets competitive fuel mileage when considering other trucks on the road. If you overload the bed or are towing something, these numbers will drop considerably.
The 2.7 L 2TR-FE I4 gets 20 MPG in the city, 19 on the highway and 22 combined.
The 3.5 L 2GR-FKS V6 gets 21 MPG in the city and 24 combined.
Safety and Driver-Assistance Features
Toyota Safety Sense™ equips your Tacoma with the ability to detect pedestrians and take braking action if you don't act quickly. It uses radar to slow you down when in "cruise" mode if you come up on slower traffic and it will keep you in your lane by alerting you if you drift over the lane markings. These are just a small selection of driver-assist features that have helped the Tacoma earn a 4-star crash rating from the NHTSA.
Other safety and driver assist features include:
Auto high beams
Blind spot monitor with rear cross-traffic alert
Star Safety System: ABS, VSC, TRAC, EBD, BA, and SST
Integrated backup camera with rear parking sonar
Parking assist
Toyota takes safety seriously so that you can enjoy your journey.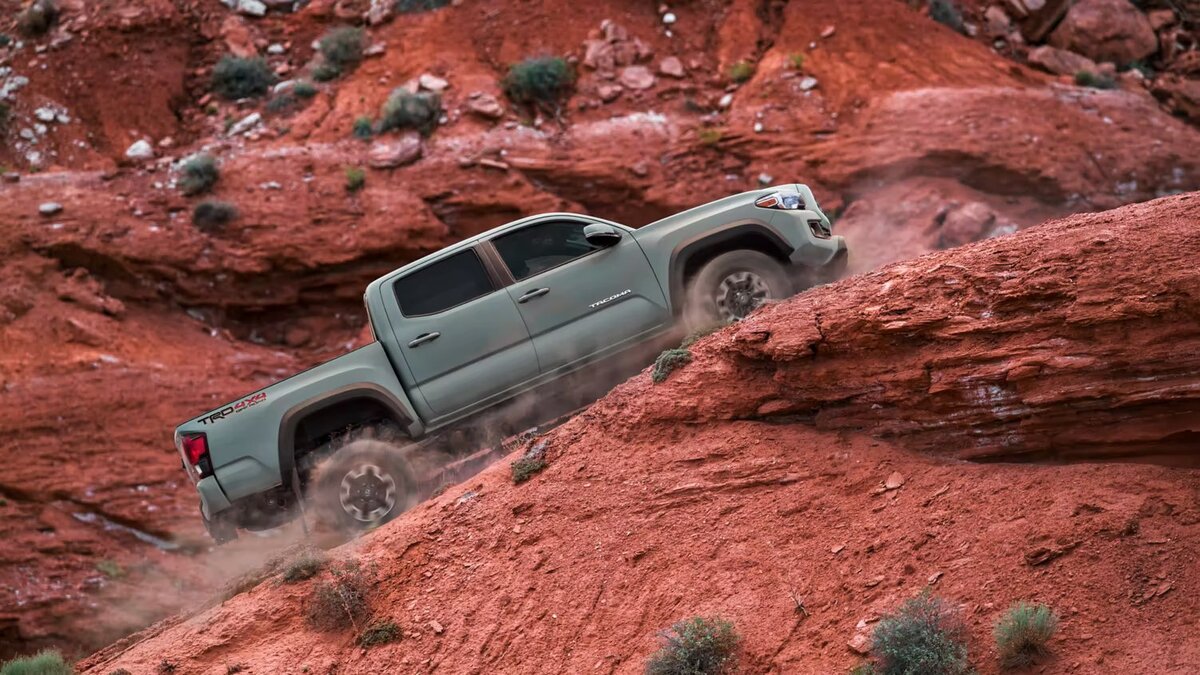 Photo by toyota.com
Warranty
Toyota builds the Tacoma using exceptional standards and stands by the Tacoma as a quality-built vehicle. Here is the Toyota warranty information:
Basic: 36 months/36,000 miles on all components except normal wear and tear and maintenance parts.
Powertrain: 60 months/60,000 miles on the engine, transmission, drive system, transaxle, airbags, and seatbelts.
Rust-Through: 60 months/unlimited miles against sheet metal corrosion perforation.
Emissions: Coverages vary under Federal and California regulations, so refer to your owner's manual for the warranty in your state.
Accessories: For Genuine Toyota Accessories purchased at the time of the new vehicle purchase, the Toyota Accessory Warranty coverage is in effect for 36 months/36,000 miles from the vehicle's in-service date, which is the same coverage as the Toyota New Vehicle Limited Warranty.
For Genuine Toyota Accessories purchased after the new vehicle purchase, the coverage is 12 months, regardless of mileage, from the date the accessory was installed on the vehicle, or the remainder of any applicable new vehicle warranty, whichever provides greater coverage.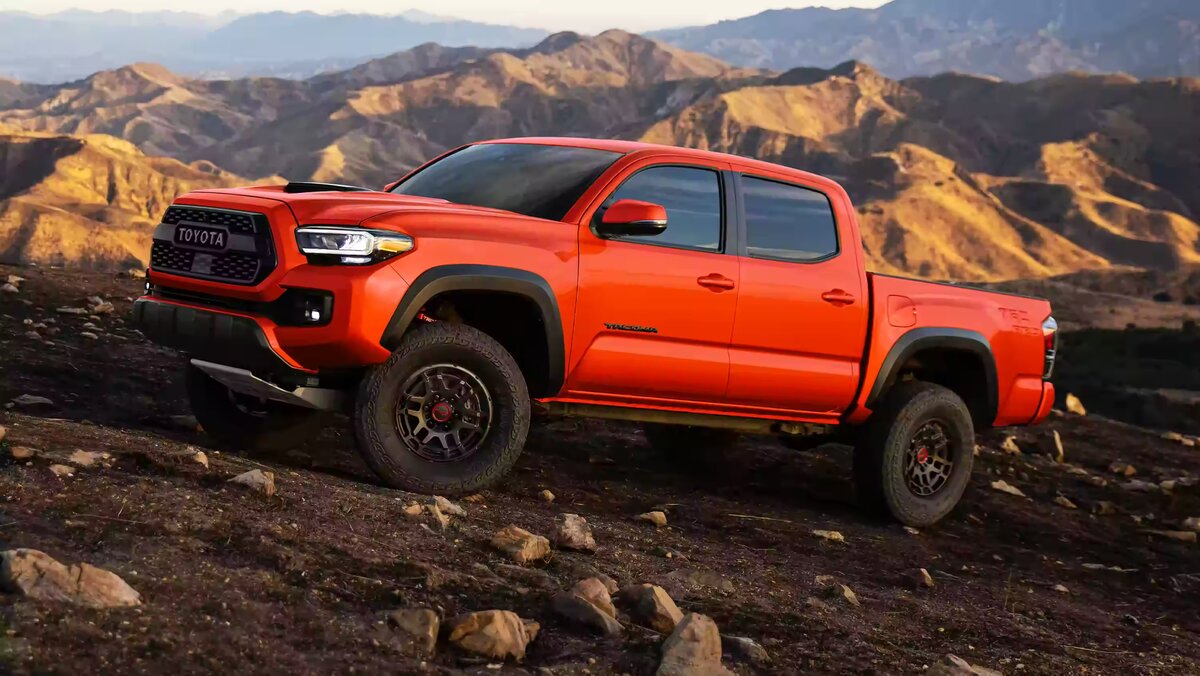 Photo by toyota.com
Toyota Tacoma FAQs
You may have other questions about the Tacoma, so here are some FAQs that may answer them.
Which Toyota Tacoma should I buy?
Once you've decided to buy a Tacoma, the next step is to figure out which model you want. Since there are good things about all models, it comes down to which one fits your lifestyle. If you want a regular pickup truck for general hauling and towing, the SR or SR5 might work for your needs. If you want to go extreme off-roading, choose the TRD Pro; it is widely recommended by off-road experts from Edmunds and Car and Driver, so you know if they like it, you will too.
No matter which model you choose, you will have a durable midsized truck that can handle your way of life.
How much is a new Toyota Tacoma?
The new 2023 Toyota Tacoma prices range from the low end of $27,750 for the SR model to the high end of $47,175 as the starting point for the TRD Pro.
How much should I pay for a Toyota Tacoma?
Never spend more than your budget allows, but if you can get the price negotiated down by 20% regardless of the model, you might get a great deal on the Tacoma.
What is a Toyota Tacoma Prerunner?
A pre-runner is a truck designed to run an off-road course before the off-road racers to determine whether there are any issues with the course. The racers usually had their pre-runners built to resemble their race vehicle.
The Toyota Tacoma Prerunner was offered between 1998 and 2015, was 2WD, and had a wheel offset that gave it a wider track. It had a taller suspension and a locking rear differential. Toyota badged the early versions but lost the badge by the end of this truck's production run.
Do Toyota Tacomas have turbos?
While the current Tacomas do not have turbos, there are rumors that there will be a generation change in 2024 that may include the twin-turbo V6 and electric motor from the Tundra lineup. Before the Tacoma, the 1986 Toyota pickup had a 2.4L SOHC turbo inline-4 engine with a 5-speed manual transmission. We have to wait and see what happens with the 2024 models.
Which Tacoma package has heated seats?
If you're looking to keep your seats warm, you have to upgrade to the Premium Package, which features dual-zone climate control, heated front seats, a moonroof, and leather-trimmed seats for a few of the models like the TRD Off-Road.
Heated seats are standard in the Limited model.
What cars are similar to the Toyota Tacoma?
Here is a list of some of the Tacoma's closest competitors:
Ford Ranger: Ford's midsize truck offers competitive towing and payload capacities, a comfortable cab, and off-road packages with upgrades.
Chevrolet Colorado: The Chevy Colorado offers a variety of engine options, including a fuel-efficient diesel, which gives it a slight edge over the Tacoma when it comes to efficiency but is detrimental to the environment.
GMC Canyon: The GMC Canyon shares many components with the Chevrolet Colorado but offers a slightly more upscale interior and exterior design.
Which is better: the Ranger or the Tacoma?
Currently, the Tacoma and the Ranger are working with older generational equipment. Still, as rumored for Toyota, the Ranger is also thought to be headed for a generational change by 2024. The North American Rangers are the same as last year, but some countries have been driving an all-new Ranger internationally for at least a year. By 2024, we might see these two trucks go head-to-head with new generations.
The Tacoma still beats out the Ranger in the midsized truck market as it has for years. The Tacoma has had more options and models to meet the Toyota truck owner's driving style than the Ranger, making it more popular. Car review magazines, websites, and comparisons give the Tacoma the edge for price and value, safety and driving assistance, infotainment, and technology. The Ranger beat the Tacoma for comfort and utility.
Which is bigger: the Tacoma or Tundra?
The Tundra is a much larger truck than the Tacoma. The Tundra has a full-size truck classification, and the Tacoma is classified as a midsized truck.
Is the Toyota Tacoma a reliable car?
Years of R&D by Toyota are behind the components that power the Tacoma. This durability is repeatedly proven by owners who report mileage of 100,000, 200,000, and more on their odometers. It is not unusual to see 300,000 or more on the original engine.
What engines come in a Toyota Tacoma?
You can choose between these two engines:
2.7 L 2TR-FE I4
L 2GR-FKS V6
Which Toyota Tacoma has a manual transmission?
The TRD Pro, TRD Sport, and TRD Off-Road all have a manual transmission option for those who like controlling their power.
Does the Toyota Tacoma have Apple CarPlay®?
All the models come with Apple CarPlay®, Android Auto™, Amazon Alexa, and more, either as a standard feature or in an option package.
How many catalytic converters are in a Toyota Tacoma?
The Tacoma has four catalytic converters. Two are in the front by the manifold, and two are in the rear by the mufflers.
How much horsepower do Tacomas have?
The horsepower depends on the engine in your Tacoma.
2.7 L 2TR-FE I4
16 Valve DOHC with VVT-i
Horsepower: 158 @ 5,200 RPM
3.5 L 2GR-FKS V6
24 Valve DOHC with VVT-iW and VVT-i
Horsepower: 278 @6,000 RPM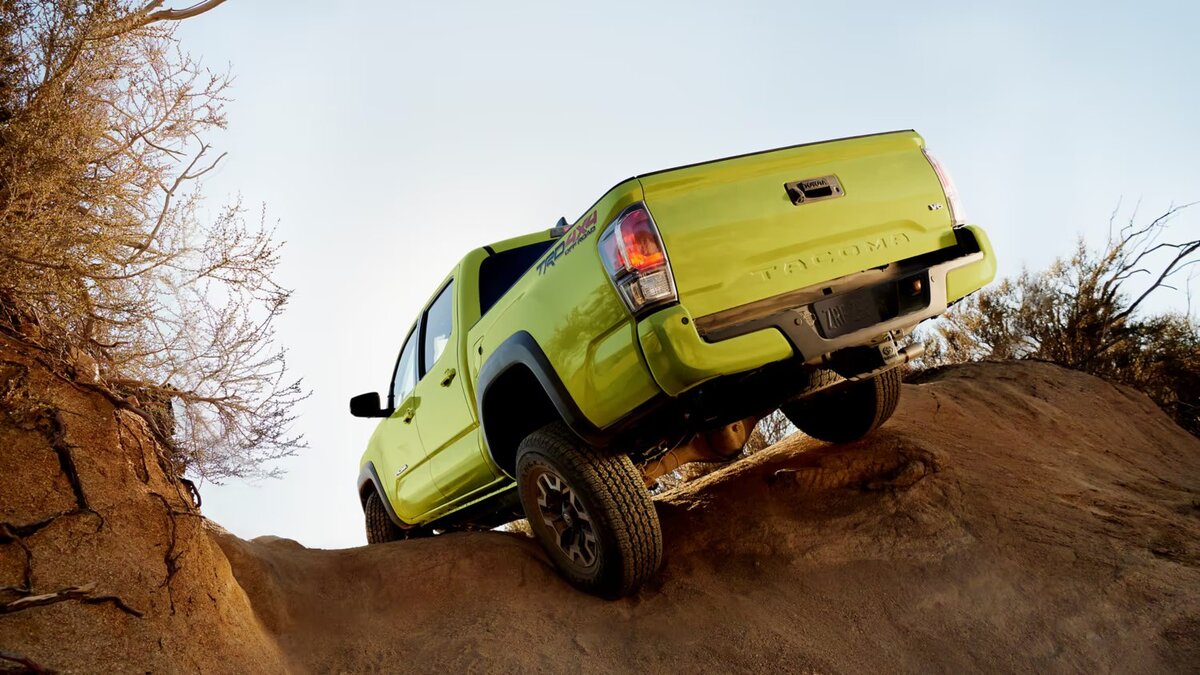 Photo by toyota.com
Where are Toyota Tacomas made?
Toyota builds the Tacoma in de Guanajuato in Apaseo el Grande, Mexico, and assembles them there or in Baja, California. The Tundra TRD Pro Series trucks are assembled in San Antonio, TX.
How many miles can a Toyota Tacoma last?
Due to the dependability and strength of the Toyota motors, they can last upward of 400,000 miles if you take good care of your truck. The average mileage is over 200,000.
How many miles per gallon does a Toyota Tacoma get?
Across the models, they average around 20 MPG city/23 MPG hwy/21 MPG combined with the 2.7L 4cylinder, and 19 MPG city/24 MPG hwy/21 MPG combined with a 3.5L V6.
How many gallons does a Toyota Tacoma hold?
The 2023 Tacoma holds 21.1 gallons of fuel.
Is the TRD Off-Road lifted?
Toyota's official TRD Tacoma lift-kit fits most models from 2020 models and newer, which includes the Off-Road version.
The TRD Pro is lifted with a 1.5-inch front lift and 0.5-inch rear lift on 16-inch wheels. The TRD-tuned FOX® internal bypass shocks have 2.5-inch aluminum housings and hardened, oversized shafts. They are designed to give you more ground clearance and max damping.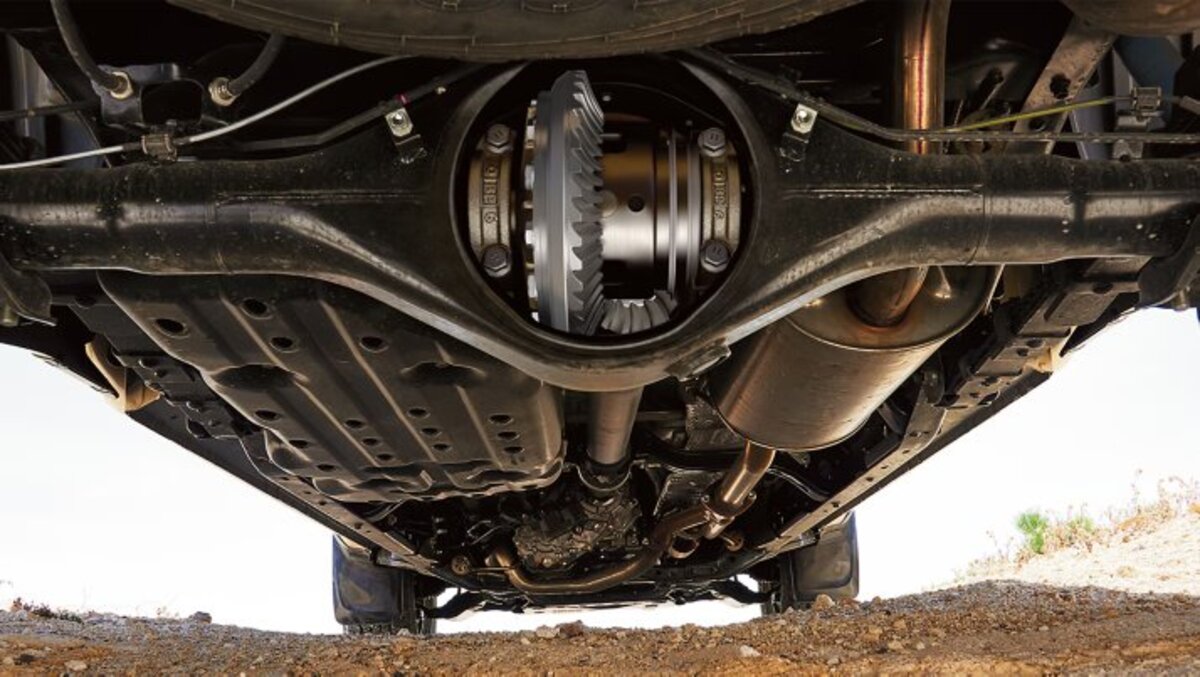 Photo by toyota.com
Is the Toyota Tacoma all-wheel drive?
The Tacoma does feature available AWD on older models like the 2015. The 2023 only has 2WD and 4WDemand as options.
What is ECT power on Toyota Tacoma?
When you press the ECT PWR button in your Tacoma, the Electronically Controlled Transmission (ECT) adjusts your shift points, so you can hit a higher RPM before shifting.
What is RSCA on a Toyota Tacoma?
The RSCA is the Rolling Sensing Curtain Airbag feature on your Tacoma. It is designed to protect you during a rollover, but it can be turned off.
What does SR5 mean on a Toyota?
It stands for Sport Rally five-speed. Likewise, SR stands for Sport Rally.
How tall is a Toyota Tacoma?
The Toyota Tacoma is 70.6 inches tall.
How long is the bed of a Toyota Tacoma?
The bed comes in two sizes: 5 feet and 6 feet long.
Does Toyota Tacoma have a remote start?
Yes, you can get a remote start for your Tacoma, and it is standard on all models except the SR.
What can a Toyota Tacoma tow?
It can tow 3,500 to 6,800 pounds based on the model and other equipment like engine specs and your tow hitch. When towing, check the rating on the hitch and the trailer to ensure that you aren't exceeding its capabilities and the gross vehicle weight of your truck. Read this Toyota Tacoma towing capability article for more details.