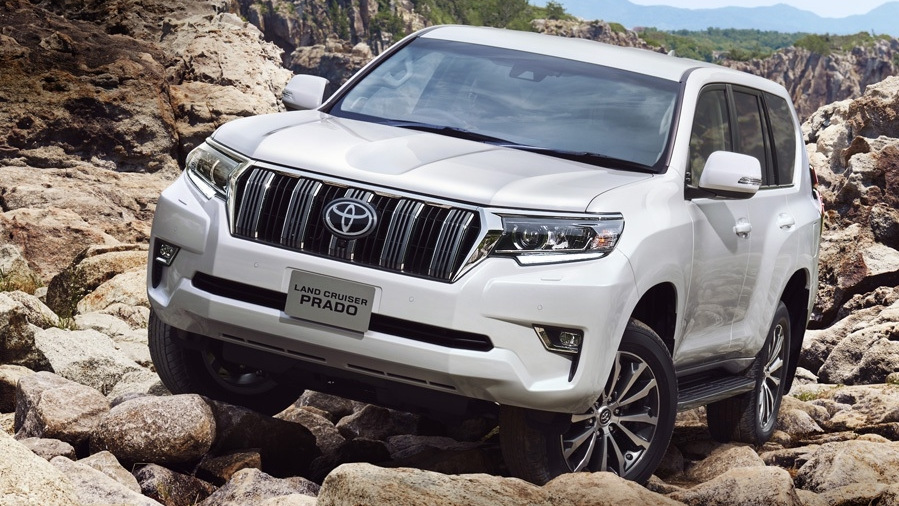 Wild transformation for the Land Cruiser Prado 150
The 150 Prado was rumored that it was up for minor changes for some time, but at the "Toyota SUV Series PR Event" held in Odaiba, Tokyo on September 12, 2017, a new Land Cruiser Prado with a large facelift was released. In this minor change, there were no changes in the engine or drivetrain, but easier-to-use equipment and advanced safety performance were featured. The Land Cruiser Prado 150's unique vertical headlights are gracefully discarded, and the horizontal headlights are reminiscent of the Land Cruiser 200 series. The front grille protrudes a bit more and the rear combination lamps, which are arranged vertically in two U-shapes, give the impression of a more sophisticated style.
Let's take a look at the minor change of the new Land Cruiser Prado 150.
Exterior design
Redesigned front face for upgraded sophistication
In this model change, the front-end design change is the most important topic. While inheriting the rugged looks suited for both city and wilderness, which is a Land Cruiser Prado characteristic, a more advanced front face and rear combination lamps have been adopted. The wheel design has also been renewed, further increasing its value as an urban crossover SUV. In addition, new body colors of "Blackish Swallowtail Glass Flake" and "Avant Garde Bronze Metallic" have been added, making a total of nine colors available.
Interior design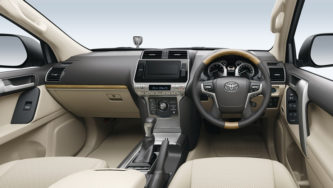 Keep the concept, but interior space with improved usability
The interior is basically the same concept, but with this model change, a 9-inch navigation system is optional. In addition, in the cargo area, which is spacious and easy to access, by retracting the third seat, you can open up additional cargo space. Up to four golf bags can be stored, and the floor is almost flat, so you can carry coolers and other items. Even when the second-row seats are folded down, they are almost flat, so you can safely load longer cargo.
Body Size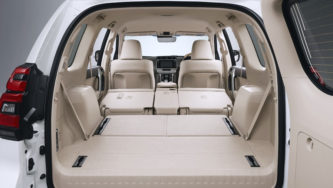 Basically the same as the previous model, but there were some changes due to design changes
This model update is not a full model change, so the platform itself is the same as the one used since 2009. However, the new Land Cruiser Prado, which has undergone a major renovation of the front end, has undergone a slight change in body size. Please take a look at the comparison of the body size of the previous model and the new model with the basic model name "TX".
Body size of the Toyota Land Cruiser Prado 150
Model
[New model] 2.7 TX 2017.9~
[Previous model] 2.7 TX 2015.6-2017.9
Full Length
189 inches
187 inches
Width
74 inches
Height
72 inches
Wheelbase
109 inches
Ground Clearance
8.6 inches
Room Length
71 inches
Room Width
62 inches
Interior Height
48 inches
Front Tread
62 inches
Rear Tread
62 inches
Engine
Inline 4 2.8L 1GD-FTV diesel engine
The diesel engine used in the new 150 Prado uses a common rail fuel injection system and a turbocharger with a water-cooled intercooler. In addition to demonstrating overwhelming power performance with a maximum output of 170ps/167HP and a maximum torque of 45.9kgf.m/332 lb.-ft., the adoption of the latest clean technology such as an exhaust gas purification device and a urea SCR system achieves excellent environmental performance.
Inline 4 2.7L 2TR-FE gasoline engine
The gasoline engine used in the new 150 Prado is an established gasoline engine that enhances elements such as power, operability, and quietness in a well-balanced manner. In addition to light acceleration performance on-road, it also demonstrates powerful off-road performance. The dual VVT-i valve timing mechanism and high compression ratio also contribute to low fuel consumption.
Engine specs of the new Land Cruiser Prado 150
Engine
Inline 4 2.8L 1GD-FTV diesel engine
Inline 4 2.7L 2TR-FE gasoline engine
Engine Type
In-line 4-cylinder DOHC turbo with IC
In-line 4-cylinder DOHC
Inner Diameter x Stroke
92.0*103.6mm
95.0*95.0mm
Compression Ratio
—
10.2
Total Displacement
2,754cc
2,693cc
Maximum Output
130kw(177ps)/174HP/3,400rpm
120kw(163ps)/160HP/5,200rpm
Maximum Torque
450N.m(45.9kgf.m)/332 lb.-ft./1,600rpm
246N.m(25.1kgf.m)/181 lb.-ft./3,900rpm
Fuel Tank Capacity
87L
Fuel Type
Diesel
unleaded regular gasoline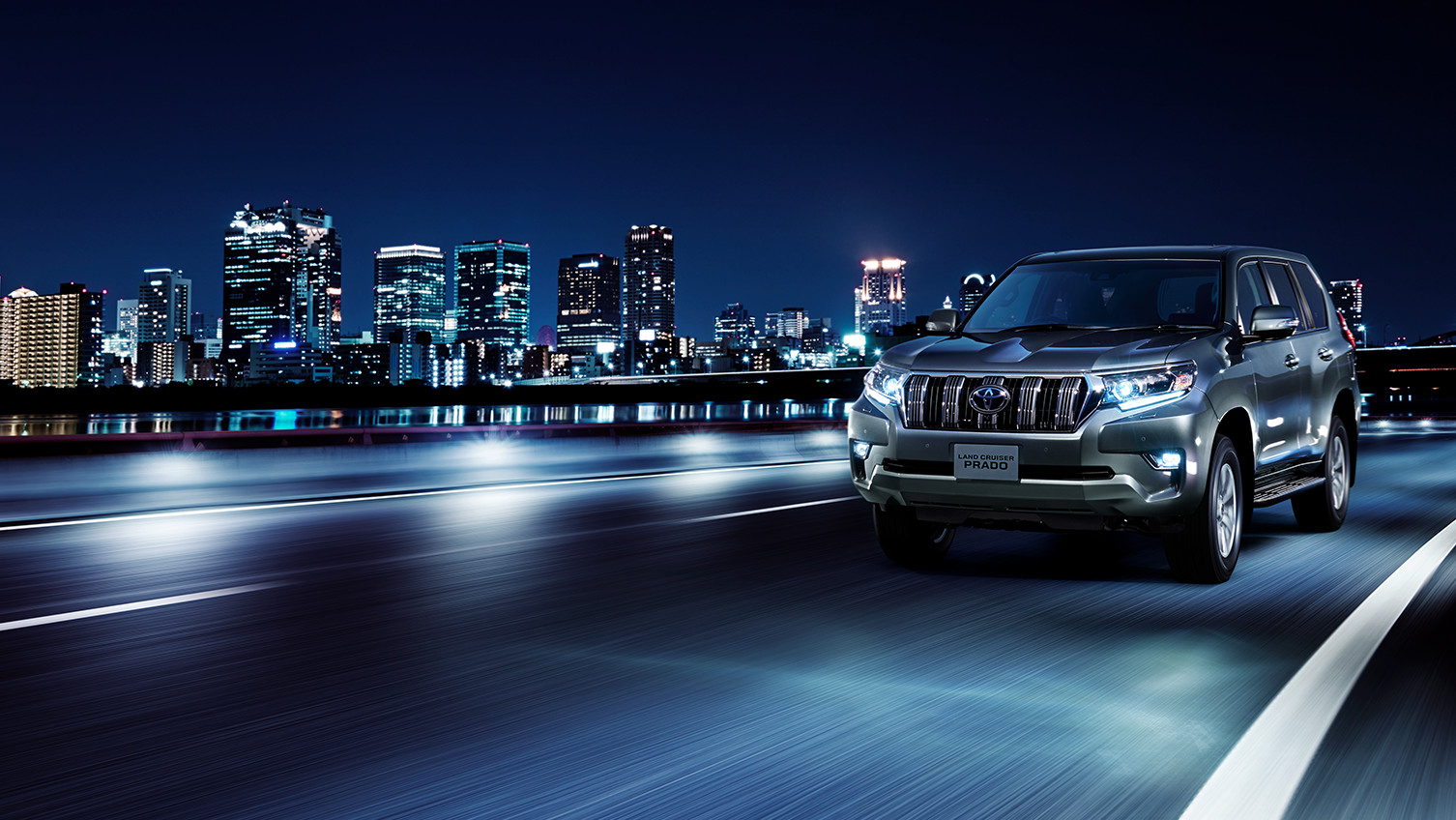 Fuel efficiency
Equipped with the latest engine that achieves a low fuel consumption even with a vehicle weight of over 2 tons
A long time ago, it was common for cross-country SUVs to have a powerful turbocharged diesel engine with a lot of power and a lot of black smoke. Another cross-country SUV, the Land Cruiser Prado, also needs a powerful engine to achieve high off-road performance. However, environmental performance and fuel efficiency performance cannot remain the same. The new Land Cruiser Prado is equipped with two types of the latest engines with excellent power, quietness, and fuel efficiency to meet the needs of today's drivers.
Inline 4 2.8L 1GD-FTV diesel engine
Fuel consumption rate (JC08 mode): 11.8km/L / 27MPG (TX/TX L package) 11.2km/L / 26MPG (TZ-G)
Inline 4 2.7L 2TR-FE gasoline engine
Fuel consumption rate (JC08 mode): 9.0km/L/21MPG (8.8km/L/20MPG when vehicle weight is 2,110kg/4,651 pounds or more.)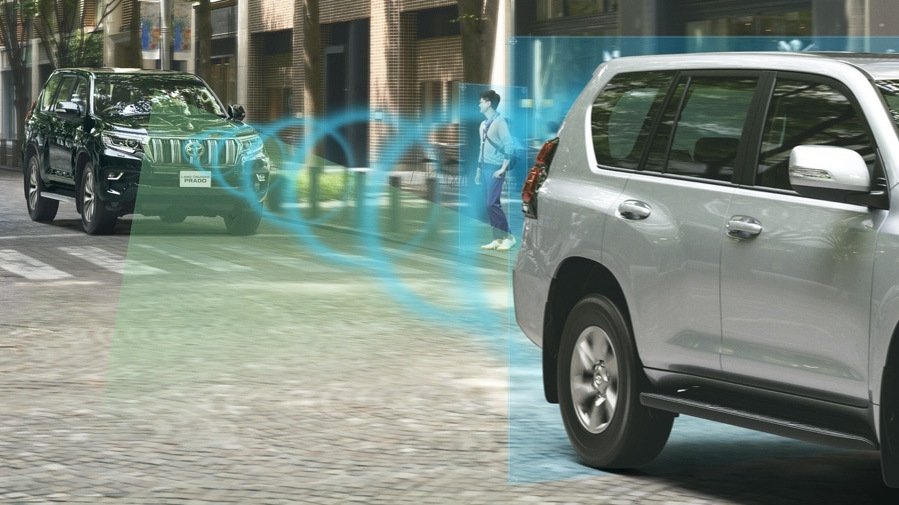 Safety performance
The new Land Cruiser Prado 150 is equipped with the "Toyota Safety Sense P" standard on all models
We tend to focus only on the exterior, but the notable point of this minor change is that "all models and trim levelas are equipped with Toyota Safety Sense P." Toyota Safety Sense P is a high-precision detection sensor that uses millimeter-wave radar and a monocular camera to recognize not only vehicles but also pedestrians, helping to avoid accidents and reduce collision damage.
The "millimeter-wave radar" is effective in detecting distant cars in front of you and is not easily affected by the surrounding environment such as rain, fog, and snowfall. Pedestrians, as well as oncoming headlights, can be recognized. These two types of technology deliver outstanding recognition ability and reliability. With the standard installation of the Toyota Safety Sense P, also used in the Land Cruiser 200 series, it has become a safer vehicle for you and your family.
Driving Performance
Equipped with Multi-Terrain Select, it delivers outstanding performance on rough roads.
The TZ-G grade has 5 modes that are available as optional equipment that deliver stability on off-road driving based on the road surface conditions (MUD&SAND/LOOSE ROCK/ MOGUL/ROCK&DIRT/ROCK).
It offers optimal control of engine throttle characteristics and traction control braking for each selected mode. It ensures drivability on rough roads and realizes stability that is unique to a full-fledged SUV. In addition, a multi-information display that displays the steering angle of the tires and the tilt of the vehicle at a glance is placed in the center of the dash, so you can climb safely. In addition, the optional navigation system, which has been enlarged on the new Prado, has not only the display in the center of the dash but also the navigation screen. It is now possible to see your vehicle's status at all times on a large display.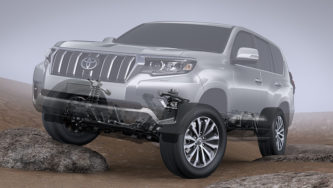 Trim Levels
There is no change in the grade composition, but the diesel-equipped models are expanded
Until the previous model, the new Land Cruiser Prado 150 was a 5-seater with 2 rows of seats for the TX, and a 7-seater with a 3rd-row auxiliary seat added to the cargo compartment for the TX/L package. You can now choose between a 5-seater and a 7-seater for both.
And I'm very happy that diesel engines are now available for all of them. Until now, there are quite a few users who have had no choice but to choose a gasoline engine, so this change has greatly expanded the model choices. Of course, I would like to add that the 2TR-FE 2.7L in-line 4 gasoline engine is also a seasoned gasoline engine that balances all performances such as power, operability, quietness, and environmental performance at a high level.
Price and grade configuration of the new Land Cruiser Prado 150
| Gasoline engine model | Diesel engine model |
| --- | --- |
| 【TX 5-seater】$25,890 | 【TX 5-seater】$30,380 |
| 【TX 7-seater】$27,010 | 【TX 7-seater】$31,510 |
| 【TXーL package 5-seater】$29,610 | 【TXーL package 5-seater】$34,150 |
| 【TXーL package 7-seater】$30,750 | 【TXーL package 7-seater】$35,280 |
| | 【TZーG 7-seater】$39,240 |
The pricing
The Land Cruiser Prado 150 with vertical headlights is now your last chance to buy a new car
The Land Cruiser Prado 150 has become more attractive with this minor change, but the price has risen because of the enhanced equipment. The diesel TX L package (7-seater) of the previous model is $34,360, and the new Land Cruiser Prado with minor changes is $35,280. If you compare these two cars, the new model will be priced 126,163 yen – $9,231 more than the previous model, so if you like vertical headlights and want to keep costs down, we recommend the previous model Land Cruiser Prado 150. If you still want the new Prado, you can get it at any Flex shop, so get the Land Cruiser Prado 150 that suits your needs!
*From here, it will be a forecast article of the new Prado released on April 1, 2017.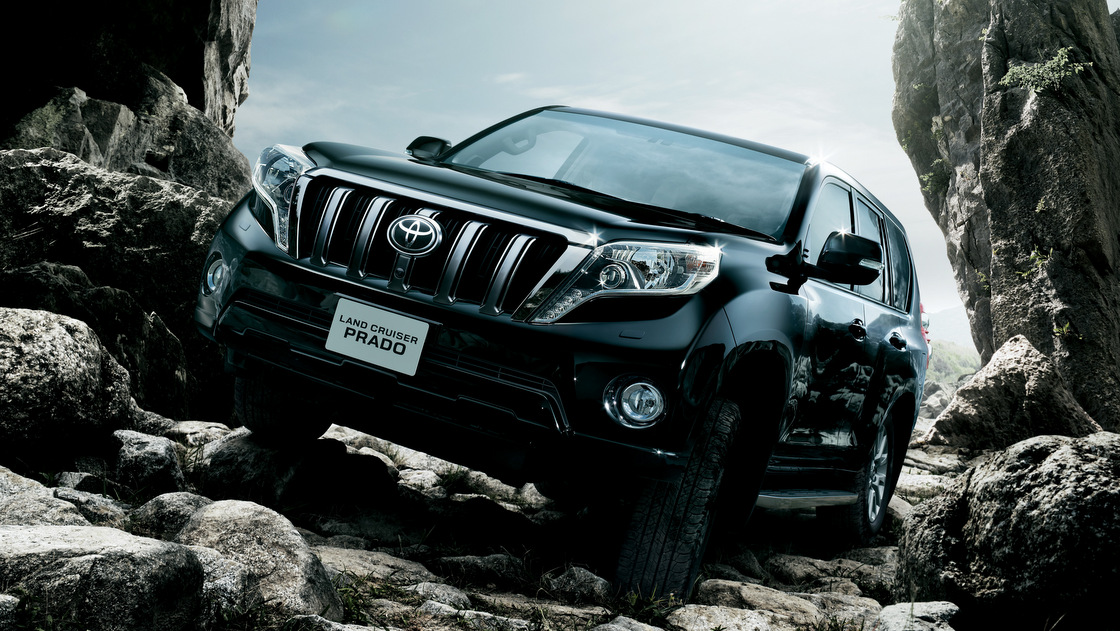 The Land Cruiser Prado 150 after a minor change has a wider feel with the changed headlights and grill.
Vertical dot LED changed to horizontal light guide LED, grill design also changed
The 150 Prado underwent a full model change in September 2009, inheriting the oblong headlights from the 120 Prado. In September 2013, it was changed to a more dramatic design with vertical dot LEDs, but it seems that it will be changed to a horizontal headlight again in 2017. The currently vertically arranged dot LEDs are housed at the bottom of the horizontal headlamps, making them trendier. In addition, a plated trim is added to the lower end of the grille, and the presence of the grille has been changed to a more prominent design. It seems that there will be no major changes to the tail lamps, but the colors and details of the design have been changed, giving it a more advanced design. Although there are no changes to the design of the sides of the vehicle, the shape of the front and rear bumpers will certainly be changed, and it will debut with a wider appearance than it looks.
150 Prado equipped with the latest safety equipment with minor changes in September
150 Prado adopts Toyota Safety Sense P already installed in other Land Cruiser models
In the cars that have been announced recently, fuel efficiency and safety performance are also very important. This time, even with minor changes to the 150 Prado, it is inevitable that safety performance will be strengthened, and it is also a trend in the entire automobile industry. Therefore, it is likely that Toyota's safety equipment package, "Safety Sense P", which has already been installed in the original Land Cruiser, will also be added to the 150 Prado. "Safety Sense P" is a package that integrates four systems that can recognize not only vehicles but also pedestrians by using a sensor that combines radar with a camera to support accident avoidance and collision damage mitigation. It is referred to previously, but I had the opportunity to drive a Land Cruiser 200 equipped with "Safety Sense P". When I was about to deviate from the lane, an alarm sounded and corrected the steering angle, and there was a possibility of a collision. In such situations, it also assisted in collision avoidance with an alarm and automatic braking. It is very reassuring to have "Safety Sense P" installed because mistakes are inevitable when driving a car.
There are rumors that the diesel engine will continue as it is and that it will be converted to a PHEV, but…
No change in driving performance even with minor changes, the current 2-engine lineup
Although a minor change in the 150 Prado is expected to be announced in September, it seems that there will be no change in the powertrain. For the time being, it seems that the 1GD-FTV type inline 4 2.8L diesel engine was introduced in June 2015 and the 2TR inline 4 2.7L gasoline engine will continue. In some information, there are rumors that it will be a PHEV (plug-in hybrid), but it is not quite realistic for the heavy 150 Prado. The 150 Prado is one of the few full-fledged cross-country SUVs today, so even Toyota can't compromise its driving performance. With the current motor and battery performance, the 150 Prado, which weighs nearly 2.5 tons, cannot be accelerated satisfactorily.