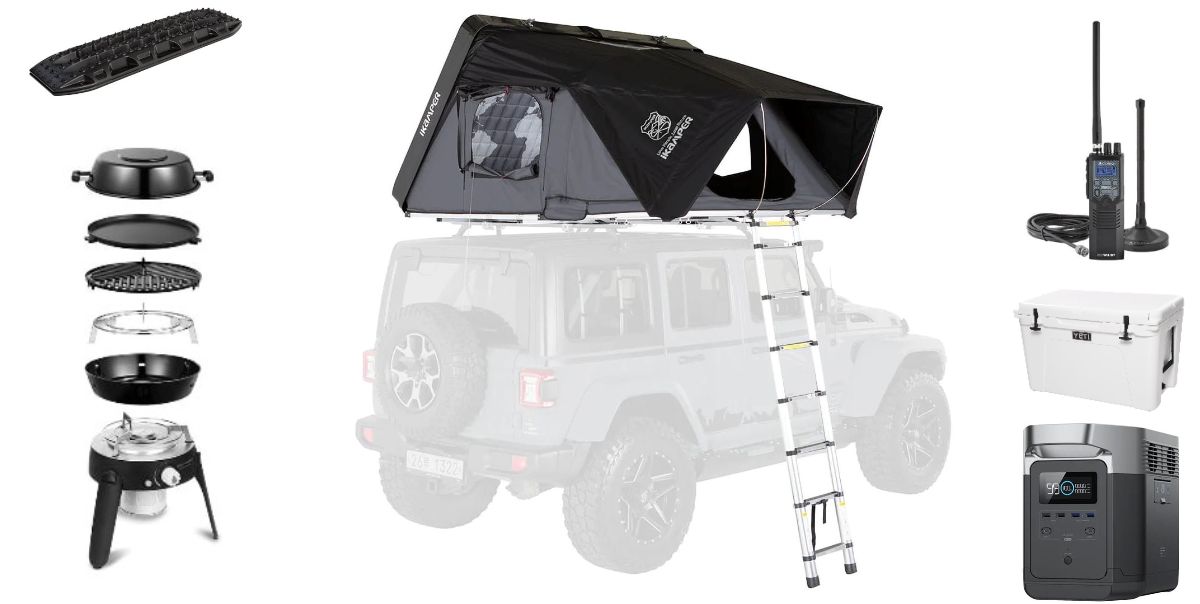 You didn't buy your Land Cruiser 80 Series to just drive around town; you bought it because it promised to open up a world where rocks and rivers replaced pavement and sidewalks. It's where your tires growl and you grip the wheel as you crest another obstacle, and where you trade in your city noises for breathtaking quiet.
We put together a list of some of our favorite toys to help you capture the most from those exciting moments.
Capability and Safety
Taking off in your 80 Series Land Cruiser with a group of friends is always a great way to spend your weekend, and when you do, you want the best safety equipment that you can buy.
CB Radio
Stay in touch with your group or call for help with a CB Radio set up in your LC80. When it comes to CBs, Cobra is the leading name in communications and the professional drivers' choice for staying safe on the road.

Photo by cobra.com
This handheld CB radio comes with a magnetic mount antenna and is capable of receiving 40 CB radio channels. It also offers 10 weather channels, so you always have the latest information on the weather no matter where you are. That can mean the difference between waiting out a storm in a trailhead parking lot and being stuck on an open ridge during a lightning storm.
This magnet mount antenna is 18.5 inches and turns your roof into a CB tower with a 26-30 MHz frequency range. It will up the game when it comes to getting weather channel reception, and its 15-foot coaxial cable is braided from heavy-duty material and easy to relocate to another vehicle.
A CB is not just for a road trip; it can be instrumental in keeping you safe during extreme weather, after a storm when the cell towers are down, or in areas without cell service.
4WD owners like these radio setups because they are portable, inexpensive to use, and reliable.
A Set of Traction Jacks
Sometimes enthusiasm gets the best of everyone, and you end up in a place that is harder to get out of than you thought. For this reason, a set of traction jacks should be a part of your off-roading kit.

Photo by maxtraxus.com
A MAXTRAX MKII set of boards can get you out of a jam in a hurry. Each set is constructed of engineering-grade nylon with fiber reinforcement that can withstand the torture you'll put them through getting out of the sand, mud, dirt, and other difficult spots. They are fade-resistant and come with a promise of a free replacement if they break, crack, or stress after use. They are made in Australia, so they have been tested in the most extreme conditions.
These boards have six built-in handles and a shovel on each end, so you can dig yourself out if needed.
MAXTRAX MKII mounting pins and Overland Kitted Bed Rail Mount keep your boards handy in case of an emergency.
Lift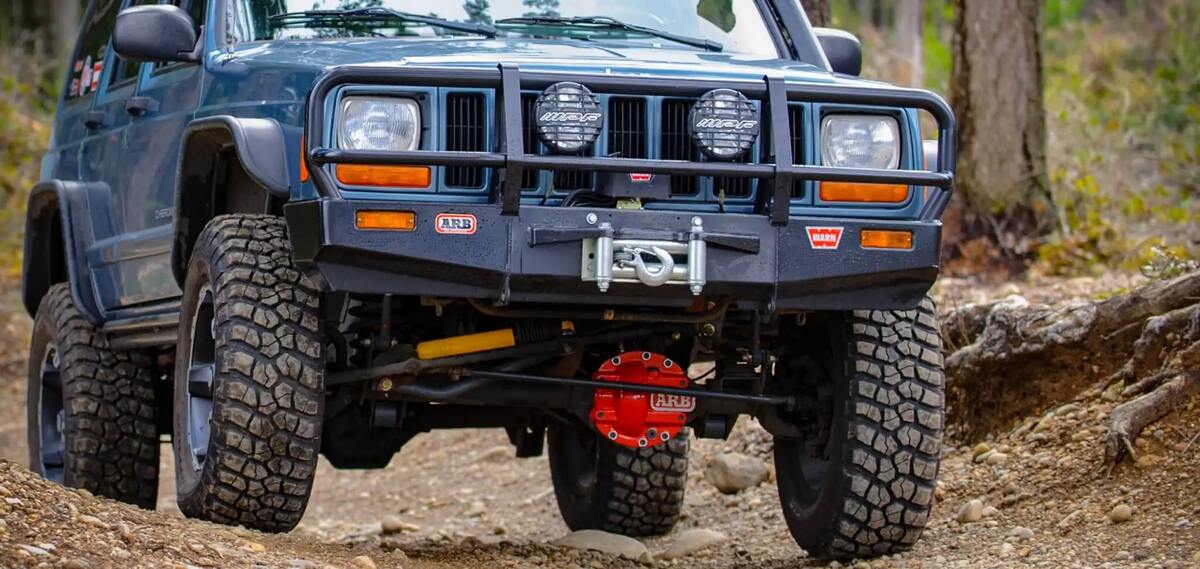 Photo by arbusa.com
Don't cobble together a lift when you can select an Old Man Emu 4×4 suspension that has been designed with components that work together to increase the ride height while giving you optimal ride comfort, load capacity, and control.
Old Man Emu by ARB delivers more than just an increase in height. It works towards balancing out the increased height to match the effects of changing the center of gravity. When you lift your suspension, you may find steering, cornering, and braking issues, as well as a vibration. The Old Man Emu correctly engineers their system to work to offset any changes in the suspension and eliminate these types of problems.
A body lift may give you the ability to put bigger wheels on your LC80, but a suspension lift gives you better clearance and angle while driving over boulders and other large rocks without putting your mechanical parts in danger of destruction. Plus, a body lift doesn't help your wheels stay connected with the ground for maximum traction like a suspension lift.
Cooking Utensils
Half of the fun of driving your Land Cruiser 80 Series off-road means that you get to kick back and escape civilization for a while. At some point, you're going to get hungry, so a camp cooker is another "must-have" for your overlanding gear.

Photo by frontrunneroutfitters.com
The CADAC Safari Chef 30 HP Portable 5 Piece Gas Barbeque Camp Cooker will become something you can't live without. It only weighs 9 pounds and can cook up anything you throw on its 110-inch square cooking area.
You get:
A burner with a pot stand;
A GreenGrill non-stick BBQ grate for burgers;
A GreenGrill non-stick flat plate grill for pancakes or eggs;
A lid that can be flipped upside down to create a pot for stews;
A convenient carry bag where everything is stored
Other optional accessories include a pizza stone, a brush, and two other pan sizes. All of the grills are lightweight aluminum with CADAC GreenGrill ceramic coating for healthy eating and easy cleaning.
The cooker sits on a disposable 1-pound Propane gas cartridge that you can screw into the unit and has a push-button piezo ignition. The HD-5 Propane is constructed and marked to meet the LP Gas Cylinders of the U.S. Department of Transportation (DOT 39) or Transport Canada CAN/CSA 339 code.
Gasoline Canister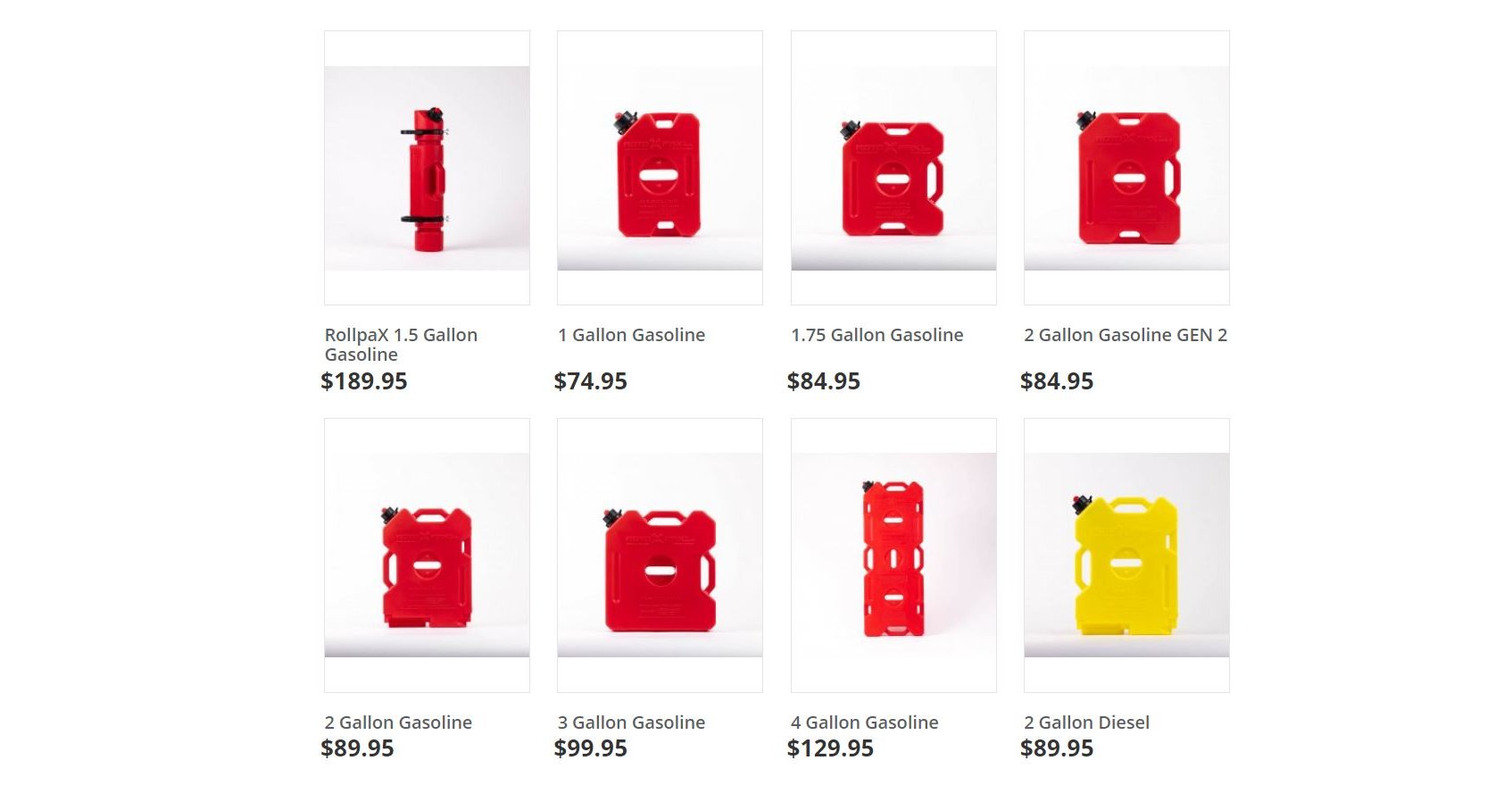 Photo by rotopax.com
You don't have to worry about running out of fuel when you're equipped with an extra gas can like those from RotoPaX.
RotoPaX fuel containers come in a variety of sizes, so you can choose the size you need.
All RotoPaX containers are manufactured in the United States and exceed the EPA and CARB requirements making them the only rotational molded compliant containers on the market. Because they are solid piece rotational three-layer construction, there are no joints to leak. These containers are tough! There's even a freezable container for water for your cold drinks.
They lay flat and can be interconnected, but they can also be mounted on walls by using any of the mounting hardware available for easy organization. The childproof locking seals and internal spout make these storage containers family-friendly.
Exterior
You want to get the most from your Land Cruiser 80 Series, so make the exterior your own by creating your idea of the perfect SUV.
Racking System
What's more fun than powering through brush and trees to find the most incredible alpine meadow and lake? It's more fun when you've taken all of your toys with you. This is where Rhino-Rack comes in.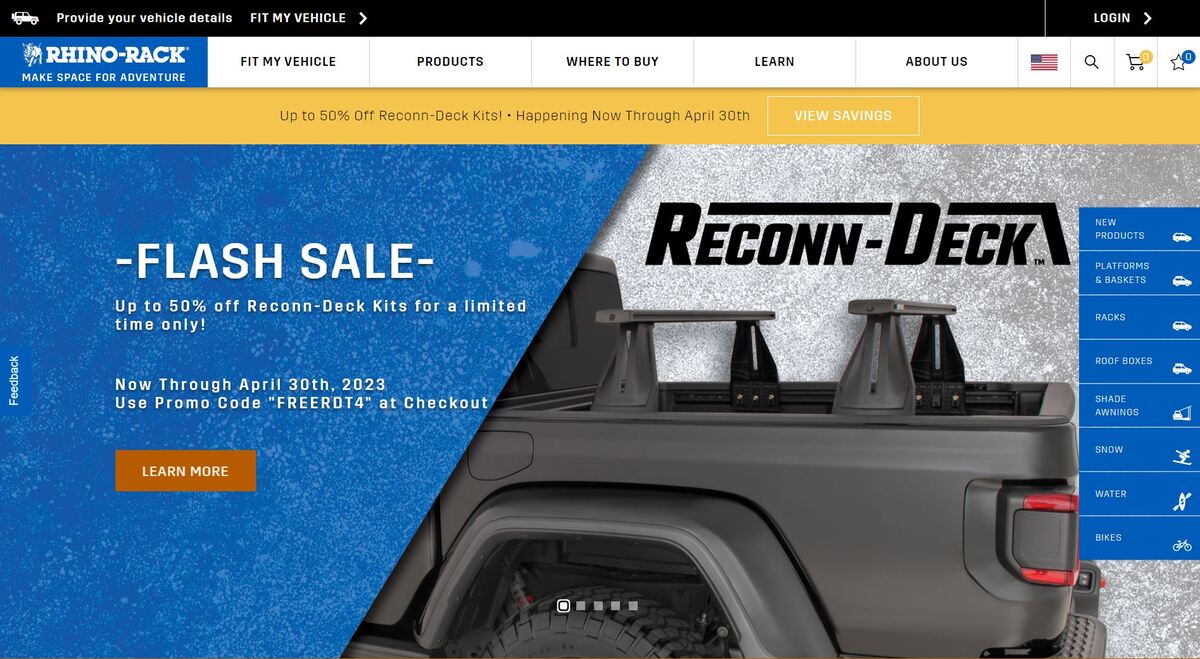 Photo by rhinorack.com
Rhino-Rack builds a selection of overlanding equipment like racks and platforms that will transform your Land Cruiser 80 Series into the ultimate adventure mobile. From roof racks for boxes and kayaks to platforms for camping or star gazing, these racks are all manufactured to be as tough as your Land Cruiser 80 Series. They've been tested in the toughest environments and harshest conditions to ensure quality that won't leave you stranded with a broken rail.
The Pioneer Platform is modular, so you can adjust it to fit whatever size you need. It's lightweight aluminum with fiberglass-reinforced nylon corners. It fits with most Rhino-Rack accessories, so it's the most versatile on the market.
Their Roof Racks come in a selection of styles, mounts, and colors, so you can choose the right one for your 80 Series Land Cruiser. A rack lets you expand your cargo space, so you can free up some interior space for more of your friends. All of the racks are heavy-duty and easy to install and remove.
Rooftop Tents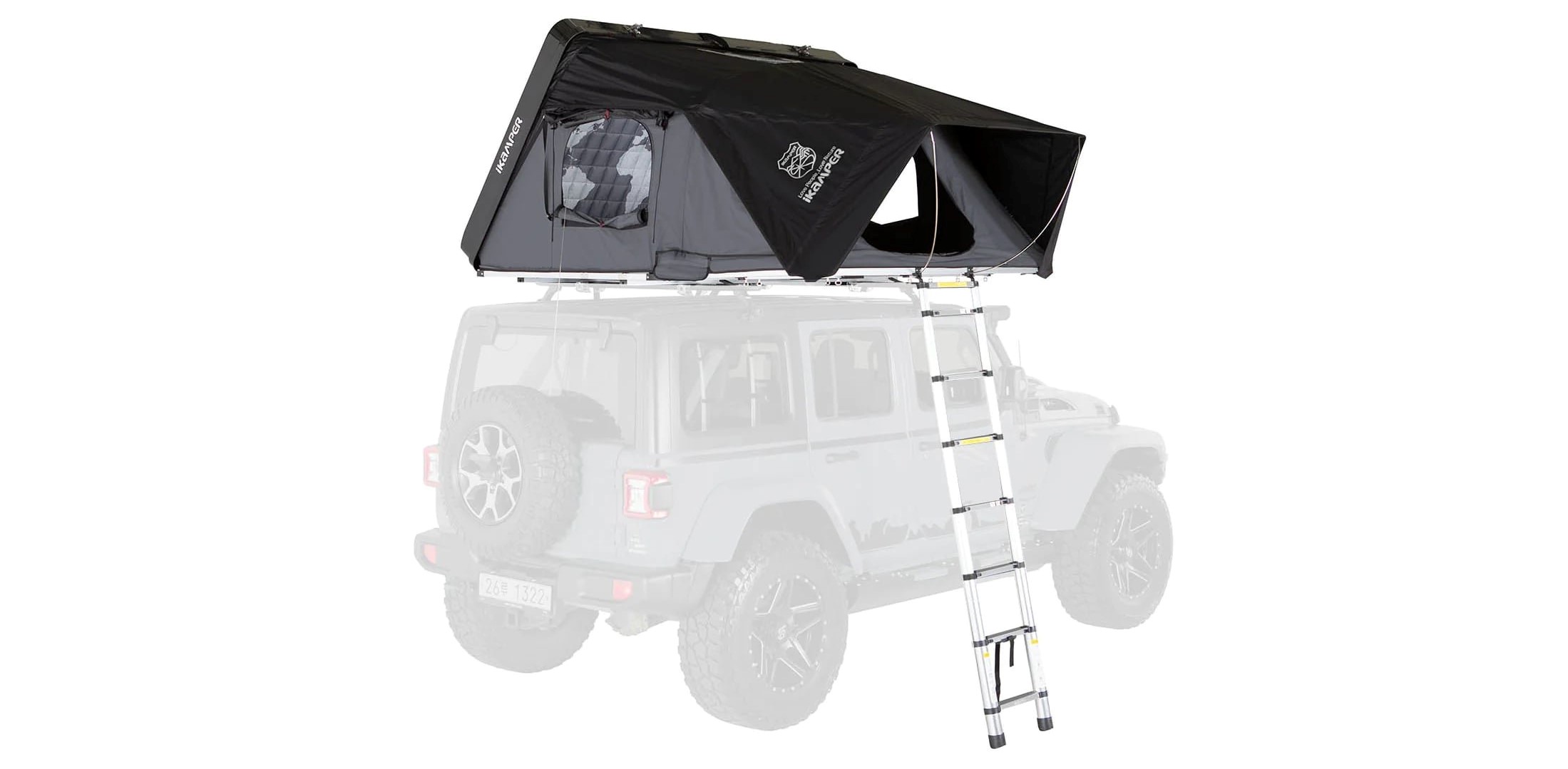 Photo by ikamper.com
Don't have a place to stay once you stop at the edge of the alpine meadow? No problem with a rooftop tent like a Skycamp 3.0.
iKamper offers hotel accommodations at the top of the world without the price of owning a mountain lodge. Same great views and nighttime star gazing, but at down-to-earth prices that make owning a Skycamp 3.0 a bargain. It only takes 3 minutes to set up too.
The best part is that it's not a cramped tent. It fits a size of a king-sized bed where you'll have plenty of room to stretch out after a day of hiking or hard driving and it fits four people. Its flaps open up the night to cool breezes and cross ventilation while the mesh keeps out bugs, and the tent is 100% waterproof. The interior is lined with a hard shell and quilted insulation for maximum comfort and stability, which you might need if the temperatures start to drop.
It's a basecamp in a box. The whole tent folds up neatly into a hard box and is secured with state-of-the-art locking mechanisms.
Interior
The Land Cruiser 80 Series already comes with a variety of luxury features, but there are always more things you can add to it to make your trip comfortable.
Storage System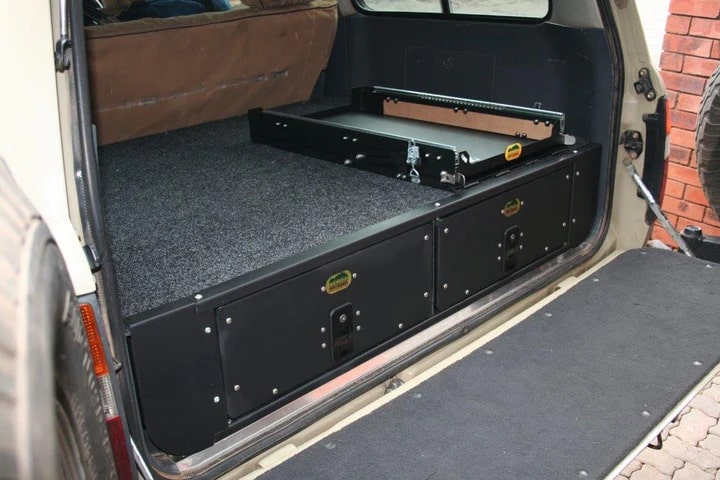 Photo by ruggedbound.com
What do you do if you just don't have enough room in the back of your Land Cruiser 80 Series? You buy a set of drawers by Big Country 4×4 and expand the storage area. This setup consists of two heavy-duty 2×27 gallon drawers that use telescopic sliders, so you can access the entire length of the drawer. They are lockable, and you can purchase optional parts like a fridge slider, a worktop, and other components. They bolt in using the standard Land Cruiser 80 Series pattern.
Cooler

Photo by yeti.com
You'll find a Yeti cooler at the center of all parties, and it's because they are tough, durable, compact, and practical. Adding a Yeti cooler to your Land Cruiser 80 Series makes sense when you need more cargo space for drinks, food, and, if you're a hunter, the spoils of your hunt. There are numerous sizes to choose from, and they come in two colors. They are even wine bottle compatible for those who are looking to relax after a day of hiking, fishing, or trailblazing.
The Yeti is rotomolded, so there are no corners or seams for things to leak through, and they are approved by the Interagency Grizzly Bear Committee to be bear-proof, as long as you remember to use your bear-proof locks.
Battery

Photo by us.ecoflow.com
Going off the grid doesn't mean you can't take a power grid with you. The EcoFlow DELTA Portable Power Station is capable of powering your expedition. It can charge up to 13 devices, including things like a portable coffee maker and your laptop. If you packed your Land Cruiser 80 Series and went exploring for a weekend, you might have your drone or your GoPro with you. When you keep everything charged, you can shout out your trip highlights on YouTube as they happen.
This generator pairs well with a companion portable solar panel set, so you always stay charged without running down your vehicle battery. It can be charged via your car adaptor if you're heading out for a full day of driving though. The power station has 6 AC outlets, is 1260Wh high capacity, and offers a fast charge of your devices.
Maybe it's not exactly like home, but it will help you keep your modern conveniences powered up as you enjoy being off the grid.
Conclusion
Once you get a taste of overlanding, you may never want to come back home and with all of these conveniences, you might stay away a little longer.