At long last, Toyota has given us a look at the new Land Cruiser 250. To say that we are excited is truly an understatement!
Our friends at Toyota have emphasized that this newest generation marks a "return to its origins," which is evident as this globally recognized SUV reemerges as a 2024 model following a three-year absence in North America.
As Toyota made this global announcement, it simultaneously re-introduced the Land Cruiser 70 to the Japanese market. Discontinued in Japan in 2004 but still produced overseas, the Land Cruiser 70 was re-sold for one year—2014—as it remained extremely popular. This new 70 retains much of the conventional model's styling, other than changes to its headlights and front grille. Its engine has been changed to a 1GD-FTV type 2.8-liter diesel turbo. In addition, on- and off-road performance has been enhanced with the pairing of a 6-speed AT.
Here in the U.S., Land Cruiser has gone through a series of notable changes, which were evident in each generation since it was first introduced 65 years ago. What never changed was the passion that this market—like the rest of the world—has had for the iconic Land Cruiser nameplate. Indeed, this newest version will certainly continue that time-tested, winning formula.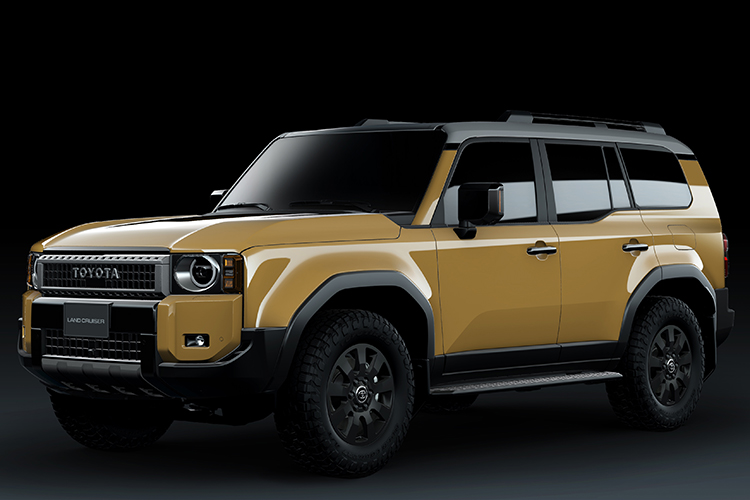 Photo by TOYOTA
A Reimagined, Fortified Exterior
Just one look at this newest generation Land Cruiser—especially when compared with its most recent predecessor—shows how Toyota retraced the vehicle's roots, bringing a more muscular, imposing body, as evidenced by its fortified front-end. Enhancements have been made to its headlights, grille, turn signals, and front bumper. This robust new look extends along the new Land Cruiser's body, with accentuating fenders and a new tail lamp.
Of note, the new Land Cruiser will be offered with two different headline options: rounded versions that recall the days of the Land Cruiser 40 and 70, as well as the FJ Cruiser, while square headlights have been shown in early teaser photos from Toyota.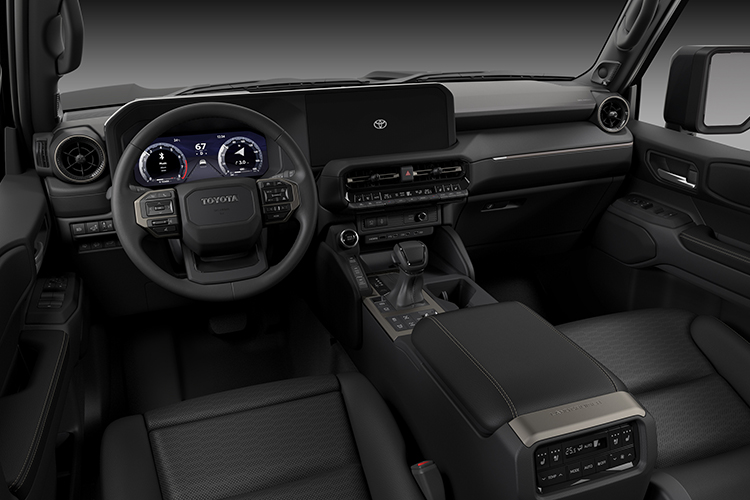 Photo by TOYOTA
Interior Appointments
The interior incorporates straight lines featured prominently on the body, with rounded corners and circles for the meters and air conditioner. With off-road use in mind, Toyota has incorporated a solid steering wheel and shift knob, an air conditioning system that uses physical buttons rather than touch panels, and a pad on the side of the center console.
Interior enhancements are also abundant, from its new instrument cluster to a plentiful selection of new equipment including cruise control, a second speed start mode and hill descent control. In addition, conveniences like a USB-C connector for mobile phone charging and the addition of a second cup holder are designed to make long trips more pleasurable.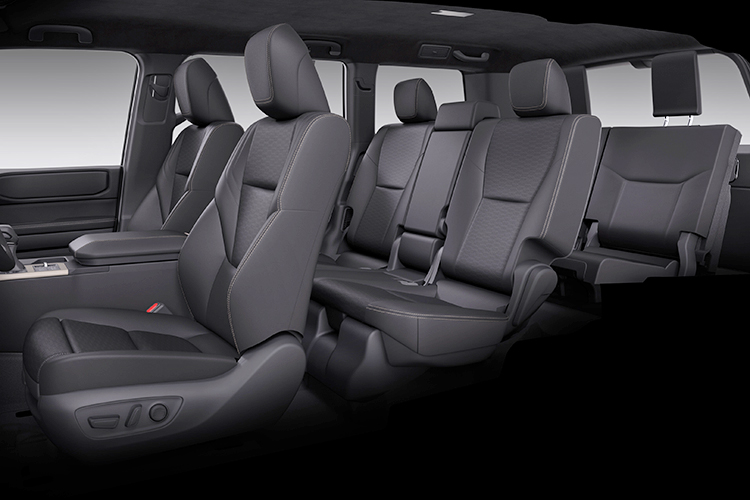 Photo by TOYOTA
The three-row, seven-seater model makes traveling—especially with a small child—that much easier.
The new Land Cruiser 250 has a total length of 4.925mm, width of 1.980mm, height of 1,870mm and wheelbase of 2,850mm. In comparison, the Land Cruiser 200 was 4950mm in length, 1.970mm in width, 1890 in height, and had a similar wheelbase of 2,850mm.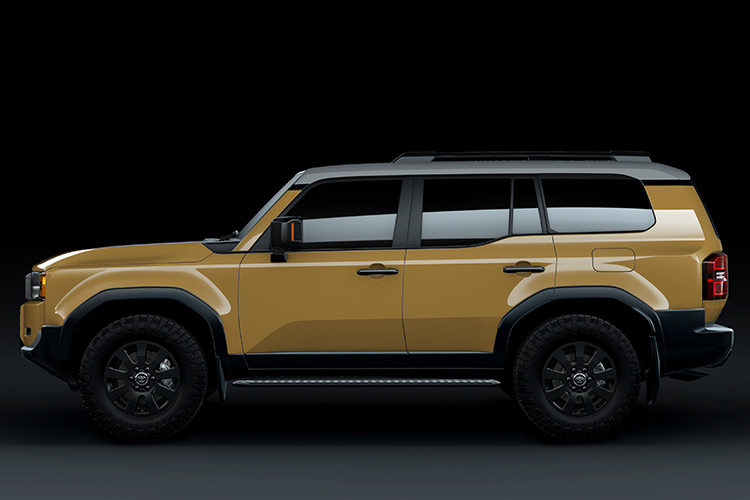 Photo by TOYOTA
Under The Hood
In line with Toyota models Venza, Sequoia, and Sienna, the new Land Cruiser 250 will only be offered as a hybrid. Utilizing Toyota's new i-Force Max 2.4-liter four-cylinder and 48-hp electric motor, it generates 326 horsepower and 465 lbf-ft of torque.
Two options will be offered to Japanese customers: the 1GD-FTV type 2.8-liter diesel turbo + 8-speed AT, and the 2TR-FE type 2.7-liter inline 4-cylinder gasoline + 6-speed AT.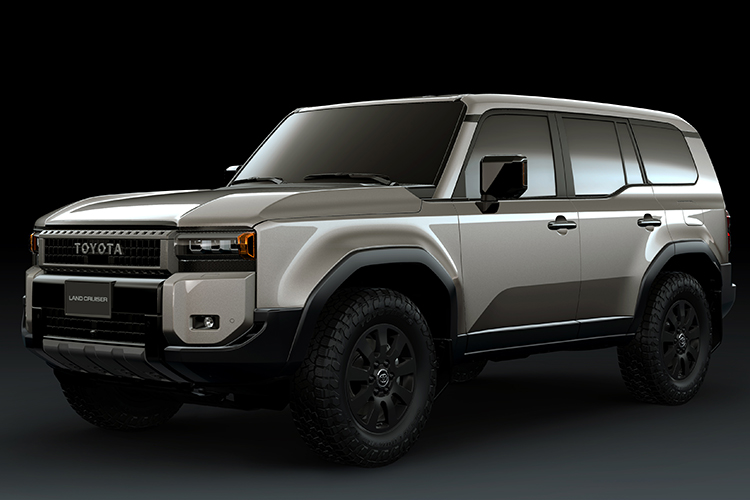 Photo by TOYOTA
Additional New Upgrades
Improvements in both on- and off-road performance are enhanced by electric power steering and an SDM (Stabilizer with Disconnection Mechanism), which allows control of the front stabilizer with a switch.
Three versions will be offered: the Land Cruiser 1958, Land Cruiser, and limited-run Land Cruiser First Edition. In addition, a premium package features power heated and ventilated leather-trimmed seats with lumbar support, a 14-speaker JBL audio system, head-up display, digital rearview mirror, and moonroof.
Toyota will bring the 2024 Land Cruiser to market with a selection of seven exterior color options: Ice Cap, Wind Chill Pearl, Underground, Black, Meteor Shower, Trail Dust, and Heritage Blue. The two-tone Trail Dust and Heritage Blue exterior colors feature a "Grayscape" roof.
Now that this much anticipated and long-awaited introduction has been made, we at FLEX look forward to the new options that we will offer, bringing individuality and distinguishing characteristics to each new Land Cruiser.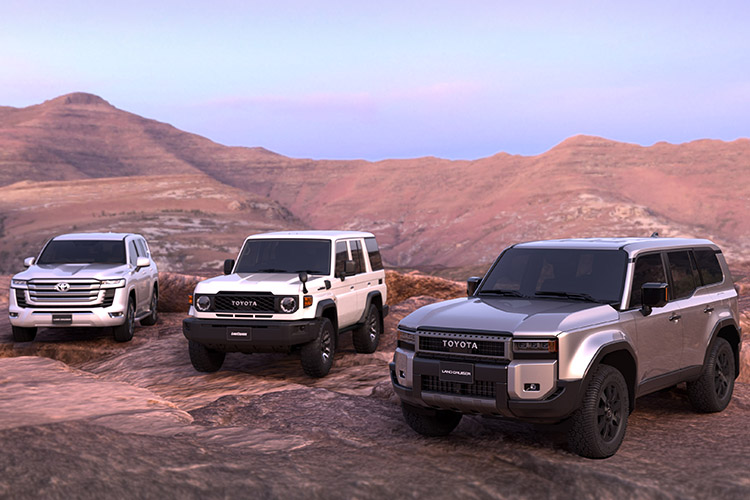 Photo by TOYOTA